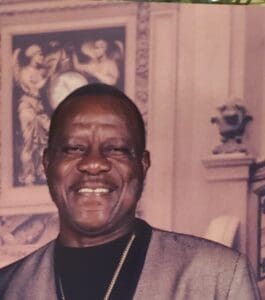 Dennis Quinland of Estate La Grande Princesse died on March 7. He was 67 years old.
He is survived by his mother, Amelia Cornelius; wife, Cynthia Fernella Quinland; daughters: Marcia Natasha Quinland and Claribel Quinland Archibald; brothers: Joseph Quinland Jr. and Charles Cornelius Jr.; sisters: Veronica Payne, LindaJoy Hughes and Jeanne Cornelius Fuller; brother-in-law, Goy Payne; sisters-in-law: Ann Marie Cornelius and Vanessa Quinland; stepdaughters: Patricia Zambho and Abigail James Matthew; and stepson, Glenroy Miller.
He is also survived by aunts: Elaine Lyne and Ruthlyn Edwards; uncle, Vester Challenger; nieces: LaToya Quinland Pemberton, Dhakirah Hamin (Denise Quinland), Tiffany Quinland Henry and Patricia Quinland, Terry-Anne Payne Challenger, Cemone Hughes George, Syllien Hughes and Ashley Hughes, Chenea Cornelius and Zedeka Cornelius, Jem Hughes Lundy and Carissma Hughes; nephews: Cleavon Hampton Jr., Aubrey Matthew, Dwain Quinland and Branko Payne; and niece-in-law, Tiffany Payne.
Other survivors include nephews-in-law: Darby George, Elvis Pemberton, Tasnin Hamin and Billy Challenger Jr.; son-in-law, Willis Archibald Jr.; grandchildren: Keyarah Quinland, Avante Archibald and Leilani Archibald; best friends: Evan Nisbett, Max Jonas, Arthur Bird, and Mr. and Mrs. Charles Simon; special cousin, Sylvester Brown; special friend, Avondale Lewis; as well as great nieces and nephews, cousins and other family members too numerous to mention.
The viewing will be held at 9 a.m. followed by the funeral service at 10 a.m., Thursday, March 24, at Beeston Hill Wesleyan Holiness Church. Interment will be at Kingshill Cemetery.
Professional services are entrusted to James Memorial Funeral Home Inc.