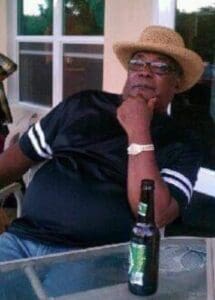 Walton J. Jack Sr. died on Thursday, March 17.
He was preceded in death by his mother, Marian Jack; father, Walter Christmas; sister, Winifred Jack; and special friend, Wendell.
He is survived by his spouse, Romelda Jack; children: Junior Jack, Sonia Gonzalez, Donna Jack, Walton Jack, Jr., Lorna Jack, Troy Jack.
He is also survived by grandchildren: Keyana Charlery, Jahlani Camacho, Keyara Roach, Daijah Bridgewater, Zion Bridgewater, Jamal Bridgewater, Omya Bridgewater, Jaheem Bridgewater, Denisha Bridgewater, Sheniqua Gonzalez, Curt Gonzalez, Ruben Gonzalez Jr., Nia Jack, Walton Jack III, Mya Jack, Latoya Jones, Dijaun Jack, Aiden Jack, Aaron Jack, Harmony Jack, T'Janae Jack, Tori Jack, Alandre Jack and Makai Robertson.
Other survivors include sister, Perline Boon; brothers: Alfred Jack and Wincent Jack; in-laws: Susan Jack, Sharon Jarvis; George Bridgewater, Jr., Emmanuel Jarvis; Marilyn Arroyo, Eugene Duberry, Anthony Duberry; special friend, Preacher; as well as other family and friends too numerous to mention.
Funeral arrangements are entrusted to Divine Funeral Services LLC.
A viewing will be held at 11 a.m. followed by a funeral service at noon, Friday, March 25, at Divine Chapel, 129 Peters Rest, Christiansted. Interment will be cremation. Interment will be at Kingshill Cemetery.