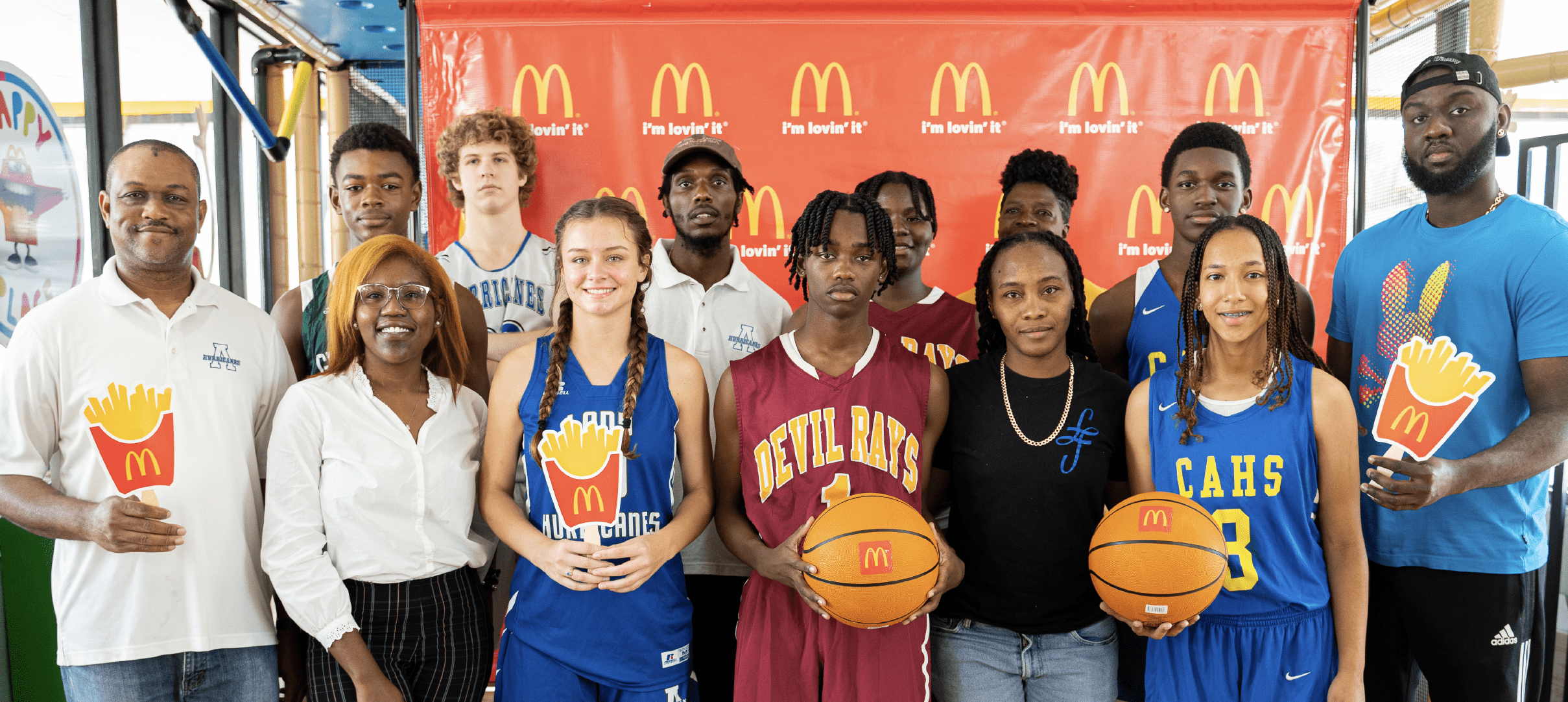 Starting Friday, regional high school teams will compete for the winning title at the IAA/McDonald's MLK Jr. Invitational Basketball Tournament for the first time since 2020 — a promising sign that youth sports events are returning to normal since the pandemic — tournament organizers announced.
Teams from St. Thomas, St. John, St. Croix, and the British Virgin Islands will participate in back-to-back games throughout the holiday weekend starting Friday at 4 p.m. in the Ivanna Eudora Kean High School gymnasium, and conclude with playoff finals on Monday — Martin Luther King Jr. Day — according to the press release.
Teams from St. Thomas and St. John include Charlotte Amalie High, Antilles School, Ivanna Eudora Kean, and Gift Hill School. Attending from St. Croix are Good Hope/Country Day School, Central High, Educational Complex, and Freewill Baptist. Visiting teams from the British Virgins Islands are Elmore Stoutt on Tortola and Bregado Flax Educational Center on Virgin Gorda.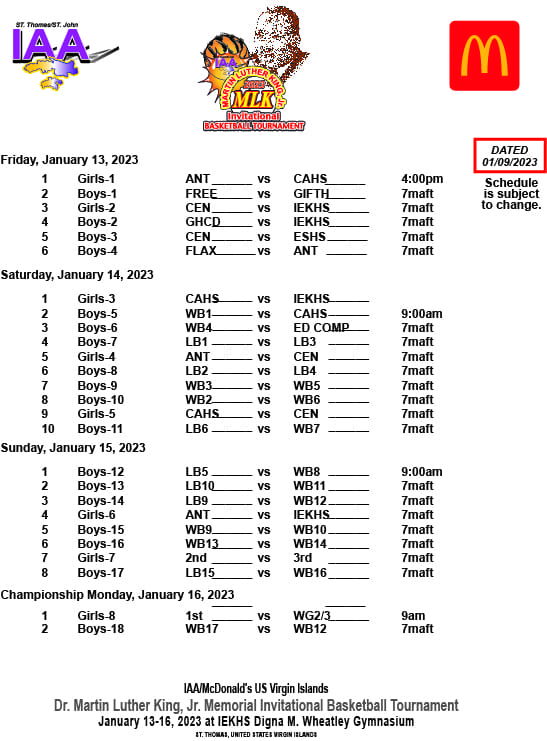 The tournament will feature 10 male teams and five female teams, the release stated. Games start at 4 p.m. Friday and continue daily from 9 a.m. to 10 p.m. throughout the weekend. The championship games are scheduled for Monday at 9 a.m. for the girls' game, with the boys' final game to follow.
All games will be held at the Ivanna Eudora Kean gymnasium on St. Thomas. Daily admission is $7 for adults and $3 for students.
McDonald's is the title tournament sponsor for the eighth consecutive year in partnership with the St. Thomas-St. The press release stated that on Interscholastic Athletic Association, upholding their commitment with the local communities through youth development programs like this tournament.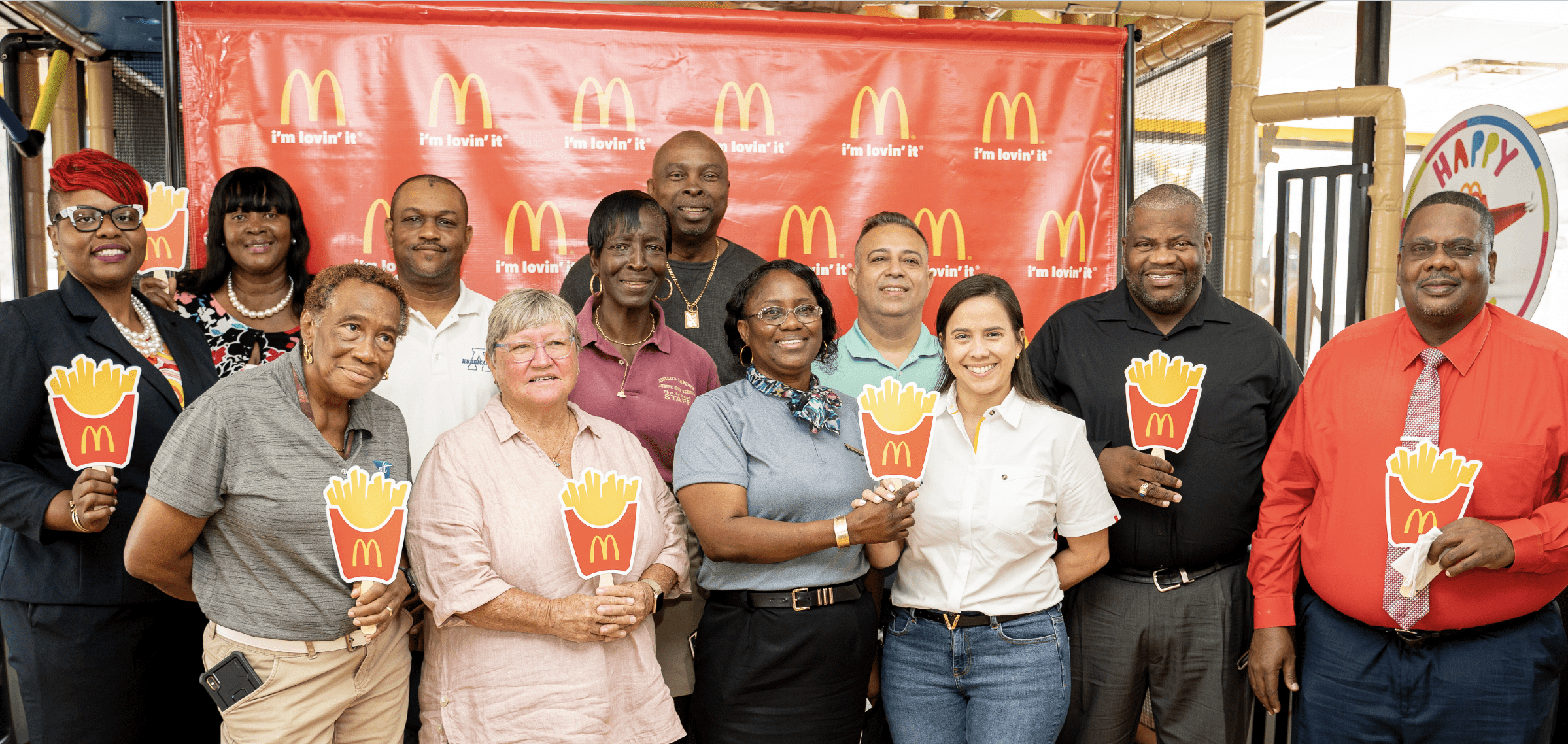 "We are overjoyed to celebrate the return of the MLK Jr. Invitational and proud to support these students and community organizers for this important event. Throughout the past 48 years McDonald's has been operating in St. Thomas, being able to participate and support our local community continues to be our biggest reward," said Marisol Vega Couto, managing director for Arcos Dorados Puerto Rico and USVI.
"On behalf of Arcos Dorados, we thank the IAA and everyone who has worked hard to restore events, like this one, that benefit local youth," said Vega Couto. Arcos Dorados is an independent McDonald's franchisee for Latin America and the Caribbean.
McDonald's has provided an added incentive for the tournament with a $2,000 prize to go to each of the two winning teams' athletic departments for the purchase of equipment and supplies. Together with the IAA, the company will also recognize and reward the two participating student athletes with the highest academic scores.
"We appreciate the continued partnership with McDonald's. Thanks to McDonald's we can continue to provide our student athletes with tournaments where they have an opportunity
to put their skills to the test in healthy competition. Their $2,000 donations to each of the winning schools goes a long way in supporting athletic programs," said Kenny Todman, IAA commissioner and tournament director, who also recognized the V.I. Education Department for its support and assistance.