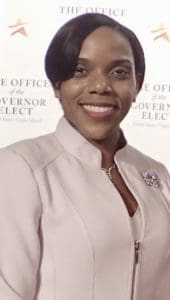 The National Association of African-Americans in Human Resources has honored U.S. Virgin Islands Director of Personnel Dayna Clendinen with the organization's first Trailblazer Award, which officials said recognized her innovation and reputation among colleagues and industry leaders as "someone who is making a difference in the human resources arena."
"When we canvassed the landscape of human resources leaders, there was no one else we could have selected as our 2021 Trailblazer recipient," said the National Association of African-Americans in Human Resources' President Erika Broadwater shared at the organization's awards gala, held Feb. 27. "We wanted to select someone who exemplified the very competencies and qualities of a trailblazer, and it was without a doubt that we wanted to honor Director Clendinen as our first Trailblazer recipient."
Playing upon this year's gala theme, "Celebration of Cultures," Clendinen spoke about the need to build equity and inclusion in the workplace, shifting a company's overall office culture into one that values the differences and contributions of each employee.
The weaving together of individual perspectives and experiences is similar to the weaving of a piece of madras, which Clendinen used during the event to not only pay homage to the territory but to offer a visual connection to the audience of how a range of unique components can come together to enhance the culture of an organization.
Within the workplace, human resources offices and officials are poised to take the lead and meaningfully plan for, shape and reimagine an organizational culture in which: teams play an essential role; data is a driver for the development of responsive systems, missions and goals; and there is a tougher approach to diversity and equal opportunities.
"I urge you to take a critical look at your company's existing policies, programs and practices and determine if their application is fair – or if they perpetuate inequities," Clendinen said in her keynote address.
To see the full speech, click here.