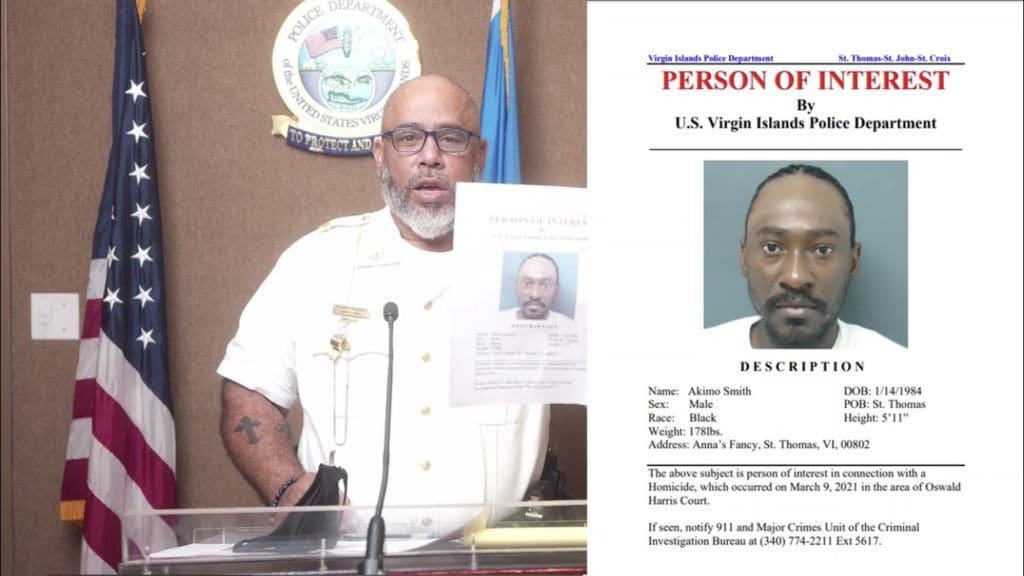 Tips from the community have helped the V.I. Police Department identify a person of interest in the murder of 35-year-old Akeem Dore, who was found unresponsive Tuesday night in Oswald Harris Court.
Calls of shots fired in the area of First Stop gas station and Oswald Harris Court were received by 911 dispatch around 7:58 p.m. Tuesday. Upon arriving at the scene emergency responders found a male lying on the ground in the area of the transformer, St. Thomas-Water Island Deputy Police Chief Richard Velazquez said at a press conference on Wednesday.
"Emergency medical services responders were unable to detect any signs of life, and Mr. Dore was pronounced dead at the scene," Velazquez said. Community tips have led the police to identify 35-year-old Akimo Smith as a person of interest in the case. Velazquez urged residents with any information of his whereabouts to call 911 or urge him to turn himself in.
Dore's murder was the second of two on Tuesday. In the early morning, VIPD had shut down the main road passing through Upper Caret Bay and above Estate Dorothea after finding another male lying unresponsive near the dumpsters in the area.
Calls into 911 dispatch about a body lying in the road were received at approximately 4:55 a.m. Upon arriving at the scene, emergency responders also found no signs of life in the victim, identified as 49-year-old Bill John-Baptiste, and pronounced him dead. Velazquez said the department is vigorously following up on leads and investigating the case but encouraged community members with any information to call authorities or Crime Stoppers USVI at 1-800-222-TIPS.
Residents can call VIPD at 340-774-2211, ext. 5569 for the Criminal Investigation Bureau; 340-714-9830 for the Major Crimes Unit; 340-715-5548 for the chief's office; or 340-715-5506 for the commissioner's office.
Velazquez said the department is also actively pursuing leads and conducting searches on three missing persons: Standfield Dumas, who went missing last May on St. Thomas; Michael Emmanuel of St. Croix; and 56-year-old Sarm Joan Lillian Heslop, who was reported missing on Monday on St. John.
An "accelerated and vigorous search" for Heslop continues on land on St. John, with Velazquez saying on Wednesday that VIPD has been working with the National Park Service to also comb the island's waterways.
Editor's note: This story has been edited since it was first posted to correct the victim's age. The Source regrets the error.