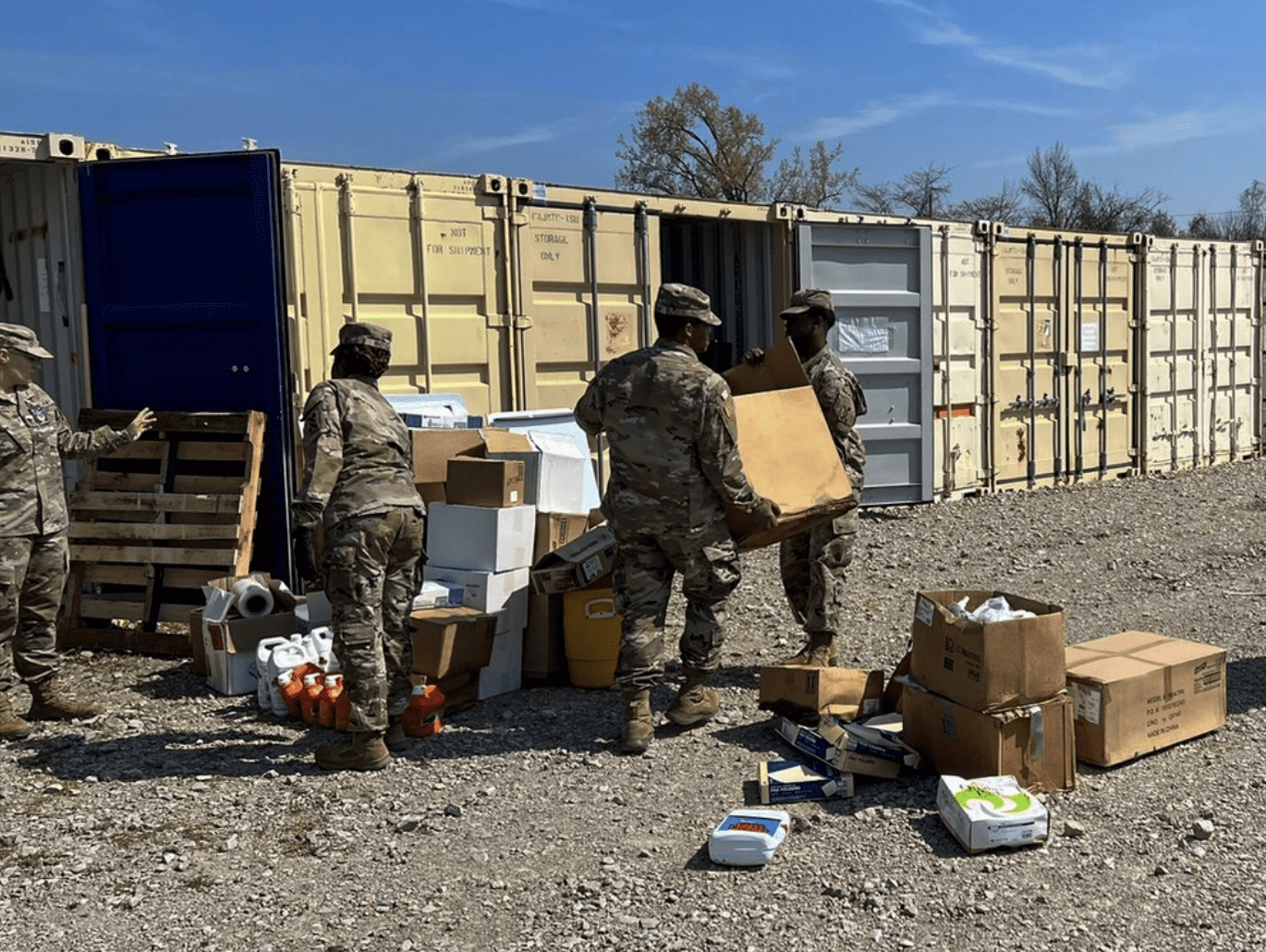 The state of Indiana is a long way from home base for Soldiers stationed with the 786th Combat Sustainment Support Battalion, Virgin Island National Guard, and 512th Movement Control Teams, 1 Mission Support Command. With temperatures falling below 32 degrees Fahrenheit, the Caribbean-based Soldiers ensured the exercise Vibrant Response carried on without failure.
"Despite being far from home, these Soldiers demonstrated their ability to adapt to different environments and accomplish their units' mission, despite challenging conditions," said Maj. Troy Catterton, Army Reserve Engagement Cell, U.S. Army North. "The National Guard unit from the Virgin Islands plays a vital sustainment role supporting over 500 Soldiers in ensuring the success of Vibrant Response by providing logistical support, integrating Army Reserve elements into an Active-Duty exercise, as well as managing cargo movements, and coordinating various operations."
Approximately 95 guardsmen and reservists ensured the movement of cargo in and out of the joint operation area, provided base life support, coordinated movement of military air and many other sustainment capabilities for this year's command post exercise Vibrant Response, hosted by U.S. Army North, on behalf of U.S. Northern Command.
Within Vibrant Response, the three task forces, Joint Task Force-Civil Support, Task Force-46 and Task Force-76, test their ability to mobilize and travel by military air transportation, navigate military capabilities and readiness in order to respond to a Chemical, Biological, Radioactive and Nuclear incident. These Caribbean-based Soldiers' efforts allowed units to focus on their training objectives without having to worry about food or a place to sleep.
"Our ability to contribute to the exercise underscores the importance of collaboration and coordination among a wide range of resources during not only military exercises but also in disaster response efforts," Staff Sgt. Kavish Blaize, Mayor Cell Liaison Officer, 786th CSSB.
This is the second year in a row that the exercise Vibrant Response has utilized multicomponent units from both the National Guard and Army Reserve assets together with the activation use of active duty.
"Without the proper sustainment support and mission forecasting, military operations can degrade quickly as troops are unable to access resources needed to carry out their objectives," said Catterton. "This utilization across all three Army components demonstrates the ability to work together seamlessly and effectively. Which makes the difference when the time to respond to a disaster and help fellow Americans in need."