Part of TW Series: Meet the People of St. John, highlighting our greatest resource , our community members.
Ian Samuel's passion for the betterment of St. John is so palpable, he's been asked to share his energy with several island organizations, including St. John Rescue, St. John Rotary, St. John School of the Arts, and Sports, Parks, and Recreation. He's undoubtedly made an enormous positive impact since returning to live on St. John in 2010.
As a child, Samuel attended school on St. Thomas during the week and stayed on that island with his mother, who was a teacher at Addelita Cancryn Junior High School. On weekends, he stayed on St. John with his father, Milton Samuel, who worked as a V.I. National Park ranger for more than three decades. His parents decided to send him to St. Thomas More School in Connecticut, where he completed his high school education.
"It was a great experience for me, and it started the foundation for what I'm able to do now," said Samuel.
[adrotate group="6"]
He then studied business management at Wagner College in Staten Island, New York, where he was active in student minority groups, working to impart racial sensitivity and an awareness of all cultures at the school. He worked for Enterprise Rent-A-Car in Staten Island for seven years before he moved to Maryland and took a job with Budget Rent a Car, where he quickly rose through the ranks to the position of customer service manager for the northeast region. He was in charge of counter operations at 400 locations from New York to Virginia when the company was purchased by Avis, which cleared out upper management—including Samuel.
"My wife at the time was eight months pregnant and we were in the middle of closing on our house, and I had to tell her I was no longer employed," he said. "I promised myself that at no point would I allow somebody to have that much control over my life again."
By the time Samuel came back to the Virgin Islands to lay his mother to rest after she passed away from cancer, he'd established a successful career in network marketing.
"I realized I couldn't leave my father here by himself," Samuel said of his 2010 decision to move back home.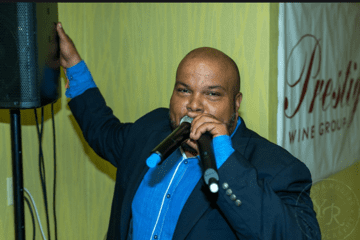 Samuel's involvement in local non-profits can be traced back to his partnership with Ronnie Klingsberg and the St. John Blues Blowout. When Samuel entered a meeting with St. John Rescue to ask them to partner with the blues concert event, he left with an entirely unexpected new role—St. John Rescue board member. The same thing occurred when he approached St. John Rotary about partnering with the St. John Blues Blowout.
"I gave my spiel, and they ended up asking me to join their board," Samuel recalled.
Samuel is also a member of the St. John School of the Arts board, and he's taken a position with the Department of Sports, Parks, and Recreation, where he's working to improve after-school programs. His true passion is the V.I. Eagles, an organization that works with young athletes.
"While the percentages are small as far as how many make it to the NBA or the major leagues, the discipline you gain by being on a team can help you in life," said Samuel. "That's what we're focused on giving these kids."
As if Samuel's various roles don't keep him busy enough, he also works as a DJ. He credits his fiance, Symone James, for helping him thrive.
"I wouldn't be able to do anything if it wasn't for her," he said. "She keeps our house grounded, and she keeps me grounded."
Samuel speaks passionately about programming the territory's children for success, and about getting St. John the political representation it deserves.
"Whatever is going to best serve this island, I'm willing to do," he said. "If that's a political career, then so be it. It's not about me; it's about making this community better for everyone."
Samuel's tenacity has not gone unnoticed. He will be honored with the Wilbur "Bill" LaMotta Community Service Award, given by the St. Thomas-St. John Chamber of Commerce, at their gala event on May 21.
"He is very passionate about keeping kids occupied and in good hands," said Cid Hamling of the Chamber of Commerce. "He is passionate about our youth. I just think he's an excellent role model."