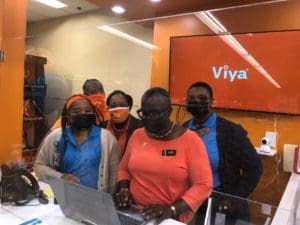 Viya Telecommunications opened two new express locations in The Market supermarkets on St. Croix and St. Thomas Wednesday for customers to open and upgrade accounts, buy telephone and internet accessories while they shop for groceries. New customers receive a $25 gift card to be used at either Viya or The Market.
Currently, extenders, chargers, the Logic smart camera, a speaker with a headset are available on St. Croix. Eventually, customers will be able to pay their bills at the Viya kiosks.
"We're constantly looking for ways to make things easier for customers. I think during the pandemic everybody has to pivot, and we have been doing everything possible to make sure customers are safe," said Jennifer Matarangas-King, Viya Public Relations/Government Affairs vice president.