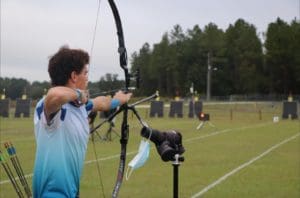 Since November 2020, archers from around the world have been competing in the first three stages of the Indoor Archery World Series. After the final review of all scores in the three stages, the official score puts Nicholas D'Amour of St. Thomas tied for 10th place in the world.
The fourth and final stage will be held from Feb. 12-14. All four stages of the Indoor Archery World Series Finals have been held remotely. More than 5,000 archers around the globe have registered for various stages. Archers are listed on the total of their best three scores across the season.
Oh Jin Hyek of Korea is in first place with a combined score of 1790, Thomas Chirault of France is in second with a 1786 and Steve Wijler of the Netherlands is in third place with a 1777.
D'Amour of the Virgin Islands is tied for tenth place with a score of 1763. After three stages, D'Amour is the sole competitor from the Western Hemisphere in the top 10. The Koreans and Europeans dominate the top 10 places.
The event: 60 arrows at a target set 18 meters away, using a target face measuring 40 centimeters in diameter – single spot, vertical triple spot or triangular triple spot. The recurve 10-ring measures 4 centimeters in diameter.
Open Ranking: Recurve Men 2021
| | | | | |
| --- | --- | --- | --- | --- |
| Ranking | Name | Club/Team | Points | |
| 1 | Oh Jin Hyek | | 1790 | |
| | | | | |
| 2 | Thomas Chirault | The Golden Arrow | 1786 | |
| | | | | |
| 3+1 | Steve Wijler | Netherland 1 | 1777 | |
| | | | | |
| 4+1 | Mete Gazoz | | 1774 | |
| | | | | |
| 5 | Min Byeongyeon | | 1773 | |
| | | | | |
| 6+4 | Rick van der Ven | Netherlands 2 | 1768 | |
| | | | | |
| 7+5 | Florian Unruh | Beiter | 1767 | |
| | | | | |
| 7+7 |  Jonathan Vetter | | 1767 | |
| | | | | |
| 9-2 | Sjef Van Den Berg | Netherlands 1 | 1766 | |
| | | | | |
| 10+4 | Han Jaeyeop | | 1763 | |
| | | | | |
| 10-2 | Nicholas D'Amour |  ISV | 1763 | |
| | | | | |
| 12-4 |  Sylvain Armbruster | | 1762 | |