The U.S. Virgin Islands' Department of Health last week reported no new cases of Zika in the territory.
According to the weekly surveillance report, the total number of confirmed positive cases in the USVI remains at 24 — with 15 of these cases occurring on St. Croix, eight cases on St. Thomas and one on St. John. To date, 667 pregnant women in the USVI have been tested for Zika, and three were confirmed positive.
"We are encouraged that the number of cases has remained steady this week, especially on the heels of the three new cases reported in last week's surveillance report," said Department of Health Commissioner Michelle Davis. "However, we must remain vigilant. The Department of Health will continue to educate the public, provide free testing to pregnant women and individuals exhibiting symptoms, as well as provide free inspections, larvicide treatments and Zika Prevention Kits for pregnant women."
Davis also outlined several ongoing initiatives the Department of Health has implemented to support the department's Zika response.
Since February of 2016, the Department of Health has: distributed more than 600 prevention kits to pregnant women; delivered more than 500 Zika presentations to community organizations, schools, churches throughout the territory; launched a territory-wide media and awareness and Zika prevention campaign; and responded to nearly 150 public inquiries through its EOC.
Zika is spread primarily through the bite of an infected Aedes Agypti species mosquito. The most common symptoms of Zika are fever, rash, joint pain, and conjunctivitis (red eyes). The illness is usually mild with symptoms lasting for several days to a week after being bitten by an infected mosquito.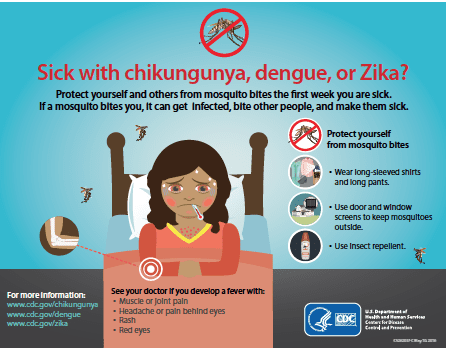 People usually don't get sick enough to go to the hospital, and they very rarely die of Zika. For this reason, many people might not realize they have been infected or may be infected and have no symptoms. Zika can also be spread sexually.
For pregnant women and their unborn children, the consequences are much more severe. Pregnant women infected with Zika can pass the virus on to their unborn baby, which can cause a serious birth defect called microcephaly that is marked by smaller-than-normal heads and brains. This, in turn, can lead to long-lasting mental disabilities.
The DOH is working diligently to protect USVI's next generation from these health effects by offering the following free services to pregnant women: Zika testing; inspections to look for mosquito larvae and mosquito breeding grounds at/around her house; larvicide treatment if mosquito larvae are found at/around her house; and Zika Prevention Kits, which include educational materials, insect repellent, permethrin spray repellent for clothing, condoms to avoid sexual transmission of Zika, treatment tabs for preventing mosquitoes from breeding in standing water, and a bed net.
Free Zika testing is also available to anyone exhibiting signs of infection, such as fever, rash, joint pain, or red eyes.
The DOH is also working closely with the Centers for Disease Control and Prevention to strengthen efforts to track the outbreak, enhance laboratory services for faster testing results and get the word out about how we can protect yourself against Zika. In February of 2016, the DOH activated the Emergency Operations Center to coordinate all Zika response efforts and field media and public inquiries.
DOH representatives stress that there are simple steps everyone can take to protect themselves and their families by following the 4 Ds of Zika prevention: Dress – wear protective clothing – long sleeves, long pants and light colors; Drain – get rid of water containers in and around your home; Defend – use repellant on exposed skin and treat clothes with one of several EPA-approved repellants and; Discuss – spread the word about the simple things you can do to make a difference.
For local information about the Zika virus or to receive any of the DOH's free services, call the Emergency Operations Center at (340) 712-6205 or visit www.healthvi.org. For more general information about the Zika virus call toll free: 1-800-CDC-INFO.