A dozen 12th graders from Gifft Hill School took the big step of graduating from high school in a ceremony on Trayser Field on Friday, June 10.
GHS Head of School Laurie Bottinger counted among the graduates one National Merit Scholar, several community service award winners and a passionate new member of the world food movement.
Not every student in the GHS Class of 2016 were college bound, but Bottinger said among those who were there was $1.5 million in scholarship awards. Stories from the GHS faculty spoke about feats of talent and determination, intellectual curiosity and challenging personalities. Almost all of those who spoke described a tightly knit class that kept each other's spirits up and worked as a team with a goal of seeing everyone graduate.
"It is my privilege to celebrate you, our Gifft Hill Class of 2016 — the perfect dozen," the head of school said.
[adrotate group="6"]
Valedictorian Kaitlyn Cummings and Salutatorian Monique Edward addressed the crowd of about 100 friends and family. They told personal stories and shared some inspiring thoughts with their classmates, some of whom they may never see again.
"How lucky I am to have something to hold onto that makes it hard to say good bye, said Winnie the Pooh," Cummings said. "Yes, we're leaving what has become a major part of our lives, but we're finally done with high school."
Salutatorian Monique Edward told the audience she was just an average student, but one who began her life with a hard earned lesson about self determination.
"I was 10 years old, five feet tall and 160 pounds," said Edward. "I asked, 'Why me?' I was forced by my parents to wake up at 4:30 in the morning to exercise."
"Every day I had to look a the same three hills I'd have to walk up and I'd start to cry," she said. "Not cry — but bawling. After about three months, not only did I start losing weight, I started to feel better. An average person can, by working hard, become exceptional."
There was also praise for Cummings as she traveled to Europe to compete in a model car engineering contest where a mousetrap is part of the design. Cummings came in fourth in the Monaco Mousetrap competition. She is headed for Florida Gulf Coast University.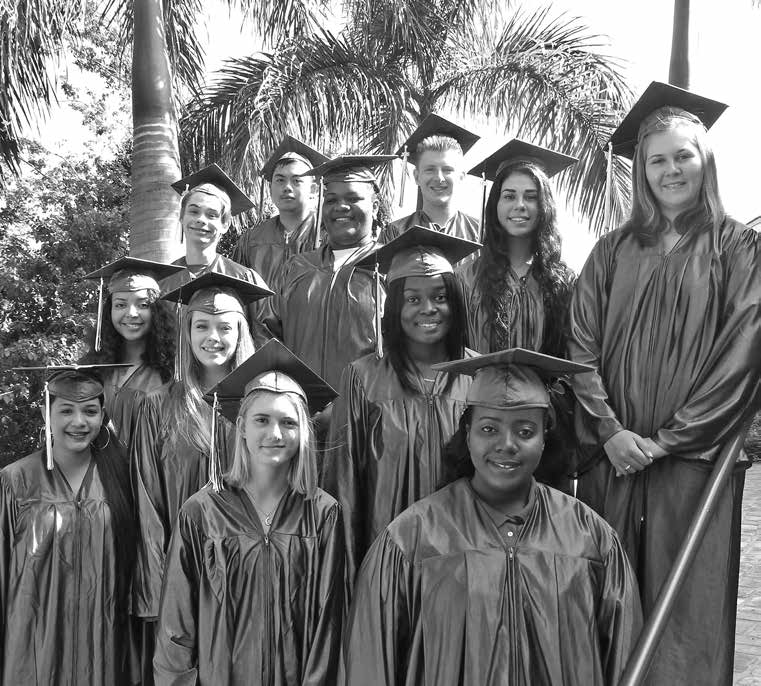 Edwards plans to attend Ryder University, pursuing a Liberal Arts degree. Other graduates' plans include: Liana Clendinen to University of the Virgin Islands; Maia Ginther will attend High Point University and study Liberal Arts; Wallace Graham will head off to the University of New Haven; Jeminee Jacobs will attend UVI and study Business; Stephanie Kemp, an emerging culinary artist plans to stay at Gifft Hill School for advance studies with the Farm to Table Program; Thomas Nguyen and Zoriah Noel both plan to take time off after high school before moving into the adult world. Nguyen plans to enter the military; Noel is seeking experience in early childhood education. Alex Raymond plans to attend Erlham College. Yalfri Santana is pursuing a career in homeland security and Marina Scheer plans to attend Ryder University to study special education.
St. John relator Miles Stair, chairman of the GHS advisory board, handed out the diplomas to each graduate.
St. John Tradewinds News Photos courtesy of GHS.