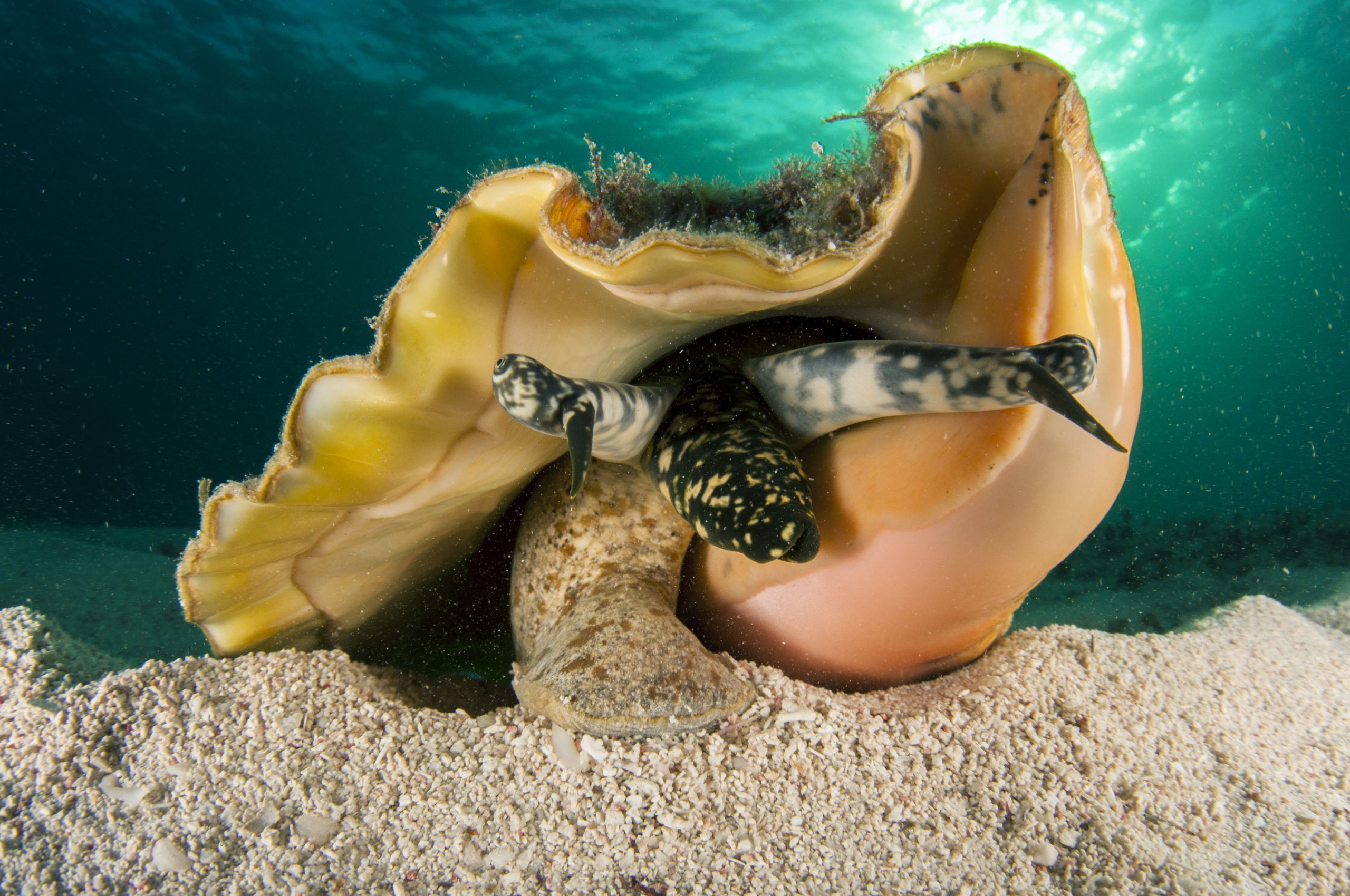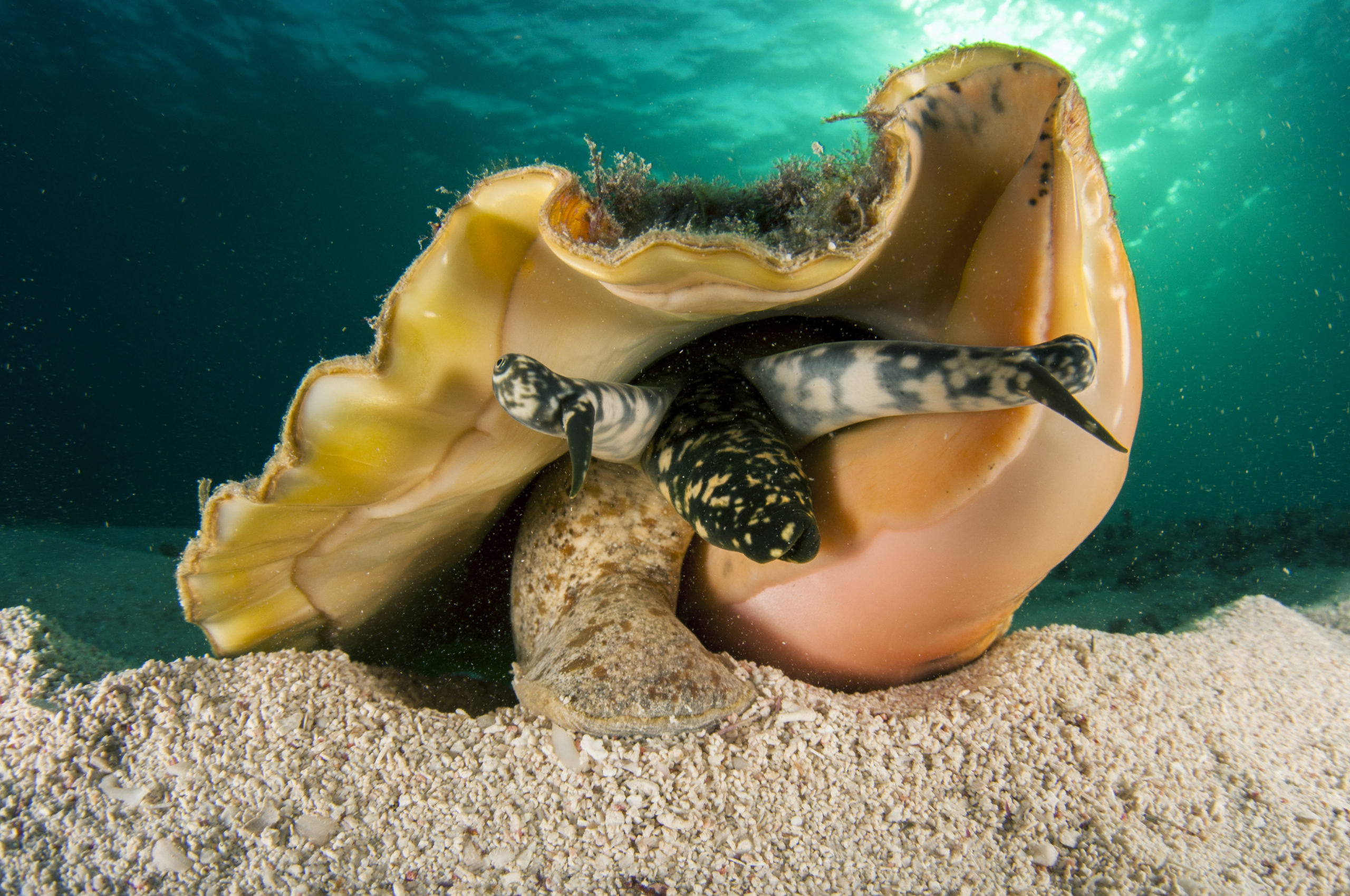 Its past role in the history of Caribbean peoples is well documented, but the future of the queen conch is a bit uncertain.
A reliable food source for centuries, and a revered cultural delicacy in modern times, conch is getting harder to find. For more than 40 years environmentalists and fisheries experts have been warning that conch numbers are declining.
An extensive recent review by the National Oceanic and Atmospheric Administration concluded that the population has been severely stressed throughout its range, primarily by overfishing.
According to the report, "few jurisdictions collect adequate information" on the size of conch populations. The report goes on to say, that in the various localities surveyed, attempts at curbing overfishing have been well-meaning at best, but frequently half-hearted, and too often misguided. Government scientists specifically pointed to things like size limits, saying they were based on faulty science. A lack of enforcement of existing regulations was also cited as being all too common.
Based on the review, the federal government made a formal proposal last year to list the regal mollusk on its "threatened" species roster. The designation means that NOAA scientists believe if the decline remains unabated, the species is at risk of becoming "endangered" of extinction within the foreseeable future, possibly within as little as 30 years.
The designation process is in its final stages now and likely to conclude before the summer's out. Since December, scientists working on the project have been taking a second look at their proposal, sifting through public comments and any new information before finalizing their conclusions.
Orin Tzadik, who works in the Protective Resources Division of NOAA Fisheries, was one of the seven NOAA scientists who worked on the risk analysis for conch. He spoke about it recently with the Source and expressed confidence that a final decision will be made in time to meet the September 2023 statutory deadline and could come even earlier.
Many stakeholders throughout the region opposed the listing, fearing it will lead to tighter restrictions on their fishing industries.
Tzadik stressed that the mere designation of a species as "threatened" does not automatically impose restrictions (as does the more serious designation of "endangered.")  It likely will trigger a study of ways to address the problem, but there is a separate process for enacting any sort of management plan.
"From a science perspective, that's when it gets interesting," Tzadik said.
Background of Sweeping Survey
Concerns about conch's long-term chances at survival in the Caribbean have been building for more than a decade. The ecological organization WildEarth Guardians petitioned the federal government in 2012 to list queen conch as either threatened or endangered. A government review at the time concluded neither designation was warranted then.
That led to a lawsuit in 2016 to force the issue, and in 2019 the court directed the government to make a more thorough review.  It was that review that prompted NOAA to propose the "threatened" designation.
Queen conch has a vast range. It's found everywhere from waters off Venezuela to the waters off the coast of Florida. It inhabits the Gulf of Mexico and, of course, the Caribbean Sea.
Virgin Islands waters are less than one percent of the total conch range, Tzadik said.
In its comprehensive review, NOAA examined the status of conch in 39 different jurisdictions. The researchers determined that in 25 of those jurisdictions, the conch population had fallen below the level at which the species could continue to sustain itself long-term.
Queen conch (Aliger gigas) aggregate in order to mate and reproduce. Scientists have determined that in order to facilitate the slow-moving animal's ability to find a mate, there must be a certain population density of adults.
If the density is at or above 50 adults per hectare (roughly two and a half acres) the conch population can be maintained. But it takes a density above 100 adults per hectare to increase the population. And if the adult population is less than 50 per hectare, the group is considered not actively reproductive.
The study concluded that of the 39 jurisdictions surveyed, 25 had populations below 50 adults per hectare.
Only 10 of the 39 jurisdictions had populations of or above 100 adults per hectare, that is, populations likely to grow.
There was a certain amount of educated guesswork required for the review. Researchers culled through myriad reports of actual surveys to determine their counts, and some of the surveys were relatively old.
And there was no population data available at all for nine jurisdictions — Curaҫao, Costa Rica, Dominica, Grenada, Montserrat, St. Kitts-Nevis, St. Martin, St. Barthelemy, and Trinidad and Tobago. For those places, the researchers relied on data from nearby jurisdictions.
Under the federal Environmental Protection Act, scientists consider five different factors when looking for the cause of species decline: the loss of habitat, over-utilization (taking specimens for human purposes, including consumption), disease or predation, inadequate regulation, and other natural or manmade impacts.
In the case of queen conch, the study concluded there were three culprits: overutilization, that is, over-fishing, poor regulatory mechanics, and the impact of climate change — with overfishing being the primary cause.
The acceptable exploitation rate — or the percentage of the species in a given jurisdiction that can be fished without depleting the stock — is eight percent.
The study determined that 35 of the 39 jurisdictions were regularly exceeding that limit.
While most jurisdictions had imposed weight and size limits on conch in an attempt to ensure that only adults that had had a chance to reproduce could be legally fished, the researchers found that often the limits were inadequate. And very often, they weren't enforced.
In some jurisdictions, fishers were allowed to land meat out of the shell, making it impossible to determine the age of the animal.
Moreover, they said, so-called IUU fishing — illegal, unregulated, unreported — is rampant throughout much of the conch's range.
Stakeholders in the Virgin Islands have argued that the territory has curtailed overfishing in the last two or three decades. They have suggested that if a "threatened" listing ultimately results in stricter fishing limits, the territory should be exempt from them.
Conch fishing is permitted only from Nov. 1 to May 31 in V.I. waters, and then only up to a limit of 50,000 pounds annually from St. Croix and 50,000 pounds from St. Thomas-St. John. (Annual totals regularly stay well below the annual limit.) There are also restrictions on shell size, lip thickness (a telltale sign of reproductive maturity) and weight as well as daily limits on the number of conch that can be taken.
Information in the report suggests there has been some recovery in the territory, especially in waters around St. Thomas, but that overall resources are still low.
According to local industry and government representatives, there has been almost no conch fishing off St. Thomas in recent years, with St. Croix fishermen supplying conch to St. Thomas buyers. They also say there is little to no export of conch meat from the territory; it is consumed locally by residents and tourists.
The most recent actual survey in the territory was conducted between 2008 and 2010. It found the median population throughout St. Thomas, St. John, and St. Croix was 44 adult conch per hectare, or a little under the bare minimum for sustaining a population.
The report does not specify the number for St. Croix where the vast majority of conch fishing takes place. But it must be even lower than 44, since the St. Thomas numbers were running over 100 adults per hectare. (That represented a number 10 times higher than what was recorded for St. Thomas waters in 1990.)
The NOAA researchers found encouraging signs for the Virgin Islands in the 2008-2010 survey. At the Buck Island Reef National Monument, a no-take reserve, there were an estimated 68.5 adult conch per hectare. There were also more than 233 juveniles per hectare, which, they said, "suggests some recruitment in this area." That is, an indication of a potentially growing population.
The data is old, however, and more recent surveys are needed, the scientists said.
They were less hopeful about the neighboring U.S. territory, Puerto Rico, which they said has been overfished for decades and where "existing regulations are likely inadequate to reverse the decline of queen conch in Puerto Rico."
Climate Change Factor
While the review cited overfishing as the primary cause for declining conch numbers, abetted by inadequate regulation, it said a third factor is harassing the species: global warming.
Already warming ocean temperatures are expected to rise before the turn of the century.  That could speed up the maturing process for queen conch but could also lead to higher mortality rates for conch eggs and larvae. If the acidity of oceans increases, as predicted, that may impede shell formation. Meanwhile, coastal erosion is likely to degrade seagrass beds, which serve as nurseries for conch, and an anticipated alteration in ocean currents will bring an unpredictable impact on the species.
Bucking the Trend
The review was focused on detailing the problem of declining queen conch populations, but it did offer a hint of some possible solutions.
Just identifying conch as "threatened" will bring public awareness, the researchers say. It could also prompt jurisdictions to establish or upgrade existing conservation plans and improve their fisheries management.
It could also boost aquaculture projects. Currently, for instance, three educational institutions are working through a NOAA grant program to grow conch in order to restock conch habitats in Puerto Rico's waters.
If the "threatened" listing is finalized, the next step will be for NOAA to expand its study of possible ways to reverse or at least mitigate the decline.