CRUZ BAY — The Southeast Regional Director of the National Park Service told St. John residents, park workers and supporters he wants to create a model relationship between the park and the people who live and work on island.
The Aug. 3 meeting with NPS Southeast Regional Director Stan Austin was organized by VI Delegate to Congress Stacey Plaskett. Plaskett said she wanted Austin to answer questions about a realignment of park management systems now under way between the VI and Puerto Rico.
That realignment established a new management position — Caribbean group superintendent — effective July 11. The regional director said park managers are being shifted around because of staff reductions.
The regional director spoke frankly to his audience. Hard decisions would have to be made about the use of resources and a trimmer team of park managers, he said.
"Together, we can move forward. So I don't want to re-live the past. Let's put that in context, here. Let's see how we can take this and move forward," he said.
About 50 people turned out on Aug. 3 to hear more about the realignment and what it would mean. Many were skeptical. They raised grievances about the park's encroachment onto family landholdings, denying access to established roads and failing to maintain them.
"We cannot traverse the roads because the park claims them," said resident Lorne Baptiste. "Either give us back our lands, if you can, or prove what you have."
Others complained about having their cars ticketed at beaches while attending funeral repasts and family gatherings. Those who questioned park officials said they found them unresponsive or unavailable.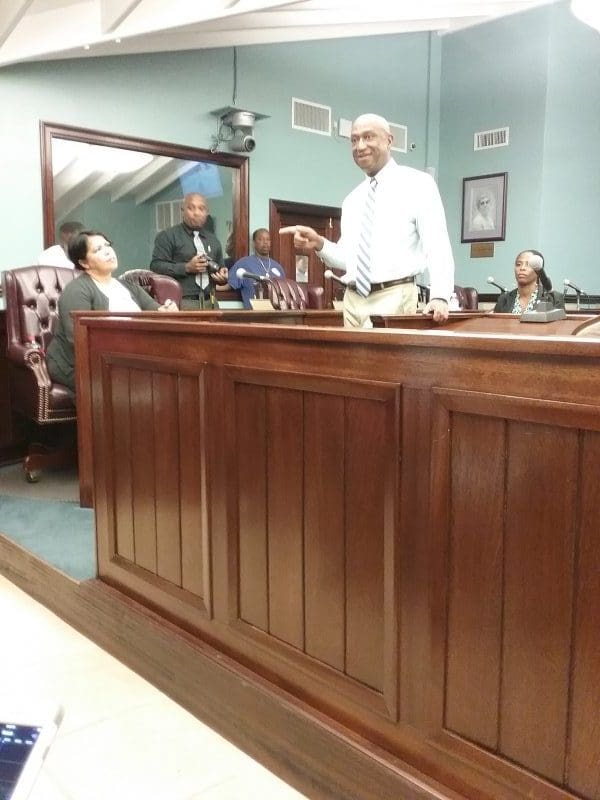 Austin also acknowledged there were hard feelings among some in the meeting room towards the park, but the director expressed a willingness to try and change people's minds.
"What I am hopeful of here is … this could be a model. Because this is not only happening here. It's happening on St. Croix but also happening in Selma, Alabama. It's happening in many of my sites across the country where the communities have felt neglected by the park's coming in.
Let me give you a quick story. I used to be superintendent at Cuyahoga National Park. It's one that was carved out of the community. You can Google it. It was anger.
The people are still angry. But when I came in we had community engagement. So we're going to use that as a model here because I think we can make this work together," he said.
The director said resolving differences and working together will become important to future success. Statistics show point to the park's popularity. Austin said he expects that to translate into more visitors, more traffic and greater demands on the island's resources.
"It's a beautiful place that we call the Virgin Islands National Park. People come from all over the world. When I'm in my office, in Atlanta, people call me or email me to ask how they can get to the Virgin Islands or what kind of combinations they can use to get here. So, you have a very special place. This is your park. So what I would ask is that you start thinking about that commitment," he said.
On hand to meet the public were Randy Lavasseur, the new group superintendent and Virgin Islands National Park Superintendent Jayne Schaeffer. Schaeffer, a deputy superintendent who was named acting superintendent in December, had just had her promotion formalized.
It was an announcement that did not find favor with all in attendance. Plaskett herself asked Austin when that decision was made.
"My questioning of the process for Jayne Schaeffer moving from acting to superintendent was because I and many others have questions as to the appropriateness of Ms. Schaeffer holding that position," Plaskett said after the meeting.
The head of the St. John Unity Day Group spoke more directly. "I think the first thing that you should do is change your manager for St. John," said Lorelei Monsanto.
Residents were also disappointed to hear that the long awaited public school being planned for at Catherineberg could not proceed. The current political climate in Congress would not allow it, Austin said.
Senate President Myron Jackson, who traveled from St. Thomas to attend said he was not pleased. "We have been your friends. We have done everything possible. The fact that we don't have a school in the 21st century, in the 100th anniversary under the American flag — more than 50 years under the park — is a poor statement by the territorial and the federal government," Jackson said.
St. Johnians came out to voice long standing grievances about broken promises over jobs and training, poor treatment at the hands of park rangers and access to heritage roads and land holdings inside park boundaries.
Those complaints became more pronounced when Lavasseur mentioned that more than 90 percent of park positions in Puerto Rico were filled by Puerto Ricans.
They cited federal and local laws that promoted hiring and training for park positions and directed funding from the park's largest concessionaire to the local government.
Other participants questioned the legality of the park extending its domain over submerged land, as was done in 1999 with the establishment of the Coral Reef National Monument, east of Coral Bay and at Buck Island Conservation Area on St. Croix.
"What happened to the territorial sea of the Virgin Islands? The national park claimed park waters within the territorial seas. That cannot happen," said Marlon Pickering.
Plaskett, a native of New York with family ties on St. Croix said her own relatives complained about park restrictions keeping them from fishing and diving for lobsters off Buck Island as they used to.
Pickering, St. Croix resident Sonia Jacobs Dowe and St. John businesswoman Theodora Moorhead asked for better relationships.
Austin asked St. Johnians if they were willing to give community engagement a chance.
"To put this into context, being here eight times. There are some regional directors that have never been her but once in over four to five years. So that shows you my commitment to all of you. That I want to hear your voices. I want this to be a dialogue so that Jayne, Randy and I can understand your needs — the public, the Friends groups and all of our partners," Austin said.
Getting stakeholders on the same page was important enough to the director that he made the trip to the territory eight times in four years. It was no small feat for a director responsible for 70 park sites, 4,000 employees and managing a budget of $600 million.
Jackson said he too wanted to see better interactions between the people and the park.
"As a policymaker, it's very frustrating that when we invite the national park to engage with the community, the absence of the park, because of the bureaucracy; one — permission by Washington to attend the public meeting, and in many cases, it's a farce, because in many cases administrators have decided that they don't want to engage with the territorial government at this level with the people of the Virgin Islands. and I think that's a travesty," he said.
Explaining Realignment
When word began to spread on July 11 about changes in the administration of the park service it was met with uncertainty in the Virgin Islands. Austin on Thursday offered an explanation.
He said providing oversight and guiding decisions at the 70 national parks, historic sites and monuments in the NPS Southeast region falls to the director and a team of deputy directors.
"In the regional office, I have 70 units in five states. That includes Great Smoky Mountains, Virgin Islands, Cape Hatteras, Martin Luther King site … I could go on, many, many sites. I have three regional deputies. That's a regional director and three deputies.  Each deputy divides the sites into about 20 sites each. We were told that we have to downsize to one deputy. So those regional reports will be coming up. And I'm a hands-on manager. I want to talk to Jayne or Randy or Joel. But I'm losing staff," he said.
To make up for the loss, Austin chose Lavasseur, former chief ranger for the Golden Gate National Recreation Area, to act as Caribbean group superintendent. The position was initially offered to St. Croix Superintendent Joel Tutein but Austin said Tutein turned it down.
As group superintendent, Lavasseur is available to consult with Tutein and Schaeffer as they manage their day to day operations on St. John and St. Croix.
But each retains their decision-making power, at the local level, the director said.
"I use this example. You all must have been to an airport. You have Enterprise, you have Avis and Thrifty. Does everyone realized they're all owned by the same company? But they're independent. The back door is they have one CEO. Same with these parts.
Joel in St. Croix will continue. No change in names, since that rumor went out. It's not going to be run by San Juan. There's only going to be a line of authority. Everything through Randy, back to the park level but the decisions will be local," Austin said.
Other park sites within the southeast region will see similar management shifts in the days to come.
"It's not just happening here. It's happening across the country. The next three weeks, I'm going to be on the road. I'm going to Cape Lookout, Cape Hatteras next week.
Same thing. Those who know the North Carolina coast, Cape Hatteras — it's very coastal. Cape Hatteras, big fishing area, Cape Lookout. We have two managers there, similar situation.
That manager will answer to Cape Hatteras and Cape Hatteras will answer to me," Austin said.
"It makes sense."
Resolving Land Issues
One of the lingering issues Austin said he wanted to resolve in the Virgin Islands was access to family land holdings. At the Thursday meeting, native St. Johnian landowners and members of Unity Day Group brought their concerns.
Businesswoman Wilma Marsh Monsanto said that 300 acres in Reef Bay, claimed by the park, belonged to her family. Educator Carla Sewer displayed a map of Freeman's Ground containing 40 acres belonging to her father, Calis.
"We have some terrible boundary disputes. Some people have been arrested for trespassing on lands. We have destroyed those individual's whole lives because they were arrested by rangers. It's problematic. It's just not right, what is happening on our island.
I personally took the park to court because they had overstepped their bounds. They claimed several acres of land. There's still over 300 acres of land in the Reef Bay section that belongs to the family. If you look in the Cadastral section it is marked off there.
But what fools we mortals be. If you don't go to claim it, the park just circles it off and it's there," Marsh-Monsanto said.
The Senate president added that the park's posture helped speed the decline of St. John culture and folkways.
"Over the years, from the 1950s to the 60s to present, the issues of St. Johnians as it relates to their access to their cultural resources has been one of contention. Whether it has been picking, or going into the forest, to hunt, or to go into the forest to cut the hoop vine or the whist to make baskets.
I'm not sure if it was talked about, but it's in your exhibition. And that cottage industry, as well as the bay rum industry, was destroyed because we were not able to cultivate and to pass on," Jackson said.
St. Croix resident Sonia Jacobs-Dowe also addressed the matter. Jacobs said she came to St. John to research a humanities grant but when most of the discussion at her meeting gravitated towards the park, she decided to show up and hear for herself.
"Part of our meeting was spent discussing the tension, the crisis, between the park and the community of St. John. Had I not had a foothold here, I might have been surprised by that but it has been growing and growing," Jacobs-Dowe said.
She commended Austin for embracing the idea of sensitivity training for park employees. "Also, that part of that training should be the creation within your staff to be a friend of the St. John community. If your staff develops a commitment to being friends of the community, a part of the community, I think it will better help them use their discretion, because they won't be dealing with strangers. They'll be dealing with people who are their friends," she said.
Concerns like that keep coming up, year after year, Austin said. The director said it's time to address them.
"I really think that Sonia summed it up as to why we're all here this evening. I really have a commitment to making this place a model for the future. As I said earlier, the Congresswoman Plaskett said, Stan I want you here. Several months ago, as I mentioned, Michael Reynolds and I were sitting in her office. She said it's not only about St. John. it's about the National Park Service, which she represents as chair of the subcommittee," Austin said.
Michael Reynolds is the acting Director of the National Park Service. Austin explained that Reynolds would most likely be replaced because of changes in the White House that occurred after the 2016 presidential election.
The Delegate's Assessment
One day later Plaskett said she felt the meeting achieved its purpose and expressed confidence about how to make way for the future of the park. As chairman of the House of Representatives Subcommittee on the Interior, the delegate said she stays in touch with Austin and other park managers.
"I and my office are in constant communication with Mr. Austin and other appropriate NPS and Interior officials to ensure that the issues that are relevant to our jurisdiction over the parks are addressed adequately," she said.
Plaskett also said she was satisfied with the director's explanation of Lavasseur's new duties as group parks superintendent.
She also expressed support for the creation of a working group to help park managers resolve longstanding land and road disputes.
"Both Stan Austin and I agreed that a working group to discuss these and other issues would be appropriate moving forward," the delegate said.