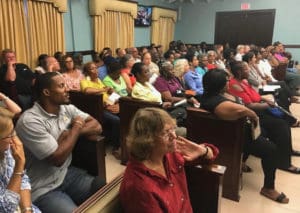 I wish to offer a huge Love City thank you to Governor Bryan, IA Shikima Jones, and VIPA Executive Director Dowe for their fine efforts in arranging a terrific meeting last Thursday night to discuss the creation of an Enighed Pond Community Park (aka STJ Carnival Park).
In a standing-room-only meeting at our STJ Legislature, and for nearly 2 1/2 hours, everyone shared ideas for this project and its multi-purpose uses.  I'm so proud of our community for the many thoughtful ideas which were shared, showing the commitment to our island, Love City.
This creative meeting was topped off with applause when Senate President Frett-Gregory rose to announce that the Legislature has recently confirmed that in the future our STJ Capital Improvement Fund shall be dedicated only to STJ projects.  This $1.5 M/year fund will provide so many opportunities for our island to become even better.
Having many decades of attending STJ meetings, this meeting was one of the most positive.  I am so proud of our STJ community and to everyone who showed up to offer their input on this proposed community park in the heart of our Cruz Bay.
Steve Black, St. John