Greetings to all our neighbors on St. John. April 16-23 is National Volunteer Week. It was organized by the Points of Light Foundation whose mission is "to inspire, equip, and mobilize people to take actions that change the world." That sentiment is carried forth by every volunteer member of St. John Rescue.
The 28 members of St. John Rescue volunteer their time to support the organization's effort to provide the best possible emergency medical care possible. It is a week that provides us an opportunity to recognize the impact of volunteer service and the power of volunteers to tackle society's greatest challenges, to build stronger communities, and to be a force that transforms the world.
The power of people working together can bring about monumental changes, as was demonstrated right after Hurricane Irma struck our island. The days following the hurricane reflected the individual and collective efforts that set the tone for reimagining the next 20 years as the value of one act and the power of many enables us to thrive together.
Volunteer week was established in 1974 and has grown each year with thousands of volunteer projects and special events scheduled throughout the week. St. John Rescue appreciates each and every volunteer for their dedication to our cause of providing the best emergency services support to Fire and Emergency Medical Services, the V.I. Police Department, V.I. Territorial Emergency Management Agency, and the National Park Service.
Each month, we shine a light on a St. John Rescue member who demonstrates that spirit of volunteerism. This month we introduce you to Valerie Hewitt.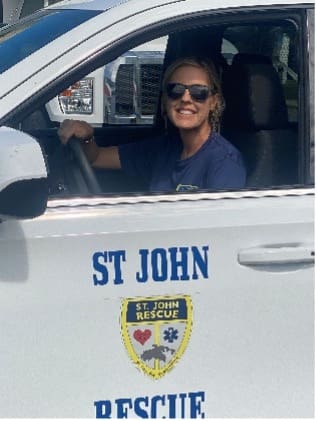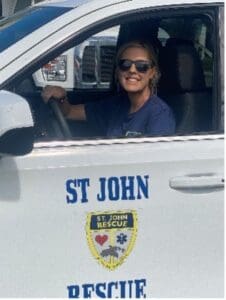 Valerie moved to St. John from Michigan a year ago after graduating from the EMT academy in her home state. She was introduced to St. John by her boyfriend, Landry Boysen, another St. John Rescue member, and was immediately drawn to this beautiful island along with the promise of no more frigid winters. When asked "what makes St. John so special," her reply was, "The people who live here make it a special place and it has been a privilege to serve them through St. John Rescue." Valerie grew up in a big family in a very small town and has always loved helping people. She is very passionate about trying to make a difference in the lives of others.
If she isn't working or participating in a rescue activity, she is can be found either diving, hiking, traveling, looking for a location for skydiving, or training for the World's Toughest Mudder (24 hours of running and military-style obstacles) in November.
St. John Rescue is so very fortunate to have Valerie as an active responding member.
St. John Rescue History
St. John Rescue was founded in 1996 by a handful of St John Residents. The first couple of years involved building the organization and acquiring equipment. In November 1998 the members of St John Rescue asked the commissioner of Property and Procurement for a vehicle. The commissioner secured a 1986 Chevrolet SUV for rescue to use as its first rescue vehicle. Unfortunately, that vehicle was not quite operational. It wasn't until 1999 that mechanic Charlie Lynn was able to get the vehicle running so it could be used to respond to emergencies. Thanks to a grant through the U.S. Highway Traffic Safety Act, St. John Rescue was able to purchase extrication tools that would allow responders to extricate passengers who become trapped in their vehicles.
We have come a long way since those early days.
Please consider taking a CPR or First Aid class with us. Simply call 340-693-7377 to sign up.
Until next month, please stay safe.
— Bob Malacarne is the community health coordinator for St. John Rescue.