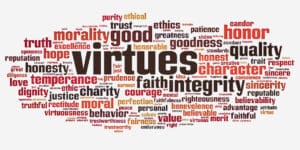 Virtue of the Week focuses on building peaceful and caring communities through understanding and fostering the practice of virtues. The Source supports the Virtues Project and will publish one virtue developed by the project each week.
Dignity is a sense of worthiness and respect. It comes from remembering who we truly are and our purpose for being. When we are mindful of our
own dignity, we hold ourselves with self-esteem, respect and simple confidence. We move and speak in a graceful manner. We avoid actions that cause us to feel ashamed. We recognize the inherent worth of each person, whether or not they see it for themselves. We treat everyone with the respect and honor all beings deserve. We refuse to violate anyone's rights.
When we value each other, we honor our Creator.
Quote: "It was you who created my inmost self and put me together in my mother's womb; for all these mysteries, I thank you: for the wonder of myself, for the wonder of your works."
PSALMS 129:13-14
 The Practice of Dignity
I know my own worth.
I carry myself with respect.
I keep myself free of shame.
I value all people.
I avoid mistreating others
I act honorably.
I honor everyone's rights.
I am thankful for the gift of Dignity. It helps me to walk tall.
___________Questions for Discussion__________
How is everyone's inherent worth honored in our community?
Has the community dishonored anyone's rights? What needs to happen to make things better?
Do we leave space for dissent while honoring everyone's dignity in our community?
What does respect look like in our community? How can it help in our social justice work?
Virtues Matter was started by a wife-husband team of social entrepreneurs seeking to positively uplift as many lives as possible. We aim to inspire and empower, to build capacity, strengthen relationships, and help everyone lead lives of passion and purpose.
Virtues Matter believes in a world where people are committed to kindness and respect, strive to be their best, and live with hope, courage, and in unity. We built the Virtues Cards mobile app, an interactive personal and team development tool, to help people identify and develop key virtues skills. We also offer dynamic workshops, online training, and customized programs to help people cultivate these positive qualities of character. To learn more, visit virtuesmatter.com.