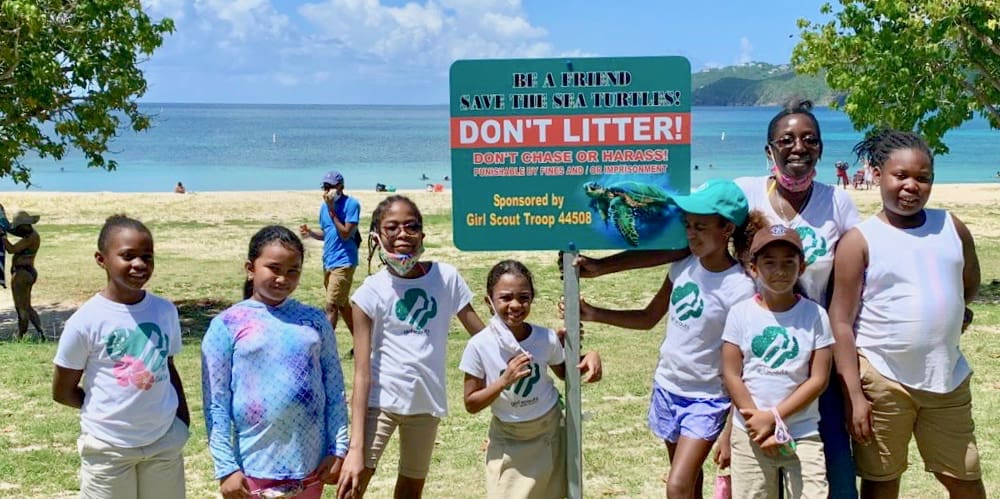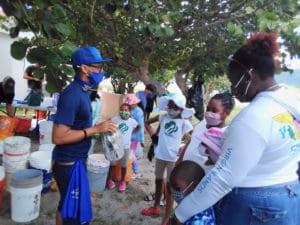 The Virgin Islands Marine Advisory Service jumpstarted its annual Coastweeks cleanup Saturday at John Brewers Bay Beach on St. Thomas, collecting more than 4,400 pieces of trash.
The initiative mobilizes volunteers to help remove debris from the territory's shorelines and catalog the types of items being discarded, according to Coastweeks Coordinator Howard Forbes Jr.
The International Coastal Cleanup initiative is coordinated internationally by the Ocean Conservancy. There are more than 30 years of beach cleanup data for the territory as a result of Coastweeks, which has been used to create legislation to reduce and prevent marine debris.
Saturday the top five items of debris collected were: 1,026 metal bottle caps, 591 pieces of glass, 499 pieces of plastic, 363 plastic bottle caps and 33 food wrappers.
Forbes said that 58 percent of the overall debris consisted of foodservice industry items and that only six percent of the debris was aluminum cans. He noted over three years' worth of data collected from the Great Mangrove Cleanups, funded by NOAA's Marine Debris Program led by Dr. Kristin Wilson Grimes, beverage containers are three to four times as likely to be found because they get easily tangled within mangrove roots.
On St. Thomas, Forbes and Zola Roper coordinate Coastweeks. The cleanup was completed by volunteers from Cleanup V.I., Blue Flag, students from Ivanna Eudora Kean High School, Charlotte Amalie High School, All Saints Cathedral School, Addelita Cancryn Junior High School, University Bound, Calvary Christian Academy, UVI staff, Girl Scouts 44508, and Black Pearl Ecological.
"The breakdown of volunteers does consist primarily of school students, which was intentional," said Forbes. "Our team emphasized sharing information about the cleanup to schools during virtual presentations we scheduled with educators to inform their students not only about Coastweeks, but also about the issue of marine debris, its impacts, and strategies we can employ to mitigate our impact on the environment."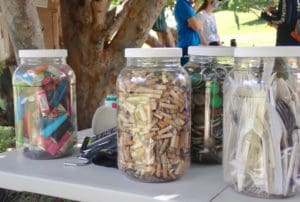 Additional support for the effort was given by Cleanup V.I., which provided reusable gloves, buckets, trash bags, and refreshments, and by the USVI Storm Strong Team, which provided five-gallon Home Depot buckets filled with a combination of hurricane preparedness supplies (solar lantern, water quality testing kit, waterproof matches, rope, hand sanitizer, reusable water bottles or stainless-steel cups, and a reusable mesh produce bag) to those persons who collected at least five pounds of debris.
"These cleanups are important to help remove debris from around the island, debris that has negative impacts on both the environment as well as us, and also help bring the community together to join forces to make a noticeable change on our beaches," Roper said.
Though some trash items collected over the weekend will not be able to be reused, some of the debris collected will be able to be recycled and repurposed.
"A total of 116 glass beverage bottles were removed from the area and will be crushed at the University of the Virgin Islands to produce two, 30-pound sandbags. Sixty glass beverage bottles will produce one 30-pound sandbag," Forbes said.
People who want to provide glass beverage bottles to be recycled into sandbags can contact Forbes at howard.forbes@uvi.edu and read more about the program at the Marine Advisory Advisory Service website.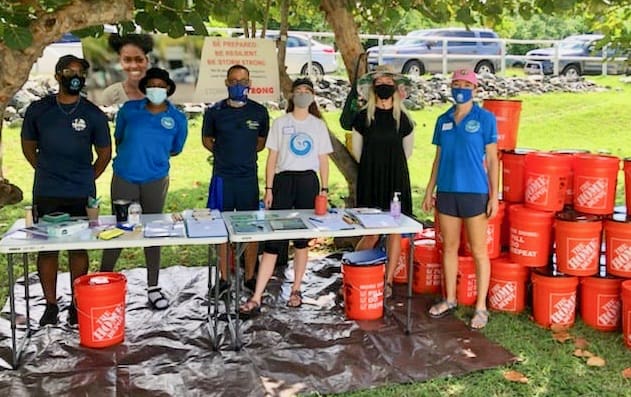 Forbes said the coastal cleanup prevents debris from going into the waters, prevents harm to wildlife, increases the aesthetic of the islands, and fosters environmental stewardship.
"Conducting cleanups helps to highlight the issue of marine debris. Sometimes volunteers aren't aware of how much debris is actually present on our beaches, mostly because they are looking for the large trash items," said Forbes. "When they spend a few minutes investigating the area, they are surprised at how many small items, like cigarette butts, bottle caps, and food wrappers, are scattered all around."
Roper said she was pleased with the turnout.
"For the first Coastweeks cleanup, it was awesome to see so many youths and other members of the community come together to remove debris from Brewers Bay and take the initiative to help protect our coastlines from this growing environmental issue," she said.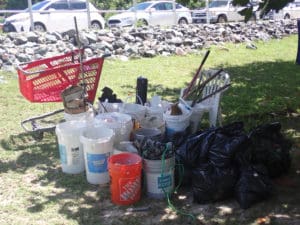 Forbes wants to encourage other organizers of cleanups to consider incorporating data collection with their cleanup efforts, supporting local legislative efforts to mitigate marine debris impacts within the territory.
"Our team would like to thank everyone that came out to support our kickoff cleanup as well as any upcoming cleanups this year … The 30-plus years of data our team has collected has enabled us to better understand specifically which types of debris are most commonly found on our USVI shorelines so that decisions made to reduce marine debris are backed by science."
More information about Coastweeks is online at the VIMAS website.
Those interested can volunteer online here.