Pictured above: Little tennis players line up for a drill with Patrice Harley. Photo courtesy of Lee Hoerner. 
If you drive by the tennis courts in Cruz Bay on most days or evenings, you'll see an assortment of locals and tourists playing matches that range from friendly to fierce.
But if you pass by on a Friday afternoon when school lets out, you'll see a different sight: a dozen or more children, many still wearing their gold and navy blue Sprauve School uniforms, running through a series of drills, including five-year-olds with junior-size racquets in hand.
[adrotate group="6"]
They're part of a Youth Tennis Program sponsored by retired teacher Patrice Harley that has been going on for more years than she cares to count.
Harley is keeping up the tradition begun by her father, Victor Ebbesen Sr., a St. Thomian who worked as the Personnel Director for the VI Government and then headed up the Maternal and Child Health Division before retiring to pursue his passion, working as a tennis pro.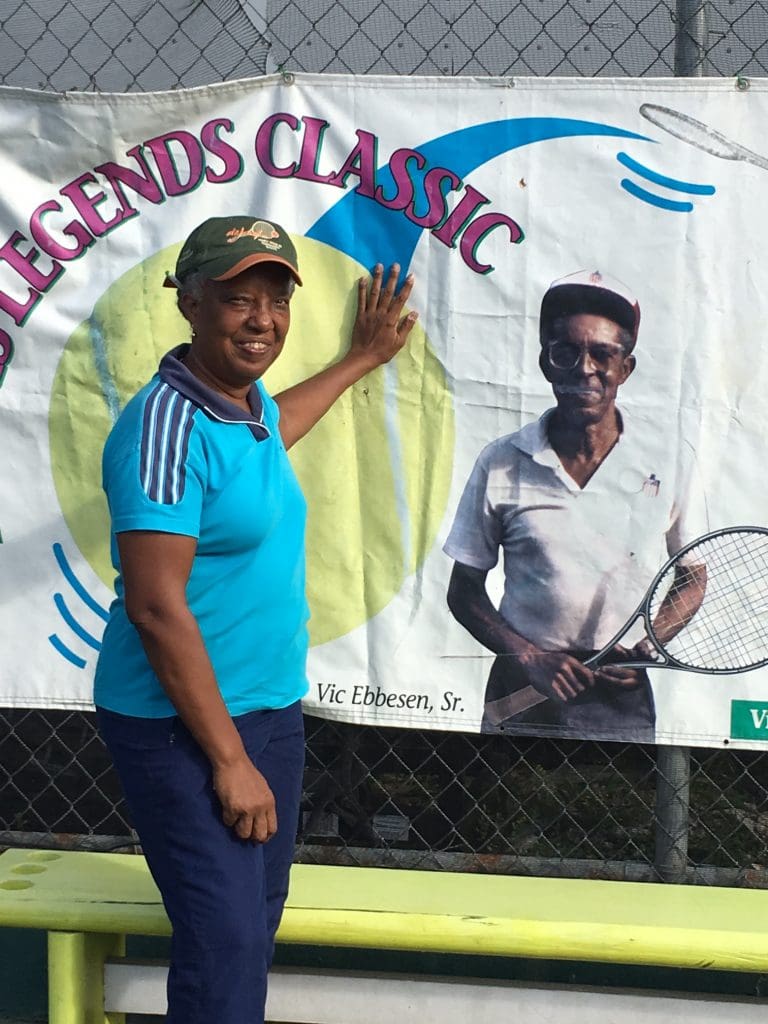 A familiar face on St. John until he passed away in 2013, Ebbesen was devoted to creating generations of tennis players on St. Thomas and St. John. He was inducted into the African-American Ethnic and Caribbean Sports Hall of Fame in 2002.
Ebbesen involved his entire family throughout his many years as a player and teacher. His wife, Thelma Oliver Ebbesen, helped manage his pro shop.
His taught the game to numerous youngsters including his own children, Patrice, Jeannette, and Victor Jr., and to their cousins and friends on cement courts in Long Bay, St. Thomas.
He brought his protégées to tournaments in Puerto Rico, flew in experts including Katrina Adams to teach tennis clinics, and instilled a love of the game in many, including Turhan Berne, who now runs tournaments in Atlanta.
Harley herself became his assistant when she returned from earning her degree in elementary education at Ball State. When she married Julien Harley and began teaching at the Guy Benjamin School in Coral Bay, Ebbesen expanded his Youth Tennis Program to St. John.
For years the program received funding though VITELCO, but when the company was sold, funding dried up. Ebbesen and Harley kept the Junior Tennis program going with their own funds—and a little help from the community.
Harley recalls Ruth "Sis" Frank, one of the co-founders of the St. John School of the Arts, handing her a $20 bill each time she passed the courts and saw them playing. "I'd buy the children snacks—bananas, strawberries, apples—to promote healthy eating," she said.
St. John Ice has allowed Harley to fill up a five-gallon jug with water and ice, "and they've never charged me," Harley said. Dr. Gilbert Sprauve, once an avid player, has sponsored a fun-day tournament for several years.
Unlike many after-school programs, Harley's tennis program receives no funding from the Department of Sports, Parks, and Recreation.
Instead, Harley relies on the assistance of a few steadfast volunteers, including Ed Oldfield who's been with the program for 27 years. "I enjoy it a lot. When you see a bunch of little kids trying their hardest, it warms your heart."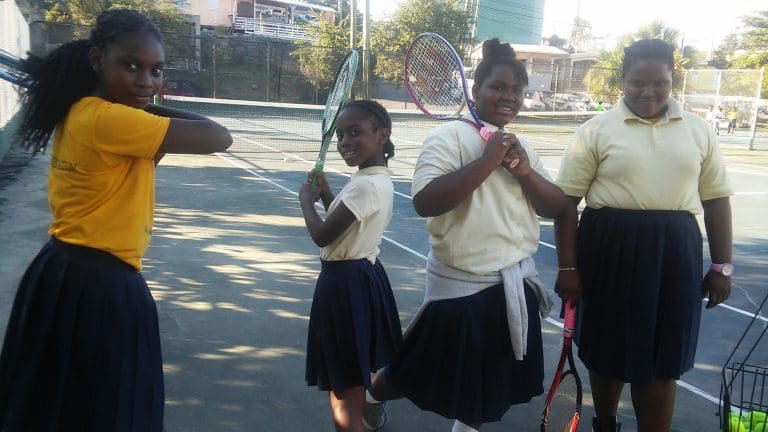 Oldfield says that tennis is a challenging sport that requires skills like "concentration, determination, and hard work. When you hit the ball right, it's like magic, it feels good."
But to function at its best, the program needs the steady presence of other adults to help manage the children who range in age from kindergarteners through high school. "With enough adults, the kids are great. We can give them the vision that they can do better."
Lee Hoerner, a part-time resident of St. John, assists with the program whenever she's on island. A retired teacher as well, she marvels at Harley's abilities to keep the children engaged at the end of the school week.
"Pat teaches them about courtesy, manners, proper tennis etiquette. She gets them to listen without scolding them.   She just looks at them and they just melt."
Even bad weather offers opportunities. "One day it rained. Pat pulled out some tennis magazines, so she turned the time into a geography lesson. 'Where are these players from? How do you pronounce their names?' She finds that teachable moment," Hoerner said.
Many other St. John youths, now in their 20's and 30's, have participated in the program, including Oswin Sewer Jr., Audrey Penn, Shawn and Ryan Costanzo, Keenan George, and two of Harley's children, Julice and Jaurel.
"It was fun," said Oswin Sewer Jr. "I played from the time I was 12 to 16, and then again in college. I still play sometimes."
The Junior Tennis program created opportunities for talented players, like Tomas and Luca del Olmo, to participate in tournaments. The brothers also assisted Harley, working with the younger ones in the tennis program.
"It's a wonderful program, and Pat needs help, faithful help, not just those who drop in once in a while," said Hoerner.
She encourages others who wish to volunteer with the program or offer other forms of support to stop by the courts on Friday afternoons when practices are held.