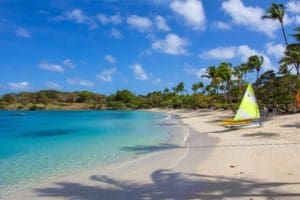 The Office of the Senator-at-Large is planning to host an event from 6-8 p.m., Wednesday, Feb. 23, in Cruz Bay Park, to provide a means for Johnians to obtain information about the future of Caneel Bay. Recently the National Park Service (NPS) unveiled an initial set of concepts for the redevelopment of Caneel Bay, the iconic resort at V.I. National Park on St. John's north shore, which has been closed since the hurricanes of 2017.
NPS has given the public until Feb. 17 to comment through the Caneel Bay Redevelopment website. Sen. Steven D. Payne Sr. strongly and successfully advocated for an extension of the comment period and has subsequently initiated a community outreach platform for the public to receive information and engage in real-time and in person, so that people's voices can be properly heard.
"As a resident of St. John and their chief representative in the Legislature, it is my duty to make sure that the people of Love City have effective and ample means to give input into the future of this treasured real estate on our island," the senator said.
"In the territory generally, and St. John specifically, critical decisions about development of land often are made haphazardly or are based on strictly economic or political agendas with little to no consideration of including the voices of the people in the process. That is an injustice that multiple stakeholders must come together to eradicate, but until then, as your public servant, I remain committed to ensuring that my people will be an integral part of this process, and I encourage all Johnians to come out, share your vision and make an impact on Wednesday," Sen. Payne said.