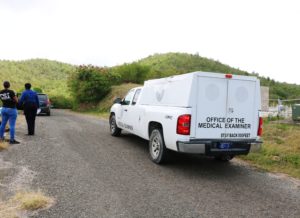 Thanks to DNA paternity testing, the V.I. Police Department has identified the remains of a woman found on the road in Estate Bugby Hole, St. Croix, in May 2021.
The department said in a press release Monday night that DNA paternity testing was conducted using the biological daughter of the woman. The test revealed that the deceased was 39-year-old Marla Santos, the release stated.
Her body was found on May 19, 2021, at 8:36 a.m. on the road in Estate Bugby Hole in an advanced stage of decomposition. 
Based on reports that were made at the time regarding a woman who was seen in the area acting erratically, contact was made with the family of the woman and DNA samples were collected, according to the release.
An autopsy was conducted by Dr. J. Pender, who stated that there were no visible signs of trauma or foul play and that the cause of death was from natural causes, according to the release.