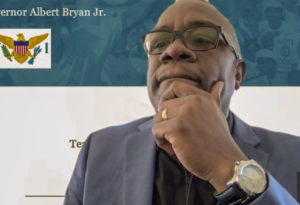 The Public Finance Authority Board approved hiring Duane Morris LLP as bond counsel Wednesday to work on a plan to remove the threat of insolvency from the Government Employees' Retirement System. The plan must get the approval of the Legislature.
The authority board members in an executive session received an update on the plan. Gov. Albert Bryan Jr. said publicly the plan would mean the government would infuse $4 billion in the system over 30 years. He said the administration had been working with the Legislature and Nellon Bowry, chairman of the GERS board, on the plan for several months.
At its December meeting, Bowry told the GERS Board of Trustees the plan was a way the government could make a "substantial contribution to the System for a sustained period."
Details of the plan have not been made public. Bryan said he is committed to a certain level of silence until the Legislature takes up the proposal. When the Source emailed Austin Nibbs, GERS administrator, he responded, "I do not have any comments on this issue until the Governor and Legislature formally explain the legislation to the public."
Bryan was asked whether the GERS complaint against the central government concerning alleged money owed would go away in the plan. He responded that he believed so. He said it was a "pet peeve" of his that one part of the government would be forced into paying legal fees by another part of the government.
The agenda item said that Duane Morris would act as bond counsel to the authority on the "proposed Matching Fund Securitization transaction."
GERS has been liquidating all its assets. Its mandated payments to retirees far outstrip the income it receives. Actuaries have predicted the retirement system to go bankrupt within two years.
Attempts to reach Senate President Donna Frett-Gregory for an update on the GERS rescue proposal were unsuccessful.
In other business Wednesday the board approved a resolution authorizing the transfer of the 2021 Private Activity Bond Volume Cap allocation to the Housing Authority. Bryan said this action was to move forward projects concerning public housing projects and get them under private management. He added that the projects should be finished in 2022.
Also, the board approved a resolution to amend the authority's contract with Springline Architects LLC to provide architectural, engineering, and design services for federally funded, disaster-related recovery projects.
Bryan questioned whether the Springline contract had not already been extended. The contract Springline had for small projects, that did not have to go through lengthy approval processes, was extended in December 2020.