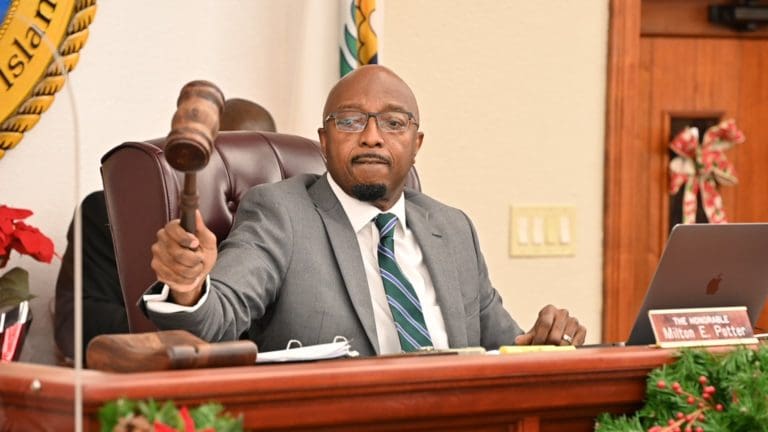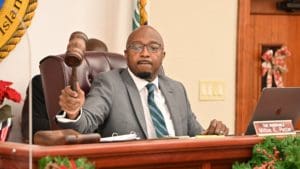 Of Wednesday's four agenda items, the Rules and Judiciary Committee advanced legislation aimed to assist the University of the Virgin Islands with payroll taxes accrued on restored employee salaries, and another bill seeking to temper student truancy.
Should Bill No. 34-0173 be signed into law, it would grant an appropriation of nearly $300,000 to UVI for employment tax on the restoration of salaries owed to past and present university employees for an illegal emergency payout in 2011. Moreover, the bill would re-establish annual funding for the Caribbean Green Technology Center and provide increased financial flexibility to support construction of the St. Croix medical school.
"A lot of our public servants (UVI present and former employees) have already received the restoration of their eight percent that was taken away from them in 2011. It's this body's responsibility demonstrating how serious we are about repairing damages that were made to our people and placing them back in step and making them whole," Sen. Carla Joseph said.
Forwarded alongside the university-related bill was legislation seeking to address truancy by cultivating a new process that includes heavy collaboration between school teachers and parents in hopes to avoid student dropouts.
"I think in this day and age of the pandemic where we are dealing with virtual learning, virtual teaching – a lot of things we were not aware of … caused quite a bit of issues. Especially when it came to the truancy of our children and making sure they were attending school. What we have to do is be responsible parents, responsible educators, responsible guardians," Sen. Alma Francis Heyliger said.
According to the legislation sponsored by Sens. Novelle Francis Jr. and Genevieve Whitaker, education officials would adhere to five steps if a student begins missing classes. After one unexcused absence in a month, a parent or guardian must be contacted. Once a student has two unexcused absences a parent conference is set up. If the problem persists, before five unexcused absences, the parent and school would enter a written agreement to reduce the student's absences. Parents would also be required to complete a parenting education program. After seven unexcused absences in a month or ten in a school year, the district superintendent can file a truancy complaint with the Family Division of the Superior Court of the Virgin Islands.
Both bills garnered support from committee members, whereas the committee voted to hold Bill Nos. 34-0149, which aims to ensure all official records relating to elections are accessible to the public, and 34-0072 requiring the declaration of firearm components upon entry into the territory.
Election System of the Virgin Islands Supervisor of Elections Caroline Fawkes said the election system opposed Bill No. 34-0149 and "disagrees with the Legislature creating laws delineating the administrative functions of our entity."
Fawkes questioned whether the Legislature was in the authority to make a change to the entity's internal processes as the Legislature passes "laws governing the Virgin Islands, not to generate policy for the Executive Branch and other semi-autonomous agencies of government."
Sens. Milton Potter, Novelle Francis Jr., Carla Joseph, Steven Payne Sr., Franklin Johnson, and Genevieve Whitaker were present for the hearing. Sen. Kenneth Gittens was absent. Additional non-committee members were also present.