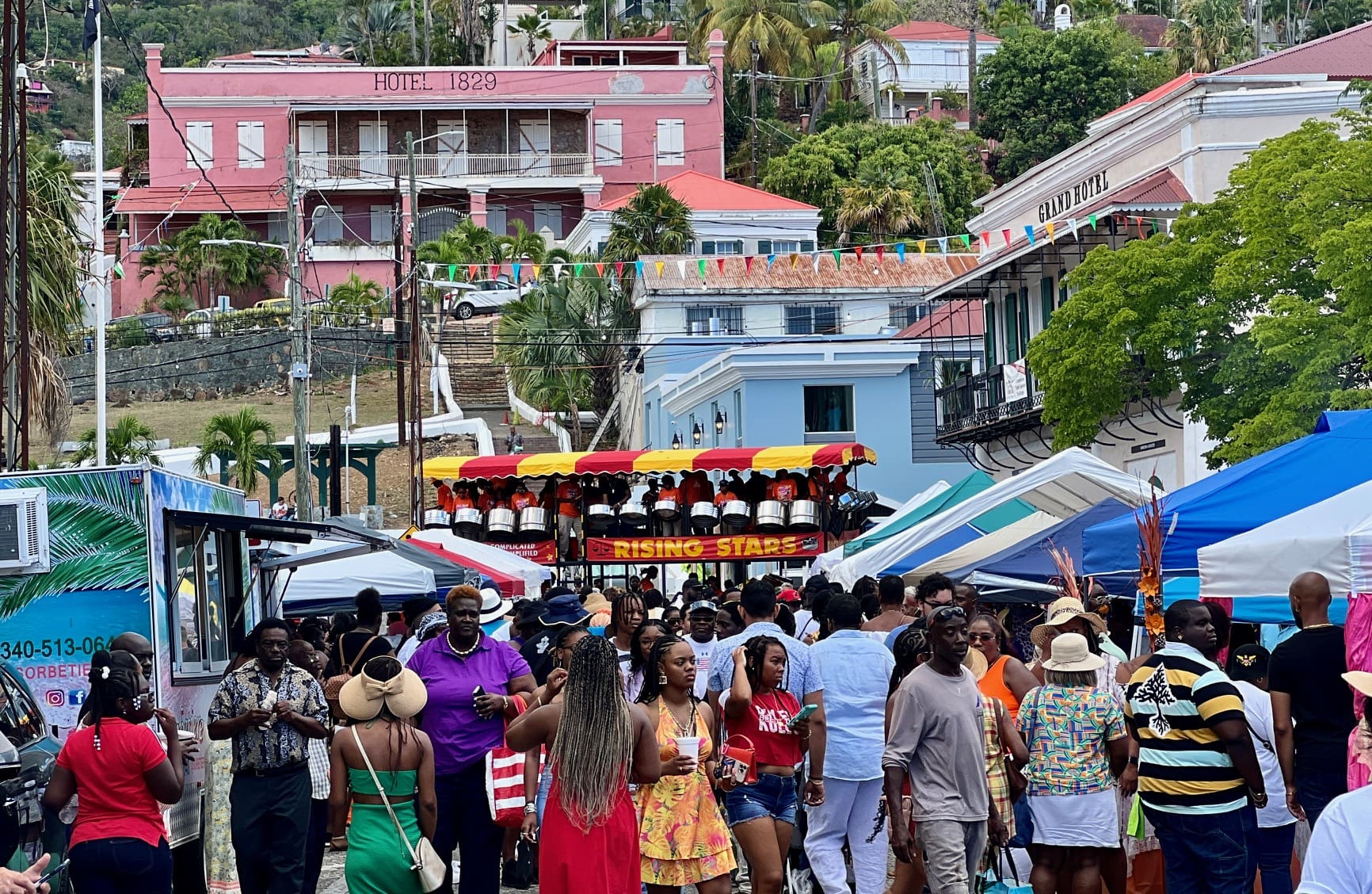 The Rising Stars Youth Steel Pan Orchestra began setting up early Wednesday and by noon were in full swing, coating the air from the tip of Main Street to the Emancipation Garden band stand with a cloud of music that was punctuated by the noise of the crowd that swarmed around the Food Fair vendor booths.
Stand anywhere in the area, and it was hard to stretch your arms and not touch someone — but oftentimes, it was someone you knew, and after taking a moment to catch up, grabbing a bite, buying a plant, browsing the stalls and bagging a tart for dessert, the day had slipped away.
"It's why I love Food Fair so much," this year's honoree, Goldine Burton-Knight said, as she reloaded her tarts after her plaque presentation finished around 1 p.m. "People come for hours and hours, they talk and reconnect and then they come by your booth and you get a chance to feed them and make them happy. I've been here for more than 40 years and each year, it's the same feeling I get — just happiness."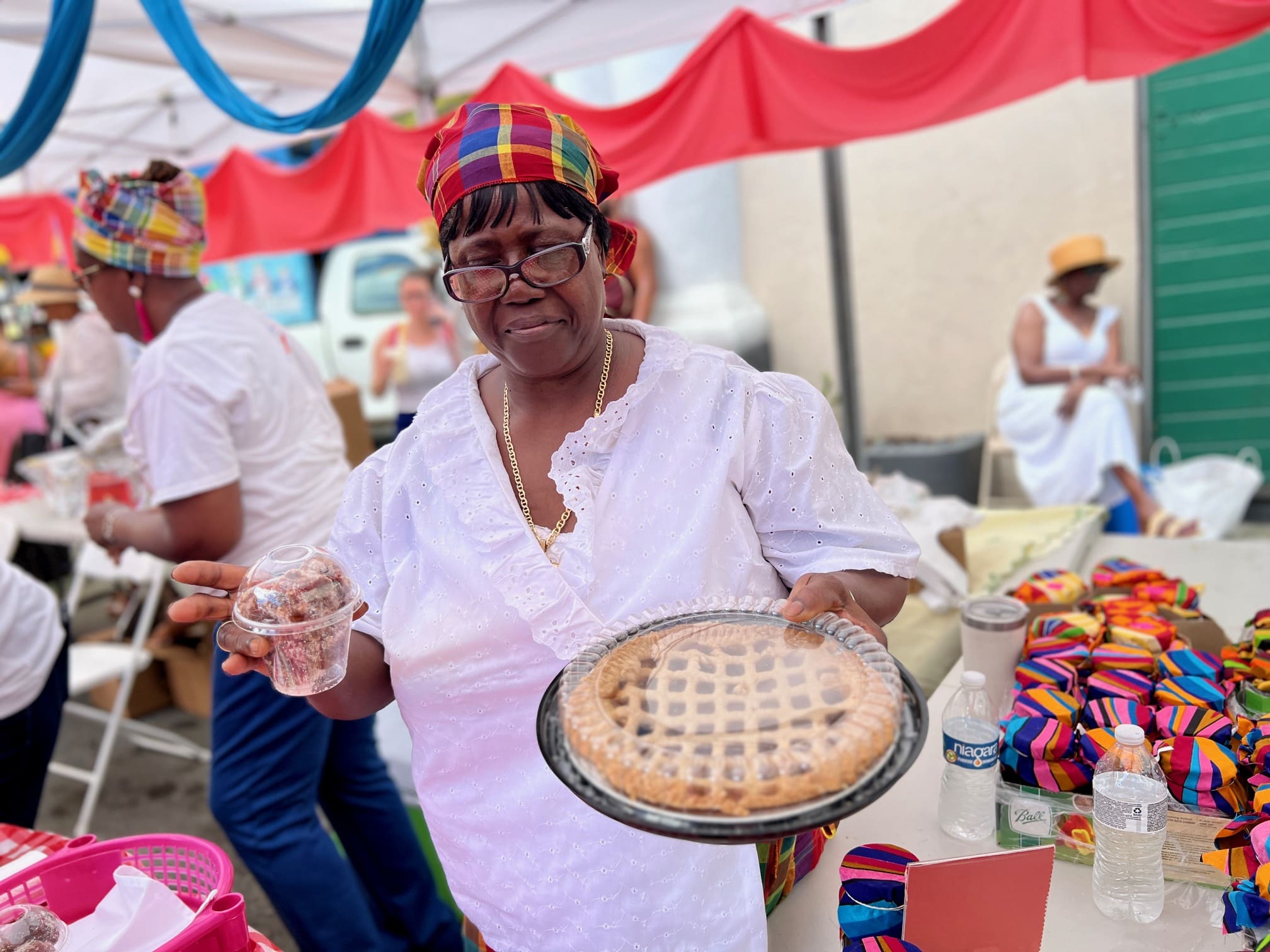 Burton-Knight has been in the same corner for most of that time, her booth draped in its signature madras, from the tablecloths to the bottle tops of her jars of sweets. Though her background is in sales marketing, taking an interest in her husband's baking became a hobby, then a business — ERK Corporation — that supplies markets across the island.
"Maybe one day we'll retire," she said. "But, people come here looking for us — they know exactly where they want to go. They've heard about us from somebody, or they saw a video from a friend and they can't wait to stop by. That's something that's hard to walk away from."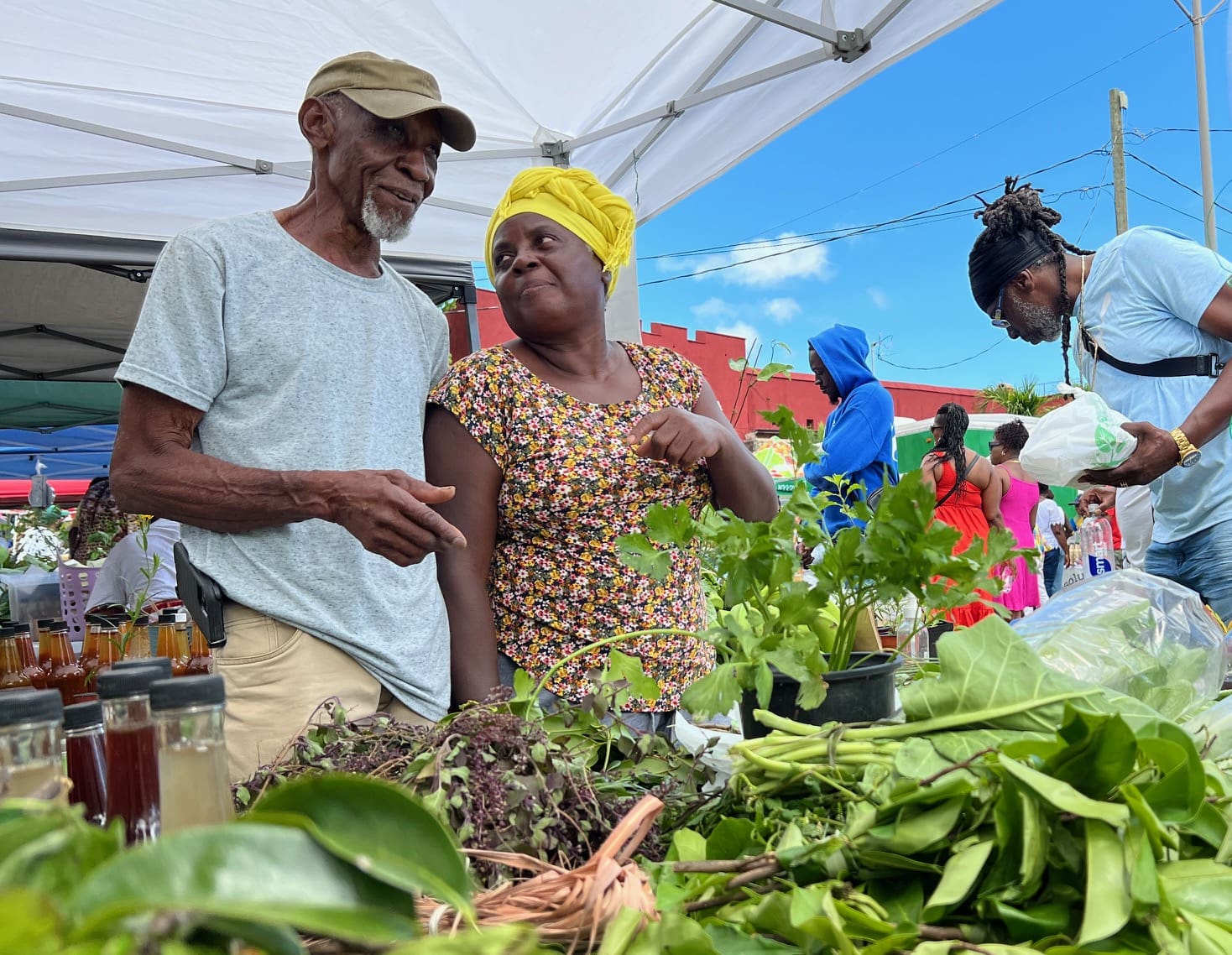 Like Burton-Knight, St. Thomas farmer Charlie Leonard has also marked decades in his spot, usually located in the produce section by the parking lot near Vendors Plaza. As usual, his tent and tables were filled with greens and slip pots or bottles of hot sauce made with his own hands. Extending about a foot in front, on the ground, were the fruit trees for sale, which also matched the photos taped to the booth explaining the different types of mangos or herbs.
"It really never occurs to me not to be here," Leonard, a former fair honoree, said. "From since the fair was at the college, we've come, adding a little bit more where we can. I usually do the fruit trees but my lady, she likes flowers, so we have that now and it makes a nice garden."
Absent from the tables, however, was the honey Leonard's so proud of making, as this year was drier, with less water available for his bees.
"I've been looking everywhere outside the farm for water, finding tanks here and there and storing it," he said. "The drought has been difficult for all of us, otherwise, I know that many of the farmers' tables would be twice as good — but still, we all did our best. It's an important event during the year for us to be at."
There were newcomers among the veterans, though, some as young as 10 or 11 years old, looking to start their Food Fair vending careers. A few spots down from Burton-Knight, for example, the Leader family manned Amayah's Lemonade Stand, which has grown from setting up at smaller events and pop-ups to recent appearances at business expos.
"I started my lemonade stand at seven years old to inspire young women to become entrepreneurs," the booth's namesake and chief lemonade maker said. "We started by making just the regular flavor but over the years we have grown to include more and more. I think what I love most about having this stand, though, is being able to do it with my family, especially my sisters, and then getting to meet new people while we're selling it. It's lots of fun."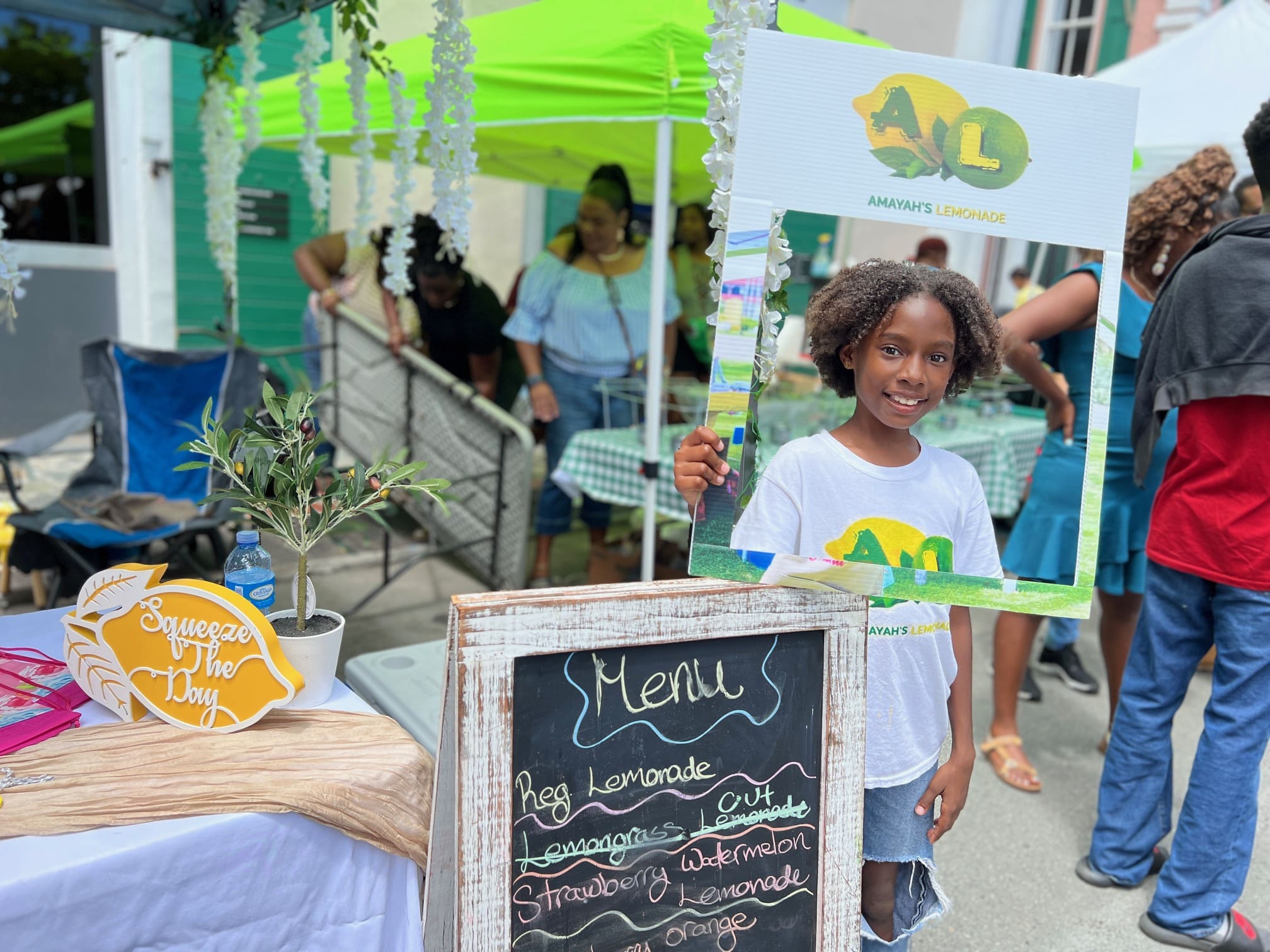 In the garden among the artist and craft booths, Carnival Princess contestant and first-runner up Sariah Somme, showcased the tables full of jewelry that she had made with her grandmother.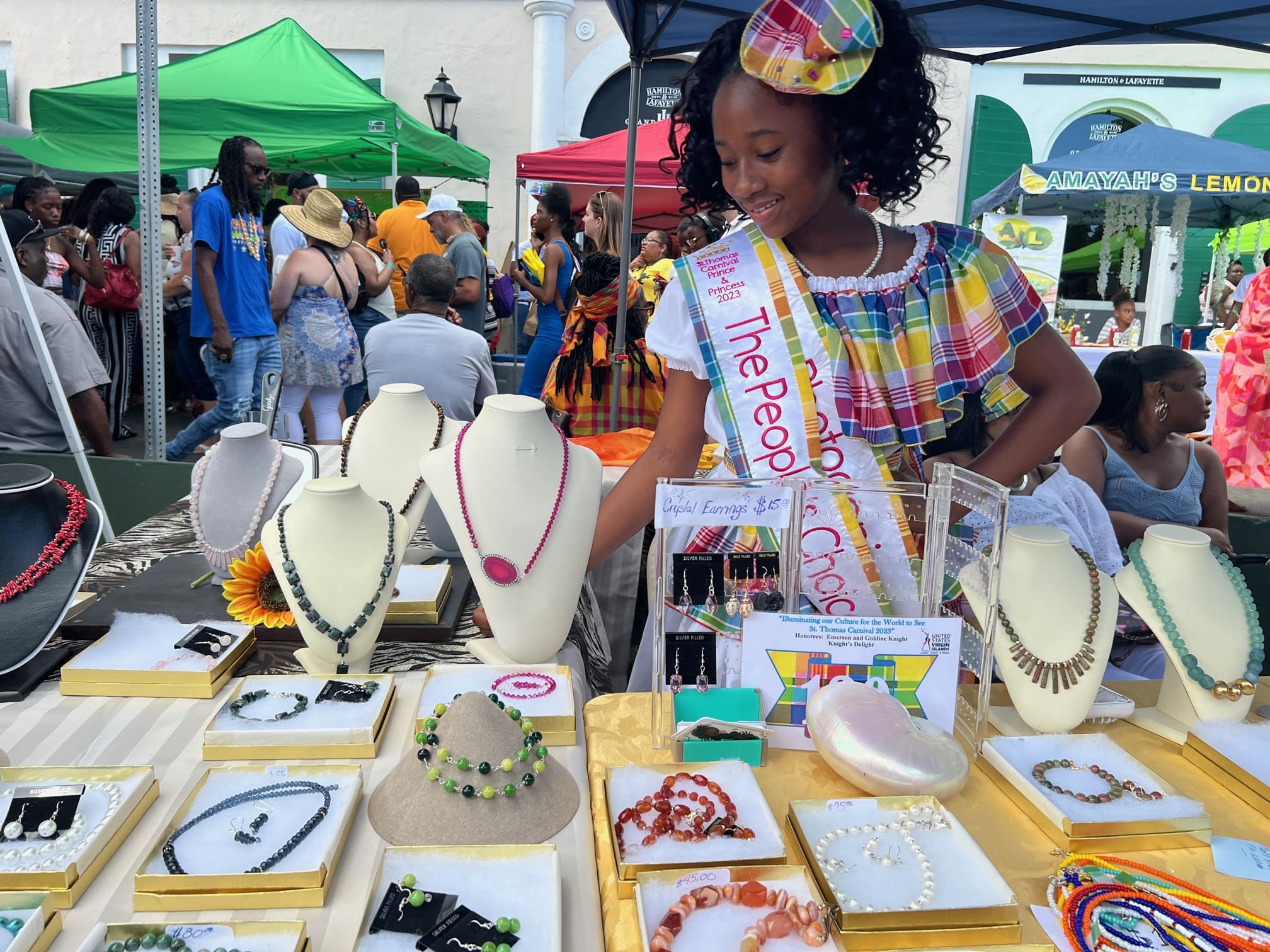 "Sometimes the process of making the jewelry is long — but it depends on what you're making," Somme, who said she's been crafting since she was six, said. "Depending on the details, a necklace can take more than a day, while something like a set of waist beads could take an hour. But doing it with my grandmother, I don't even notice, because it's something we love doing together. She inspires me to keep wanting to do it, and do it better every time."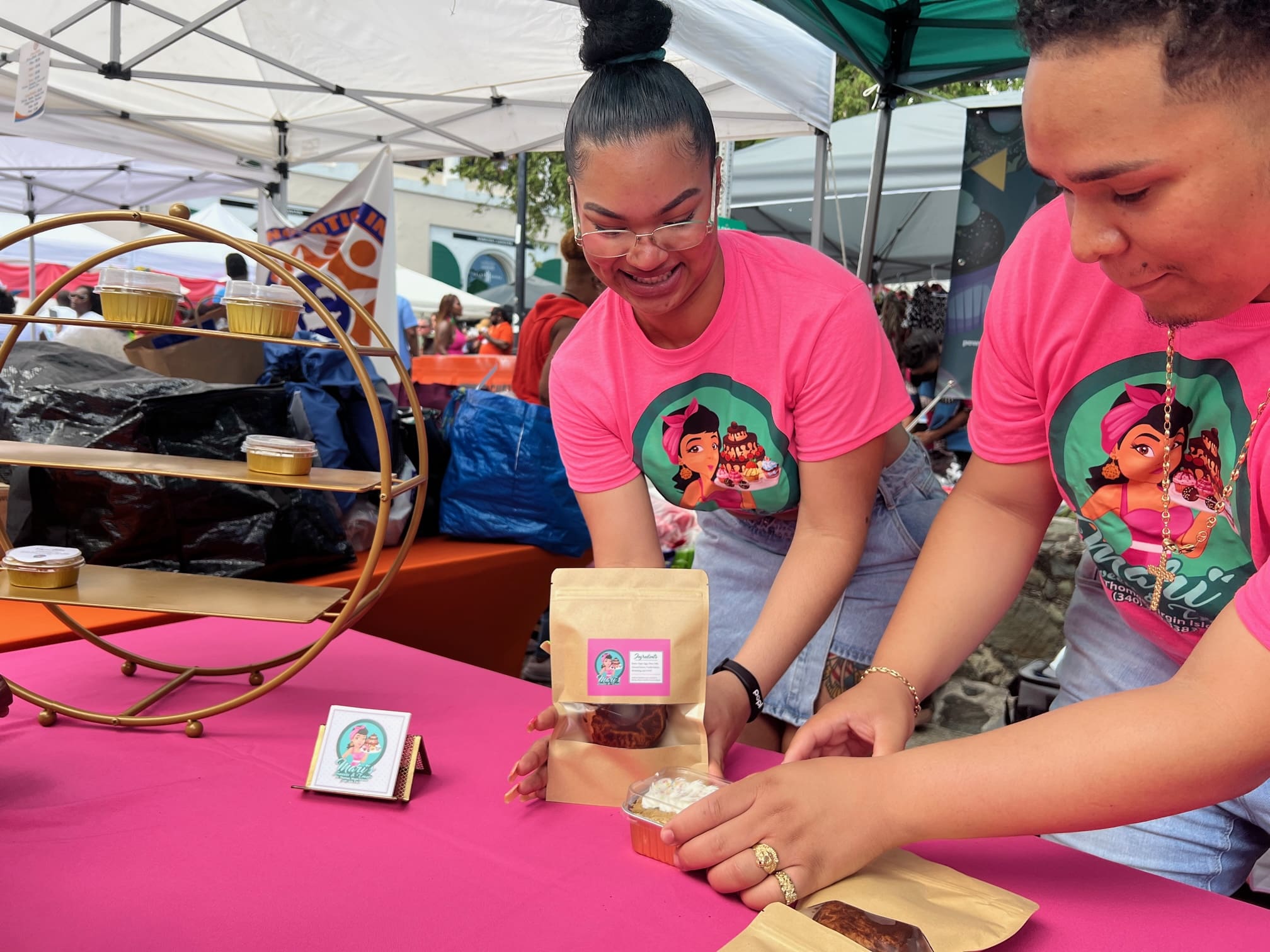 Across from Rudy's Fraco Truck, the sentiment was similar for Yaritza Tirado and Roberto Tirado, Jr., who were manning the Mari's Sweets and Treats booth for their aunt Maritza, a popular St. Thomas dessert maker.
"Honestly, it's just become a family business," Yaritza Tirado said, joking that she and her brother have become the employees. "Everyone's always in the kitchen baking and laughing, and I think that was the best part of getting ready for today, too — working together and having fun as a family. And it shows — we had so many cake slices and different types of donuts for sale, but we sold out in an hour and I know it's because people have heard we have that something special."