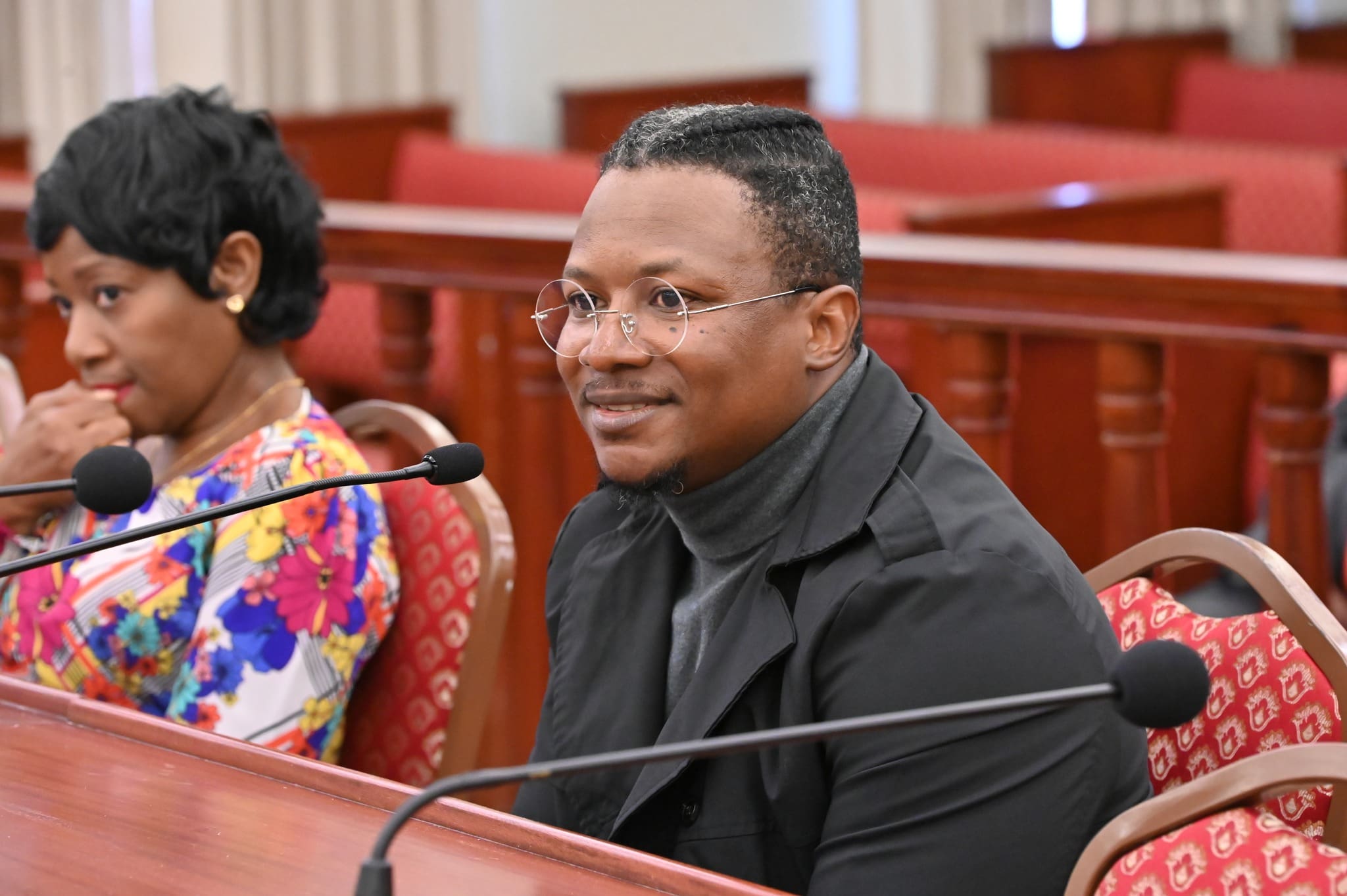 In the spirit of Carnival season and its appreciation for music festivities, the Committee on Government Operations, Veterans Affairs and Consumer Protection, led by Sen. Carla J. Joseph, on Tuesday received testimony for a resolution honoring Gregory Hodge, known as DJ Avalanche.
Sponsored by Sen. Javan E. James Sr., Bill No. 35-0062 is a resolution commending DJ Avalanche for his outstanding contributions as a disc jockey, radio talk show host, and entertainer. The resolution also includes the prestigious honor of presenting to Hodge the official key to the Virgin Islands. 
Back in 2003, Hodge competed and won Heineken's first DJ competition, beginning his reputation as the "Caribbean's Hottest DJ." In 2005, Hodge began hosting his own radio show, "The Avalanche Radio Show," and has also been featured on several TV shows. Over the years, he has received many awards, including from the American Advertising Awards, Virgin Islands Best of the V.I., and UberSoca's Best of 2018 and 2019.  
Ian Turnbull, director of the Division of Festivals, testified in support of the resolution and said, "It took too long for him to get this honor." 
Rikky Baynes, operations manager for Smith's Ferry, testified about his collaboration with Hodge over the years, and pointed out Hodge's exceptional skill at reading the audience and incorporating ideal choices of music into his setlist. He called Hodge "A true ambassador of the Caribbean." 
Hodge, having a brief moment to say a few words, said, "Everything I do is from a place of love. My love for music of my home spills over into everything, and I've made it my own personal mission just to showcase the love that comes from the Virgin Islands into the music."  
Hodge said his inspiration came from musicians such as "The Mello-Kings, Imagi Nation Brass, and come right up the line to Jam Band and everyone who contributed to Virgin Islands culture. My love for their work has helped me to develop a love for pushing their work forward."
"We all come from a small place geographically but we all have big talents," said Hodge.  
Another resolution was proposed during the committee hearing, honoring and commending the Board of Elections, the Supervisor of Elections Caroline Fawkes, and the entire Virgin Islands Election System team for their tireless service and contributions to the Virgin Islands community and on the occasion of the 60th anniversary of the establishment of the Election System of the Virgin Islands. 
Both bills were approved for further consideration and forwarded to the Committee on Rules and Judiciary. 
The committee also received testimony from the Virgin Islands Lottery Executive Director Raymond J. Williams on the operation. 
According to Williams, the lottery system receives no funding from the central or federal government, and the agency manages all of its own financial resources but is still obligated to follow the central government procurement processes. 
The V.I. Lottery currently employs 41 individuals, with a total combined salary of $2,253,223. Total budgeted revenues totaled $8,757,488 versus the budget actuals, which totaled $11,460,341 through Feb. 28, testified Williams.
Senators commended all testifiers and honorees for their time, efforts, and contributions to the community. 
Joseph said, "DJ Avalanche has made a huge mark in the Virgin Islands and we are thankful as a public for all that he has contributed." 
Sens. Carla J. Joseph, Javan E. James, Sr. Angel L. Bolques, Jr., Samuel Carrion, Diane T. Capehart, Ray Fonseca, Novelle E. Francis, Jr., Alma Francis Heyliger, Kenneth L. Gittens, and Milton Potter were present at Tuesday's hearing.