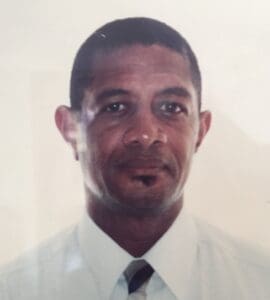 Pierre Gervais Tepie died on Friday, April 8.
He is survived by his daughters: Alison Tepie-Auguste, Callista Tepie, Angeline Trene-Tepie and Kelida Tepie-Ventura Villanueva; and sons: Pierre Tepie Jr., Pierre Alejandro Tepie-Ventura and Pierre Louis Tepie;
He is also survived by grandchildren: Zhante Auguste, Tres Caroo Tepie, Denisio Martimbor, Jadon Tepie, Tyana Trene Lake, Zachary Tepie, Guillermo Villanueva, Enzo Villanueva and Mila Villanueva; brother, Alexandre Tepie; sons-in-law: Marc Auguste and William Villanueva; as well as other family and friends too numerous to mention.
The viewing will take place at 9:30 a.m. followed by a funeral service at 10:30 a.m., Wednesday, April 20, at St. Patrick's Catholic Church, 416 Custom House St., Frederiksted. Interment will be cremation.