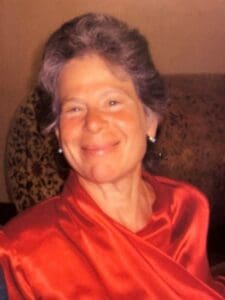 Simone Palmer, 66, died Saturday, Sept. 18, at her home, lovingly cared for by friends and family, following a brief illness.  (Jan. 19, 1955 – Sept. 18, 2021)
She was predeceased by her father, Dr. Bernard Palmer; mother, Sharley Gottschalk; and stepfather, Kurt Gottschalk.
She is lovingly remembered by her wife, Sheryl Smith; sisters: Karen Murray and Judy Lifshay; brother, Larry Palmer; and cousins: Debby and Stephen Peltan, Jeffery and Peggy Biben, Greg Biben, Dr. Shira Peltan Rabin, Ken Peltan, Emily Biben, Joe Biben and Ben Biben.
Simone was born in Amityville, N.Y., the daughter of Dr. Bernard and Sharley Palmer. The Palmers moved to the San Francisco Bay area when Simone was seven.  She was culturally enriched in a home filled with classical music, foreign students and creative minds. Simone graduated from Berkeley High School two years early at age 16.  After graduation Simone left for Israel, where she worked on a kibbutz. She later traveled to Holland, before returning to the U.S.
Simone worked as a photographer, baker, cabinet maker and in the restaurant business before finding her true avocation as a physical therapist. At 64, Simone began her doctorate in physical therapy, reveling in acquiring new knowledge to help her patients thrive and live a better life.
Simone and Sheryl met in April of 1978 and fell in love. Together they revitalized a farmhouse built in 1803; renovated a stagecoach inn in Deerfield, New Hampshire; established Massabesic Health Resources in Waterboro, Maine; produced Women's Music Concerts; purchased and ran Sand Castle On The Beach Hotel and Beach Side Café on St. Croix; and built Simone's dream of her Health and Wellness Center for the Community of St. Croix.
Until moving to St. Croix, they enjoyed traveling from Maine to Norway, Sweden, Denmark, China, Australia, Aruba, Hawaii, Italy, Quebec and California to visit her family.
Simone loved drumming, music, acquiring knowledge, cooking, community building, travel, good food and wine, Guinness beer, her dogs, family and friends.
"Simone was the most generous, kind, sensitive, calm, caring, gentle woman I have ever met…seriously…my image of her is that warm smile and gentle voice…" –[Barbara Hill of Quebec, Canada].
Simone truly wanted to make a change in the world with a loving comment, sharing knowledge, hands-on healing, her beautiful smile and mindful presence. She had a curious mind and the will to chase and fulfill her dreams.
Simone took great pleasure in seeing her vision of a health and wellness center for the community being built.  Just five days before she passed, she was able to achieve her dream of experiencing the healing water of the clinic pool. Simone took it all in and declared it "Magnificent."
A Celebration of Simone's Life will be held from 4-6 p.m. on April 19 at The Doctor Simone L. Palmer Wellness Center, 213 Estate Smithfield, Frederiksted, St. Croix.
Directions: Coming from Frederiksted town, past the fish market and along Dorsh Beach, take a left just before Sand Castle On The Beach. At the end of the green chain link fence, take a right (do not go up the hill) and proceed.  Simone's dream, the Wellness Center is a set of dark green buildings on the right side of the road.