Editor's Note: This is the first of a four-part series by DaraMonifah Cooper on the state of agriculture, and its future, in the U.S. Virgin Islands.
Remember the pillars, as we brightly paint the outer walls
Without them, the ceiling will surely crumble and fall
As the world traverses the new terrain of global crisis, many are taking a moment to figure out and get back to the basics of their existence. The "great interruption," as it is coined by some in the community, provides an opportunity for people to consider what really matters, both to themselves as well as their families, friends, communities, and occupations.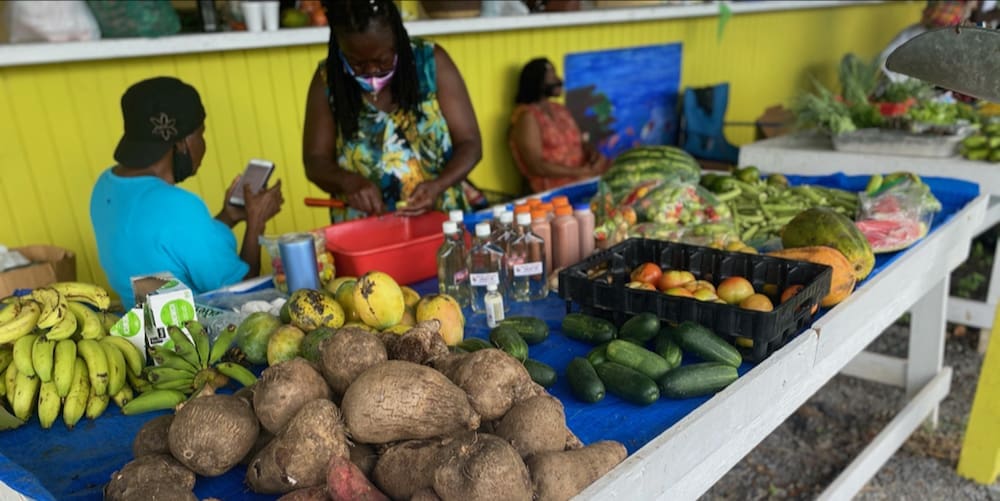 No matter the location on Earth, socio-economic status, political or philosophical belief, there's one thing we all must do, and that is eat.
[adrotate group="6"]
With a growing concern for food security on every corner of the Earth, locations that don't have a strong handle on their agricultural production are at the highest risk of economic and social instability. In the Virgin Islands, two of the remaining agriculture fairs have been postponed due to concerns with the recent spike in numbers of COVID-19 infections. Thankfully, there are people that focus on providing solutions to these challenges for a living, and they, too, have been rethinking their strategies.
Getting "back to the basics" is a common phrase heard throughout the community. The basics or pillars of sustainable agriculture are quality of life, stewardship, and profitability. In 2017, the University of the Virgin Islands School of Agriculture Cooperative Extension Service's Dr. Louis E. Petersen Jr. considered yet another vital pillar, which he presented in person at the annual Southern Sustainable Agriculture Research and Education coordinators meeting.
His vision was that youth engagement should be added as a fourth pillar. To encourage their consideration, he shared updates on his summer programs. While adding the fourth pillar is desirable, the decision would have to be an initiative of the national SARE program into the southern regions administration.
"The fact that we use a lot of SARE staff to make presentations, it is a shame that SARE funding couldn't be used because exposing and training youth were not one of the official priorities. If able to direct SARE funding to those initiatives, we may see more results," said Petersen.
Retired SOA Agent Albion "Chico" George, who held a large role in keeping agriculture going with youth on St. Thomas, is now helping schools while working towards becoming an agricultural consultant. As part of his SOA responsibility, he supported the development of school gardens, community gardens, and gardening within various government agencies, as well as conducted home visits to assist home gardeners. Agriculture-related activities in after-school programs were also thriving with his assistance. Even after the hurricanes of 2017, prior to COVID-19, George assisted two summer programs with leading local youth into the love and practice of agriculture.
"I started working with students again teaching an agriculture after-school program. Thanks to Dr. Lisa Forde at the Addelita Cancryn school, on Saturdays, I will be teaching batik to the same program," George said recently.
Sponsored by the Animal and Plant Health Inspection Service Office of Civil Rights, Diversity, and Inclusion, the University of the Virgin Islands AgDiscovery Program is one of Dr. Petersen's pet projects. AgDiscovery offers students in grades seven through 12 exposure to career choices and diverse opportunities in agriculture sciences, as well as cultural immersion experiences. Held virtually since interrupted by COVID-19 precautions, the program otherwise takes place annually in August on the Albert A. Sheen Campus, with applications submitted by March. Interested applicants can email louis.petersen@uvi.edu or sdahl@uvi.edu for more information.
Locally, several students have benefitted from participating in the program, with some ending up as far as NASA. Serving as a guest speaker some summers, agriculture enrichment camp students learned more from Virgin Islander Lucas A. LaPlace about various types of jobs that were, directly and indirectly, related to agriculture. He was in a young farmers' training after attending Central High School on St. Croix. After high school, he studied mechanical engineering at UVI, then continued at Fort Valley State University. He interned at NASA, calculating air emissions – specifically how much carbon dioxide NASA emitted annually – for compliance documentation. He was working as a mechanic at Tires Plus on St. Croix and at AT&T when he did an online search for agriculture jobs that led him to be hired as an Agriculture Specialist with U.S. Customs and Border Protection, preventing bioterrorism.
"Going back to when I was in high school when all I wanted to be was a mechanic, I'm definitely glad that's not what I chose compared to where I am now," he said. "I'm a scientist in uniform."
Another student, Tresel Benjamin, walked up to then Agriculture Commissioner Petersen at a Beekeepers Bazaar held in Tutu Park Mall on St. Thomas, saying that she wanted to study agriculture. He was in the process of reviving the Future Farmers of America within the Charlotte Amalie and Eudora Kean high schools. They were able to get the FFA started at CAHS with the help of Dr. Eddie Williams and former FFA State advisor Elvette Elliott, who became the FFA advisor at CAHS. Benjamin joined the FFA.
Petersen kept in communication with her and selected her to participate in a summer agriculture initiative then made possible by the Virgin Islands Department of Agriculture. The department funded the trip for students to spend some weeks at Mississippi's Alcorn State University in 2013 for hands-on and classroom experiences. When Benjamin returned, she continued with her agriculture interests with a specific interest in plant pathology. Petersen supported her application for yet another opportunity that sought to increase the number of minority students studying agriculture, food, natural resource sciences, and related disciplines.
The first recipient from the Virgin Islands to take part in the USDA 1890 National Scholars Program for minorities, it helped to fund her way through school at Alcorn State University, including full tuition, fees, books, and a summer internship that may convert to full-time employment with the USDA after graduation. With the combination of classroom study and paid work experience, once she left Alcorn State, Benjamin went straight to work with the Natural Resources Conservation Society in Washington, D.C., then transferred to working in Georgia, where she remains.
Although Benjamin was the first nearly a decade ago, now, in 2022, the V.I. Agriculture Department continues to share various funding opportunities to encourage applicants "to develop the next generation of agriculture industry professionals needed for future success," said Diana E. Collingwood, assistant Agriculture commissioner.
While these examples offer evidence of concerted efforts being made by various entities and individuals, the results have offered little to no benefit to the Virgin Islands directly.
"Of all the students supported over the years, none of them have returned to work in the territory partially due to job availability," Petersen said.
The UVI AgDiscovery program is the latest local attempt to encourage students into the various fields of agriculture.
AgDiscovery is a nationally-funded program that is open to students from around the nation and its territories, so the successful applicants are decided on nationally. The local intention each year is to encourage more Virgin Islands students to apply with the support of agriculture leaders and professionals, legislators, school administrators, parents, farmers, and past participants.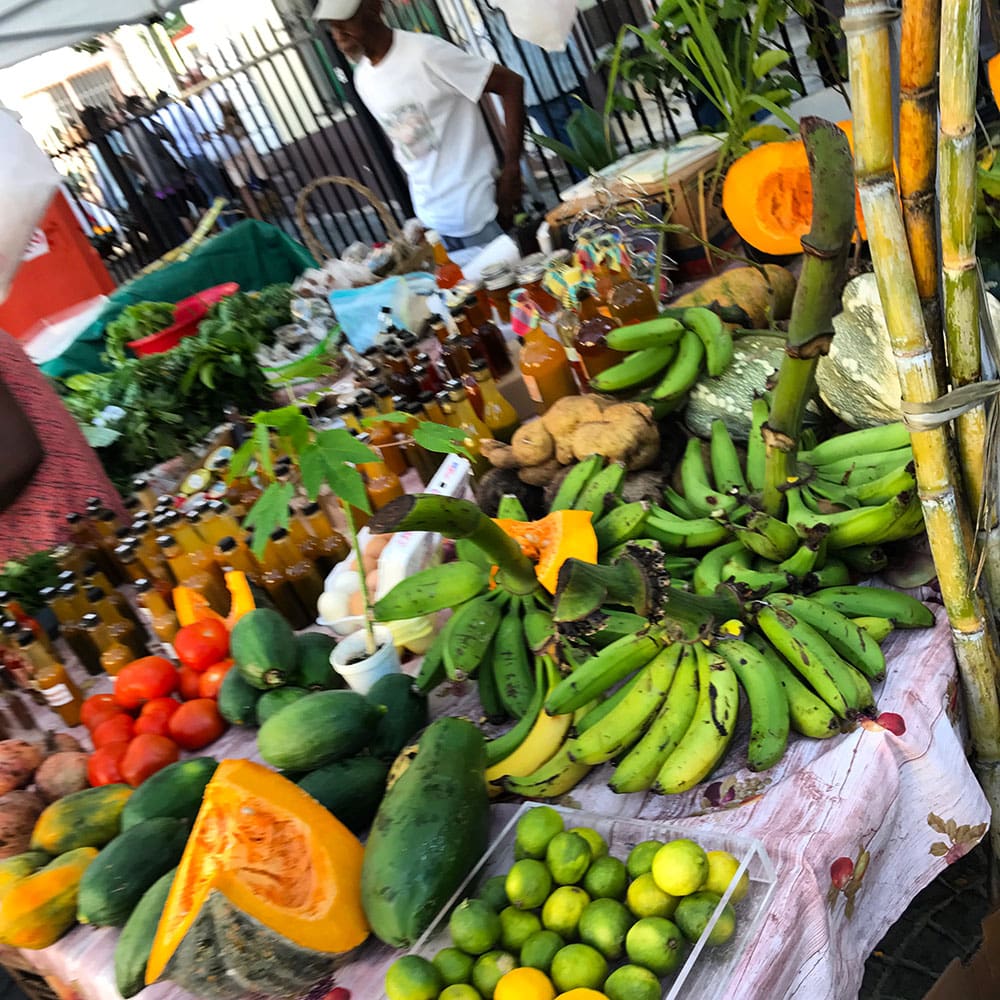 In addition to local testimonies, there are also many success stories from other national alumni as the program is open to students throughout the United States. With the program also serving as a recruitment and tourism initiative, some participants have ended up attending UVI, visiting the Virgin Islands, and sharing their experiences through social media.
The challenges that have prevented students from being selected in the past include a lack of support needed to properly complete the applications. In addition to basic demographic information, the application requirements include letters of recommendation and a two-page essay.
The literacy rate reality in the Virgin Islands is a real element to factor in. Many students and their parents are unable to complete the applications correctly. That should not be a deterrent if support can be provided either in their schools, after school, or through weekend programs, churches, community centers, and the like.
This general literacy issue, coupled with low digital literacy rates, is, unfortunately, a very similar challenge with our farmers applying for grants and other opportunities, so realistic solutions are crucial to the development of sustainable agriculture in the Virgin Islands. SOA is helping with technological literacy, but we know there are only so many people that can take the courses and only so many courses that can be offered in the middle of all other responsibilities.
The most effective methods of getting more V.I. students into AgDiscovery, based on marketing effectiveness research over the past years, has proven to be intentionally using the models that have yielded the largest number of successful applicants along with getting media coverage started as early as possible. We must get people talking about it now and really keep them talking throughout the year.
When surveyed, most students in the program said that their parents and teachers encouraged their interest and applications. The parents/teachers knew about the program previously, saw flyers posted, or got emails/text messages from trusted friends and colleagues.
Direct communication, or word-of-mouth, by far outweighed other approaches. None of the students saw the flyer themselves and were motivated to apply. This can change in the future, as few can see a multimedia ad on social media once they are targeted by other peers.
Here are some examples of methods to reach the parents, teachers, students, etc., not all-inclusive or in any specific order. While this list focuses on AgDiscovery, it can also be tweaked to facilitate the promotion of other programs and activities.
• Call into radio programs (schedule free/paid interviews) – many people can do this to flood the airways;
• Put flyers at all farmers markets, grocery stores, SNAP and WIC offices, hospitals, and health or wellness facilities including gyms, health food stores, pharmacies, etc. (It is very important that local promotional materials are designed to show actual local young people, including known or happy local students from past AgDiscovery and other programs.);
• Go to schools to speak with administrators, then meet with students, teachers, and counselors;
• Connect directly and get buy-in from school administrators, counselors, tutors/English teachers, after-school and weekend programs, etc.;
• Reach out to and follow up with interested parents;
• Have past camp counselors and student alumni spread the word using their methods as testimonies;
• Email/call/visit senators/the governor/Agriculture Commissioner Positive Nelson to share the applications and to make public announcements encouraging local students/parents to apply;
• Ask local farmers to share their experiences with their audiences/customers;
• Target any other current or past youth agriculture or related after-school weekend or summer program leaders and students.
If we really want more local students to apply for, and continue in, local agriculture opportunities, it takes a collective effort that includes not only the government or UVI but also the community and families. Whether we enroll them in a 4-H program, take them to farmer's markets, or to the farm itself, we can all find some way to do our part. Many are already doing something, including the annual Plant a Seed initiative, now in its second year, is supported by Sen. Milton Potter's office. So, even if you don't know where to start, you can simply support something that already exists.
If the Virgin Islands is going to continue the practice of agriculture in the territory beyond the current farmers who average in their 50s and 60s, more youth outreach and enrichment programs must be revived and sustained as part of the curriculum and extra-curricular activities in schools at home, and at community centers.
DaraMonifah Cooper is the Communication Specialist at the University of Georgia's Southern Sustainable Agriculture Research and Education program, living between the Virgin Islands and Georgia. A Virgin Islands native communication professional, she has a background in agricultural communication from working at the UVI School of Agriculture Cooperative Extension Service office for more than 15 years and obtaining degrees in Communication and New Media Journalism. She owns Conch Shell Media, LLC, which provides multimedia production, consultation, and training, along with strategic marketing, advertising, and educational consulting.