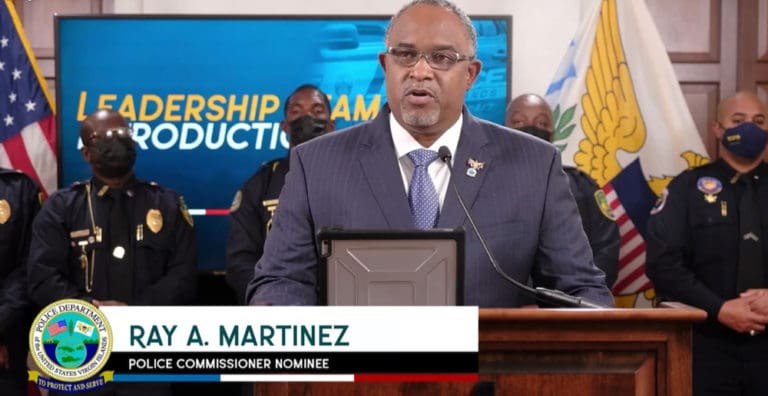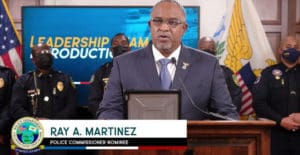 Police Commissioner nominee Ray Martinez announced his leadership team at a V.I. Police Department press briefing held Friday at the Government House.
"My leadership selections are based on experience, leadership skills, respect amongst their peers and a desire for positive change that promotes our Police Department," said Martinez.
Martinez said his goal is to stop reacting to crime and instead move to stop it before it starts.
"We can no longer continue this trend of being reactive, we must become more proactive. Proactivity begins with a plan. Rest assured, I have a plan," he said.
In a July interview with the V.I. Source, Martinez addressed some of his plans for the future of the VIPD.
Friday he said part of his plan was to assemble a leadership team necessary for the continued growth of the VIPD. Some members of the previous leadership will remain in their current position, while others will be assigned duties to complement the leadership structure.
Under Martinez, every district will have its own assistant commissioner. Assistant Police Commissioner Mario M. Brooks will continue serving in his role and Police Chief Sidney Elskoe for the St. Croix District will now serve as assistant commissioner.
"Both men have the experience, knowledge and, wherewithal to serve in this capacity," said Martinez.
The commissioner nominee also said:
– Lt. Barrington Thomas Sr., who has more than 33 years of police experience, will become chief of police of the St.Thomas/St.John/Water Island District,
– For the St. Croix District, Deputy Chief of Police Sean Santos will be promoted to the chief of police,
– St. Thomas District Chief of Police Steven Phillip will step down and return to his duties as deputy chief of police,
– Lt. Clayton Brown will become deputy chief of police in the St. John District,
– In the St. Croix District, Cpl. Uston Cornelius, a 30-plus-year veteran, will be deputy chief of police.
– Deputy Commissioner of Professional Standards Jason Marsh will continue in that role.
– Former St. John Deputy Chief Vivian P. Newton will take over the Internal Affairs and Applicant Screening Bureau,
– Director of Strategic Planning, Research and Development is Carolyn Wattley.
– Director of Facilities and Properties is Andrea Bryan McIntosh.
"With the exception of Assistant Commissioner Mario Brooks and Deputy of Police Commissioner Jason Marsch, the other members of my leadership team will be in an acting capacity until the necessary paperwork is processed to complete their appointments," Martinez said.
"This effort begins with me, and I will lead by being firm but fair in executing my duties and rendering my decisions that will have a lasting and positive effect on our department and on our community."
Martinez recognized that over the past year the territory has experienced a marked increase in violent crimes.
"The uptick in these brazen acts has caused you, the community, to question our ability to safeguard you. In addition, we are cognizant of the plethora of small violations that are adding to the community's feeling of lawlessness," he said.
Martinez also acknowledged and thanked VIPD officers and assured them that he has heard their concerns.
"As the commissioner nominee of the VIPD, I go to sleep and wake up every day thinking of our police officers," Martinez said.
"I want to let you know I support you. I am cognizant of what you do every day to balance work and family life as a police officer. I know it is not an easy task."
Now that the executive leadership team has been put together the community can expect to hear of the plan taking effect in short order said, Martinez. "This is the purpose of me assembling the executive team that I have before me."