National Hurricane Preparedness Week runs from April 30 through May 6 and now is a perfect time to make initial preparations in the event of a tropical cyclone.  
This year, a possible El Niño weather event may contribute to a below-average 2023 Atlantic Hurricane Season. However, nothing is guaranteed, and as many Virgin Islanders know, it only takes one storm to cause extensive damage and create a life-threatening situation.
The National Oceanic and Atmospheric Administration (NOAA) website offers helpful tips for hurricane safety.
"Be ready for hurricane season. Take action TODAY to be better prepared for when the worst happens," according to the NOAA website. "Understand your risk from hurricanes and begin pre-season preparations now. Ensure you understand how to interpret forecasts and alerts and know what to do before, during, and after a storm. If you live in hurricane-prone areas, you are encouraged to prepare before hurricane season begins on June 1," the site explains.
Storm Preparations
The White House also issued a statement regarding National Hurricane Preparedness Week due to the threat posed by severe storms.
"Powerful hurricanes, typhoons, and tropical storms can devastate our communities, threaten the lives of our families, and damage everything we have worked so hard to build," the White House statement reads. "During National Hurricane Preparedness Week, we raise awareness about the hazards posed by hurricanes and share resources to help Americans stay safe and protect their property before these storms make landfall. We also celebrate the remarkable first responders and community members who help rescue, recover, and rebuild in the aftermath of these natural disasters," the statement continues.
Before a Hurricane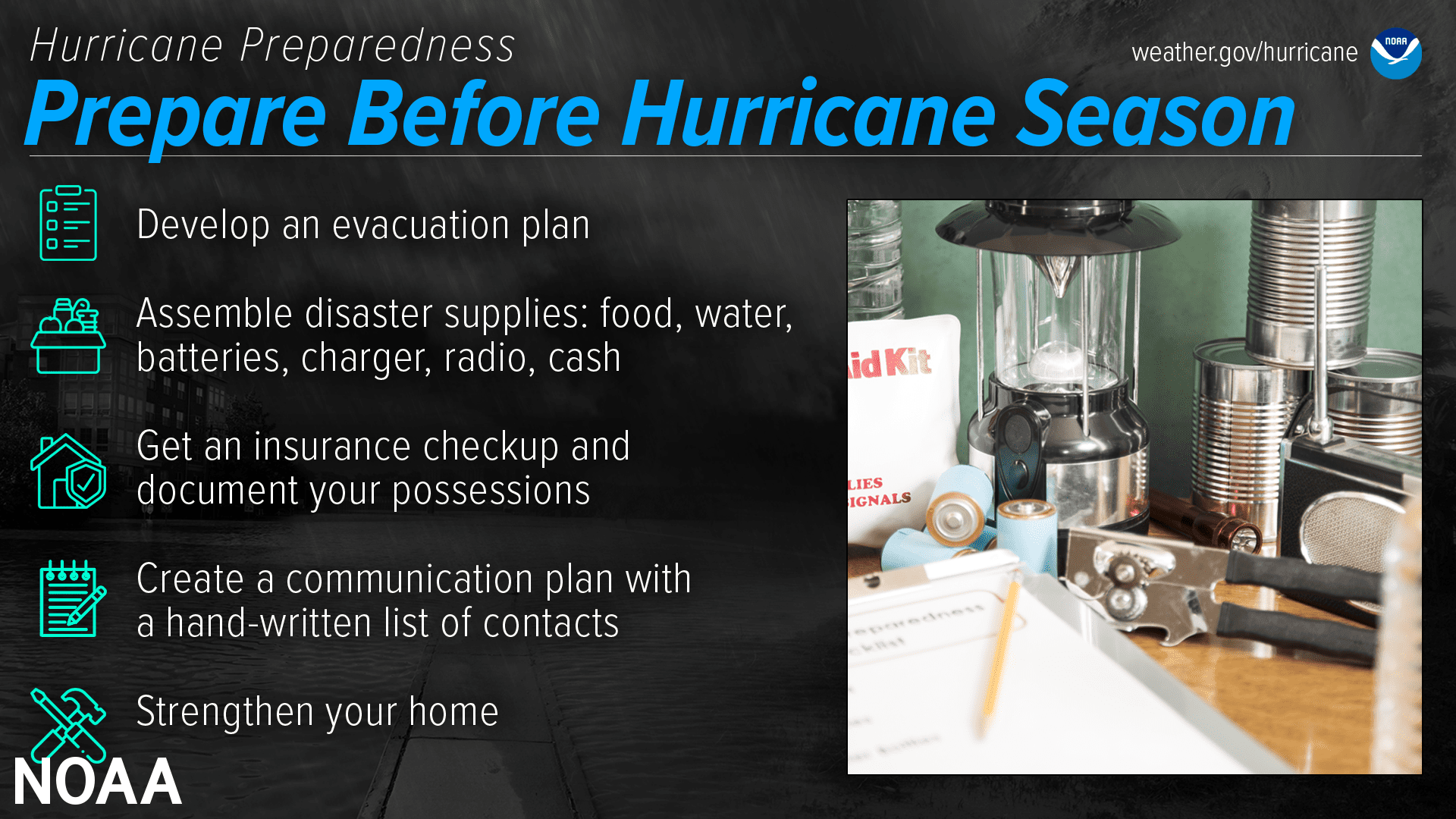 The period before a storm is critical. Before a cyclone forms, there are steps to ensure safety. The National Weather Service (NWS) and NOAA provide a thorough list. Here are five simplified tips to help get you started.
Compile an emergency kit, including flashlights, batteries, a first-aid kit, medications, food, water, etc.
Create an evacuation plan and route. This can include flights off-island as well as locating emergency shelter locations.
Review insurance documents and ask questions to an insurance agent. Remember that "flood insurance" and "hurricane/wind insurance" policies can be very different.
Assess your home and evaluate areas in need of reinforcement or repair.
Become familiar with hurricane/tropical storm alerts and updates. Remember that emergency services may not be available during a storm.
During a Hurricane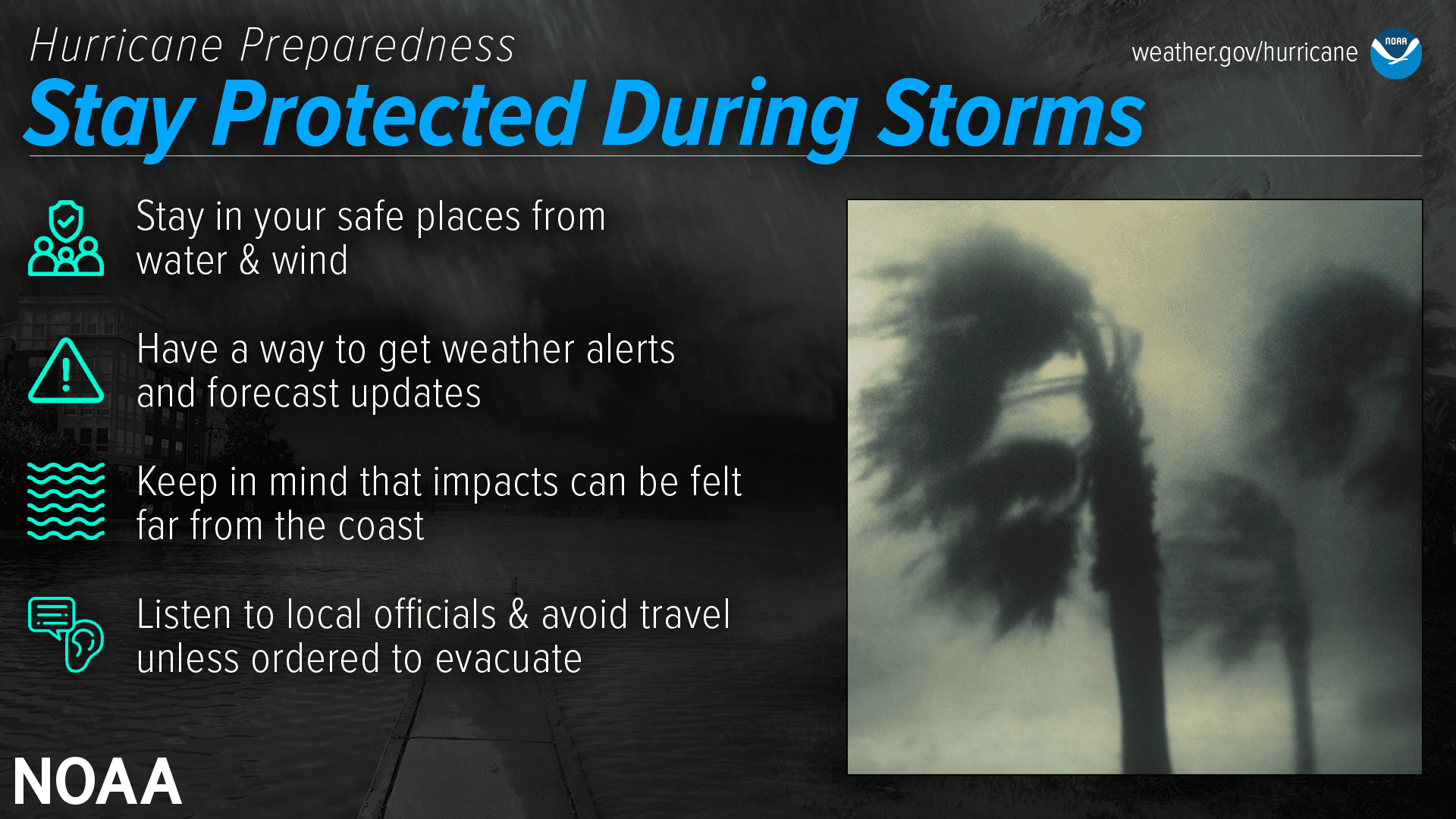 Choosing to remain on the island as a storm approaches can be hazardous. Still, some individuals have little choice except to remain and ride out a storm. NOAA and the NWS offer many suggestions to stay safe throughout a hurricane, and five guidelines are listed below.
Secure outdoor furniture and objects that can cause damage in high winds.
Stay away from windows.
Keep a radio and communication device charged up and have extra batteries available.
Be on guard for rising water. Flood waters can rise very quickly.
Remember that if the eye of the storm passes over, the weather will temporarily improve. However, since the eye of the storm is at the center of the cyclone, it is just a matter of time before the other side of the hurricane moves over the area, the weather again deteriorates, and high winds return. Remain in a sheltered location until the storm completely passes.
After a Hurricane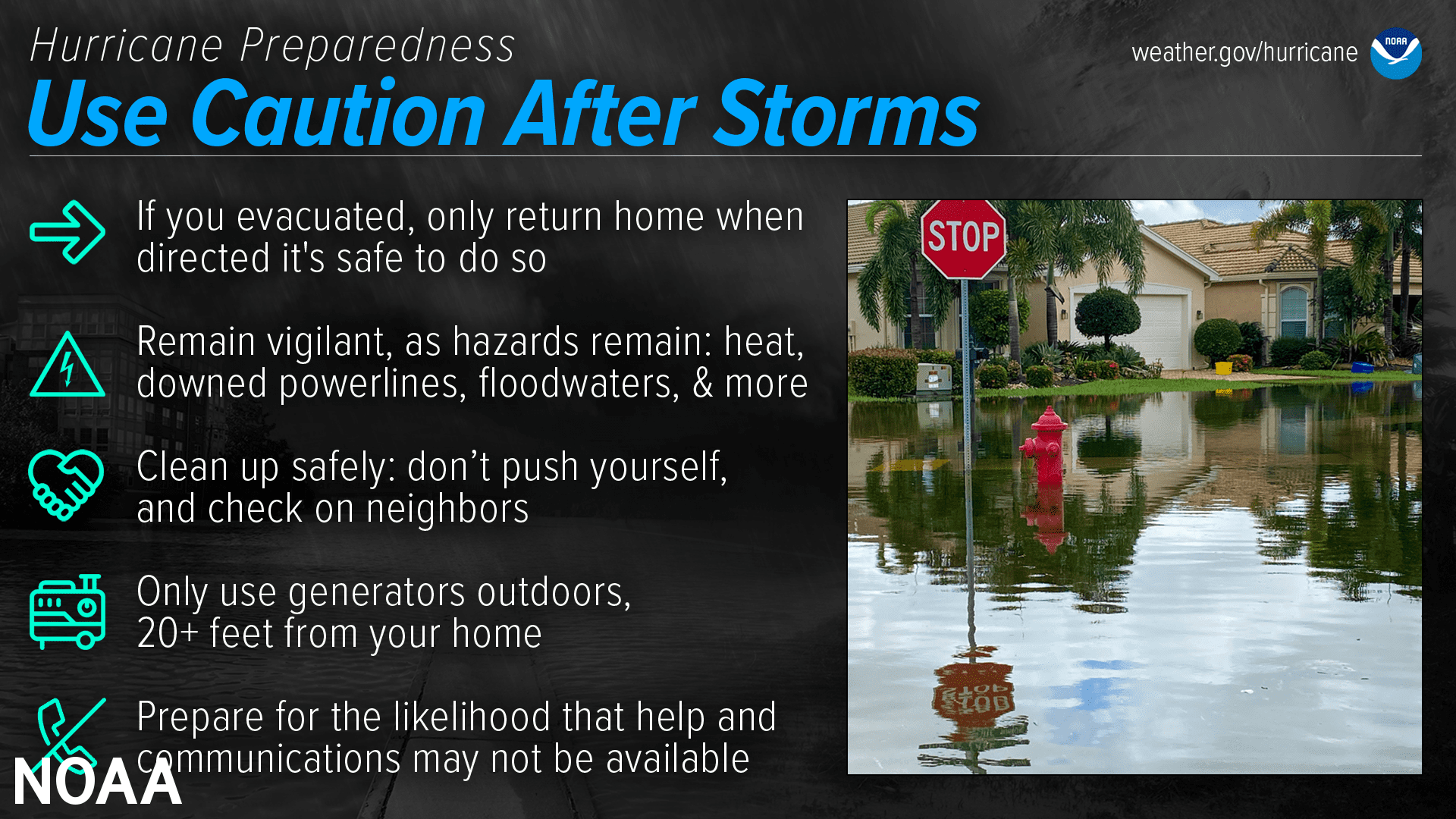 Once a severe weather system moves away from the islands, the danger is not over. For example, power outages can last for months, which occurred in the USVI after hurricanes Irma and Maria in 2017. Additionally, fuel may be challenging to obtain for those who utilize generators. Food and water may also be scarce.
NOAA and the NWS share valuable suggestions for steps to take after a storm, and five recommendations are listed below.
Be alert for hazards such as downed power lines or damaged structures.
Ensure that generators are placed away from interior areas or spaces where fumes could be inhaled.
Only drink water if it is deemed safe to do so. Contamination is possible during storms.
Connect with neighbors and fellow islanders and assess any needs for medical treatment. (Don't forget about pets and animals, too!)
Stay updated on the weather and news and monitor for future developments about severe weather or additional cyclone development in the region.
Residents can find information about emergency shelters and alerts from the Virgin Islands Territorial Emergency Management Agency. Additionally, weather alerts from the National Hurricane Center will constantly be updated on the Source Weather Page.
Click here to read a detailed list from the National Weather Service about hurricane preparedness.