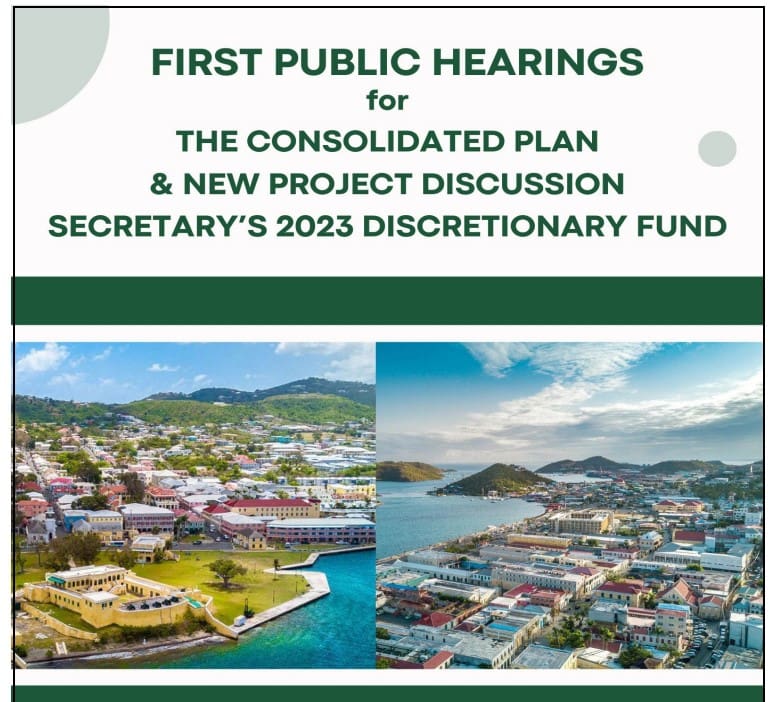 Our Lady of Mount Carmel Catholic Church proposes to construct a shelter for the homeless in Cruz Bay, St. John. The shelter would have nine bedrooms and shelter 18 individuals.
The facility would also include showers that could be used by homeless who were not residents of the facility and a soup kitchen where non-residents could eat.
The Church is among several organizations requesting Community Development Block Grant this year.
The organizations presented their proposal Wednesday night to the V. I. Housing Finance Authority at a public hearing.
The funding requests were for more than the grant money available. Also requesting funds were St. John Rescue, the Family Resource Center, the Boys and Girls Club, the St. Thomas Swimming Center, the Wesley Methodist Church, and the Resource Center for the Disabled.
Mount Carmel's request of $750,000 was the highest. Lisa Etre, making the presentation for the church, said the shelter was "urgently needed" on St. John. She said St. Thomas and St. Croix already had such shelters but St. John did not.
St. John Rescue's request for a grant of $170,000 was the second-highest. Bob Malacarne representing Rescue, said the grant money would be used to hire a training captain to provide Emergency Medical Responder (EMR), Emergency Medical Technician (EMT) courses, EMR and EMT refresher courses HAZMAT Life Support, American Red Cross Water Safety Instructor courses, and training.
Family Resource Center was represented by Anya Stuart, who presented details on two different programs, each requesting $20,000. One program would be on St. John and the other on St. Thomas. Both programs would be aimed at helping children who are suffering abuse or in domestic violence situations. She said, "We are living in difficult times. Our children are crying."
Chinue Uecker presented details about three after-school programs to be run by the Boys & Girls Clubs and each asking for a grant of $20,000. The programs would be located at the Nazareth Evangelistic Lutheran Church in Cruz Bay, the Oswald Harris Court Community Center, and the Bovoni Apartment Community Center.
The Virgin Islands Resource Center for the Disabled, Inc. requested $81,183.50 to operate an afterschool and summer enrichment program. The program will provide art therapy, assistance/adaptive computer technology, homework tutorial, mentorship, and culture affirmation activities.
Wesley Methodist Church is also requesting $40,000 in funds for an after-school Program to be held at Church located at #147 Anna's Retreat.
St. Thomas Swimming Association requested $48,000 to teach swimming and water safety instructions to low-income youth who are residents of public housing communities. Representing the Swimming Association, Bonnie O'Rourke-Barr, said the rate of drowning in the Virgin Islands is twice the per capita rate of the nation.
On Thursday night, there will be a public hearing on St. Croix to hear proposals there. Each district has $721,874.80 available in these grants.
Follow-up hearings will be in June and an action plan will be submitted to the federal government Aug. 15.