For hundreds of years, the four mangrove-lined bays within Hurricane Hole have been a refuge for marine vessels during major storms. The bays offer shelter from heavy seas and high winds. At one time, a brave (or crazy) sailor claimed to have easily lit his cigarette on the bow of his boat during a powerful storm. This legend has given many a sailor confidence in Hurricane Hole. Until Hurricane Irma.
Sadly, the mangroves took a tremendous hit from the storms along with the maritime community in Hurricane Hole. Many large mangrove trees were uprooted and damaged by salt. Dozens of vessels were hurled into the shore all around the bays; many landed on top of mangrove seedlings and trees.
On February 12th, I joined USGS researcher and former VINP park biologist Caroline Rogers for an underwater tour of Water Creek, a site where she has led her Friends of the Park field trip every year for the last 12 years. Dr. Rogers had been out a few times since the storms to assess the condition of the mangroves and corals in Hurricane Hole and this was an opportunity to cover ground she had not seen yet. It was freezing by Virgin Island standards, windy and rainy. The visibility would not be great (and it would be cold!) Still, we swam out – I, unaware of what I would see, she fearful of what she might not see.
[adrotate group="6"]
Hurricane Hole is part of the Virgin Islands Coral Reef National Monument, which was established in 2001 by President Clinton through a Presidential Proclamation. You may have met her during one of her sold-out Friends seminars, or read her book The Mysterious, Magical Mangroves of St. John. She is as delightful as she is intelligent, and has been persistently studying the corals in the bays of Hurricane Hole to provide valuable information about where and how corals are adapting to changes in ocean temperatures.
Corals do not typically thrive in mangrove environments. However, as Dr. Rogers's research has taught us, corals were remarkably growing on and near the prop roots of red mangrove trees in Hurricane Hole. I spent more than an hour snorkeling alongside Dr. Rogers around Water Creek that day, shivering and white-knuckled. As she swam with her underwater camera in hand, clicking away, I imagined a triggerfish darting from one coral head to another.
Dr. Rogers first became aware of the amazing coral diversity and abundance in Hurricane Hole in 2009 and knows the underwater world intimately. She was looking feverishly for familiar coral gardens, like long lost friends. Back on the boat, she sighed as she looked around the bay, "This is one of my favorite places on the planet."
Indeed, our park and its expansive east end views suggest that you are on top of the world, or at least very near the edge. The greening hillsides sprawl out before you, rolling down to the azure waters' edge, laced with mangroves as far as the eye can see. With a closer look, you will see the mangroves' branches and roots wind and twist to hem the shoreline above and below the waterline. From under the water, when the sunlight filters through, their buttress-like scaffolding is illuminated and simply divine. Their strong red limbs arch perfectly down into the water, where tiny fish and other marine creatures feast, play and hide. It truly is a magical scene – a unique treasure that has harbored endangered world resources, even wooden sailboats.
From that day spent with Dr. Rogers, the conclusion was made that it is too soon to tell the long-term impact of the storms on the mangroves and corals. Dr. Rogers stated that recovery back to the ecosystem present before the powerful and destructive hurricanes will require recovery both above and below the water. It is almost impossible to predict how long it will take for new mangrove trees to become established and for slow-growing corals to settle and grow to the size they were before.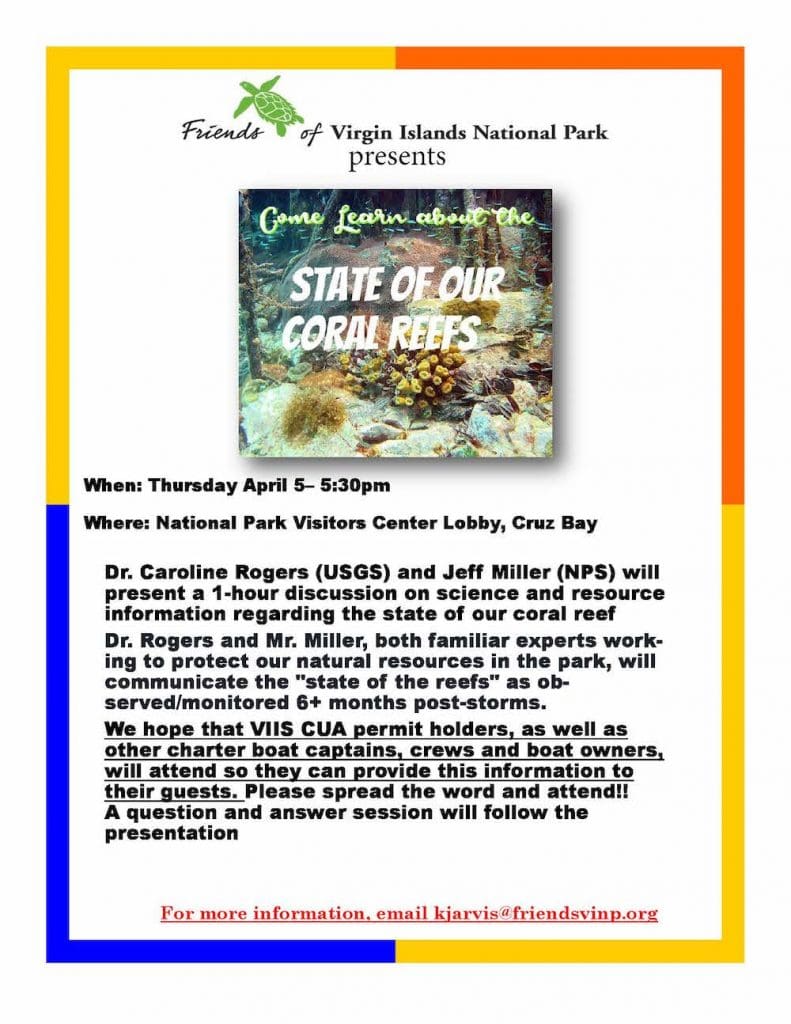 On April 5th Dr. Rogers will be joining National Park biologist Jeff Miller for a presentation on the "State of Our Coral Reefs" at the National Park Visitors Center from 5:30 to 6:30 pm. The presentation will include critical information based on their scientific observations. The presentation is open to all and should be of special interest to individuals, businesses and boat owners that play and work in our National Park and Coral Reef National Monument waters.
For more information on the "State of Our Coral Reefs" presentation or to get more involved with protecting your park's natural and cultural resources, please contact info@friendsvinp.org or call 340-779-4940.
In partnership with Friends of Virgin Islands National Park, St. John Tradewinds has started a new monthly feature, "Preserve Paradise." Content will focus on the FVINP's mission to "protect and preserve the natural and cultural resources of Virgin Islands National Park and promote the responsible enjoyment of this unique national treasure while educating and inspiring adults and children to be stewards of the environment." This first feature was written by, Tonia Lovejoy, Development Director for Friends of VI National Park.