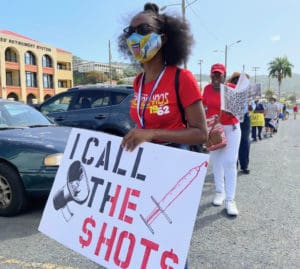 Adopting a pro-choice stance Monday during territorywide protests on St. Thomas, supporters of the University of the Virgin Islands' ad hoc group Reverse the Mandate advocated for testing, masking and social distancing instead of mandatory COVID vaccines for students and staff, while UVI's President Dr. David Hall explained that the institution's final decision ultimately looked beyond the bottom line of operations and toward a bigger picture of community stewardship.
Protests on St. Thomas took demonstrators along the stretch of road between Cyril E. King Airport and UVI, and from the Emile Griffith Ballpark to the V.I. Legislature. Between the two, citizens counted between 20 to 30 supporters, including students, parents, UVI faculty or staff and general community residents.
Protestors were also in front of the Senate building on St. Croix, toting signs and wearing T-shirts that spoke to their individual right to put into their bodies what they choose. Students made it clear that they weren't necessarily against vaccines, but rather against the university's decision to mandate a shot that has not received full approval from the federal Food and Drug Administration nor been studied long-term.
"Everyone deserves a choice, and it should not cost you a quality education or your job," said Majestik Estrada-Petersen, a member of the ad hoc group, and a junior at the Orville Kean Campus on St. Thomas. "We're not anti-vax, we're just pro-choice, and that's why we're here marching."
Mindful of practicing the measures for which they were advocating, demonstrators were fully masked throughout the morning and when moving, maintained social distancing by spacing themselves out along a yellow rope that they carried up and down the roadways.
Meanwhile on St. Croix, student Bianca Alexis shared more about the "medical issues" that prevented some students from taking the vaccine.
"There is a medical exemption offered but many of those have been denied," she said. "They are making it harder for us to get our education, and before doing that, they should really have trusted that those who are unvaccinated would do the right thing. I would take a test, I would even attend virtual classes, but forcing a vaccine that some of us really can't take is wrong."
On both islands, staff attending the rallies also spoke about the university's policy in placing them on two weeks of paid administrative leave before moving to suspension without pay and, finally, termination.
"Overall, this is really insensitive to the needs of the people who really need the medical exemptions," one staff member, who asked to remain anonymous, said. "At the end of the day, everything should be done on an individual basis, and there needs to be a thorough process for doing that and looking at the bigger picture so that the concerns of the entire community are being taken into consideration."
Science, Data and Community Stewardship
Channeling the sentiment expressed by staff in an interview with the Source Monday afternoon, Hall said the decision to enact a mandate ultimately came down to science, data and the responsibility of UVI to be a good community steward.
"There is this thought that the university, and the board in particular, was just insensitive to the university population and that we didn't care about their position, but that is not the case," Hall said. "The university administration and the board are putting this into place because it does care, and it cares not only about our students and employees, but it cares about this community, which has one of the lowest vaccination rates in the Caribbean. We can't just sit by and accept that as an educational institution, and we are glad that the hospital and others are following suit because we collectively can help the community stay healthy and safe, and I think that gets lost in the debate."
Speaking more about factors that were key in the decision-making process, Hall said that the UVI board was guided by scientific evidence and data provided by community medical experts, including the territory's epidemiologist.
"Certainly the main question was what was the best protection against the virus, and vaccinations are clearly that," he said. "The fact that at that time the percent of cases in the territory were rising – they weren't as bad as they were now – but she saw a trend that there were going to be more incidences of the virus occurring in the territory so that was another factor."
Before making a final decision, the board and administration also consulted with the university's legal counsel to determine whether a mandate would be legally valid and were also guided by the mandates being set by other colleges and universities on the mainland.
"All of those factors were taken into account, but the science of what it is we are doing and what the experts are saying is the safest way to protect this community, not just UVI but the community at large, was paramount," Hall said. "And though the board respected the fact that mask-wearing and social distancing are protections and ones that we were using up to this time if we were going to go back to in-person classes, which we believe is a better form of education, then we were advised that the best protection is to have a vaccinated population."
The impact on the other side of the coin is also clear, according to the scientific data, Hall said. Without a mandate, the university would be opening itself up to a "major incident" of a student or faculty member contracting the virus and spreading it like a domino effect, with classrooms and offices shutting down, and community members being isolated.
"Again, there is no guarantee that because you're in a vaccinated population that no one will be impacted, but when you're in a population of unvaccinated individuals, then the spread is going is going to be greater," he said. "But it isn't really from an operations standpoint that we are looking, it is the impact on the community, our people. According to the data, everyone in the hospitals are unvaccinated, and those dying from it are the same, so at the university, we're not just looking out for our business operations, but as a member of this community, we have to look out for what is in the best interest of this community."
The university has continued to have a vaccination policy for students who live in its residence halls, with the same mandates as most schools. Medical and religious exemptions are also given for those, Hall said, but this is the first time a mandate has extended to faculty and staff. But, he added, this isn't the first time this year that the university has advocated for COVID vaccinations. Hall said he was vaccinated in January and took time then to encourage vaccination among employees, then again when the territory's community vaccination clinics were set up on campus.
By the time the board decided on a mandate in June, faculty and staff were notified that they had until Aug. 1 to comply, but then pushed the date back until Aug. 6. Even though that deadline has passed, Hall said there are staff members still working on campus.
"We have tried to be thoughtful and mindful about the impact of this on employees and trying to create a system that supports them," he said. Those who are still not vaccinated have two weeks of paid leave, as demonstrators said, while they get their first shot. Hall said if that's done within the first three days, the leave is restored and that employee is allowed to teach remotely until they receive their second shot. About 75 percent of the faculty and staff are vaccinated, and Hall said he's hopeful that time would help boost the numbers up to 80-85 percent.
"If they still don't get vaccinated, then we will start moving toward suspension without pay because the whole goal is that we want this to be a vaccinated community. After that point, we will have to replace those individuals who choose not to comply because they are putting too many people at risk for such a small population," he said.
Meanwhile, exemptions are still being processed for students, and Hall said "enlightening" them on the science behind the decision has been UVI's first goal. Still, realizing that there will be students who opt out, Hall said three pathways are available: seeking an exemption, going to school online or attending hybrid classes that he said many faculty members have set up as an alternative.
Editor's Note: The headline of this story has been corrected to reflect that Monday's Reverse the Mandate protest was against the University of the Virgin Islands' vaccine mandate, not a mask mandate. The group supports masking, social distancing and testing to help prevent the spread of COVID-19, as reflected in the story. Due to a copy editing error, the headline was wrong.