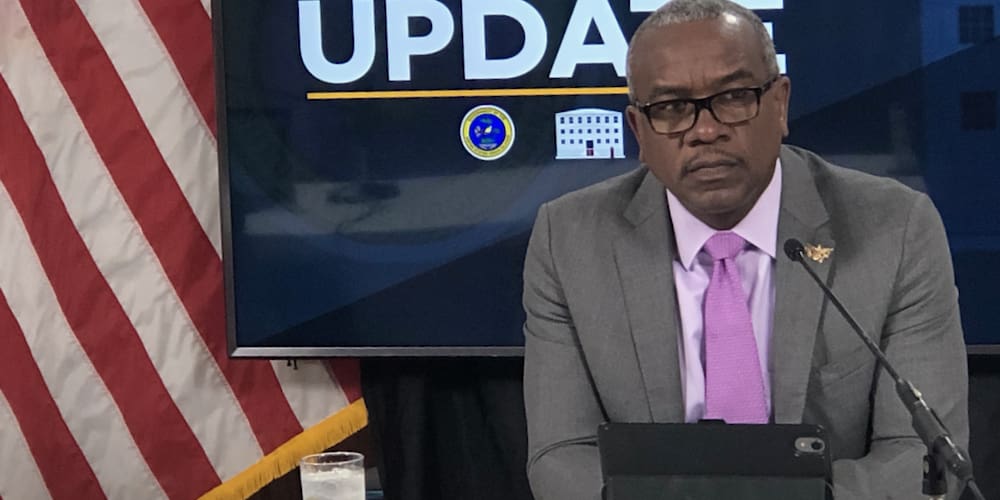 As the territory comforts 40 families who have lost members cut down by the coronavirus, almost 400 others are infected with COVID-19 now, including small children who have been hospitalized, the governor and Health commissioner said Monday.
During the governor's weekly news conference, Health Commissioner Justa Encarnacion ran down the latest statistics on vaccinations and infections and discussed symptoms, treatments and preventions.
There are currently 336 active cases in the territory, with 16 people hospitalized on St. Croix and nine hospitalized at the Schneider Regional Medical Center on St. Thomas, Encarnacion said.
Only 38,268 Virgin Islanders are fully vaccinated, 42.46 percent of the territory's population, which is not enough to achieve community immunity, according to the commissioner.
"We actually need to reach 70 to 80 percent because of the very strong Delta and other variants," Encarnacion said.
Encarnacion also said that those who have recovered from COVID-19 can take the vaccine after 90 days to prevent getting sick again. Call 340-777-8227 to schedule a vaccine.
Gov. Albert Bryan Jr. said the territory is handling this surge "quite well" considering the strength and speed of the variant. New restrictions to curb the spread of the disease are slated to take effect beginning Friday, including reducing crowd sizes from 100 to 50 persons per establishment and closing the territory's beaches at 4 p.m. on the weekends and holidays until further notice. Hopefully, the early closures will only last 30 days, Bryan added.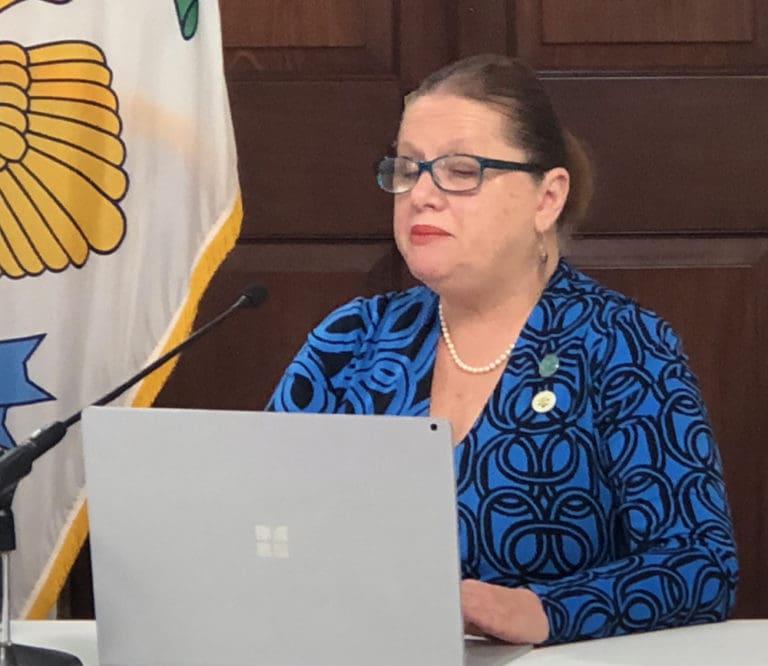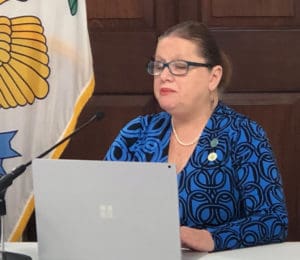 The governor said he is not trying to make things "uncomfortable" for people who did the right thing and took the vaccine, but observed that 95 percent of the people who die of COVID have hypertension, diabetes and are overweight, which describes the V.I. population, he said. Further restrictions will affect those who don't get the shot. Vaccinations will not be mandatory, but testing will.
"We're not doing these things because we want to push against people's rights. We're doing it because we have to," Bryan said.
The governor also acknowledged that workers are leaving the health system because they are tired and some object to getting the vaccination. He said he has authorized both hospitals to hire workers to handle the surges and replace workers who leave. Encarnacion said some workers will be exempted from the immunization for various reasons but will be subject to testing at least once a week.
In response to questions from the media, Bryan and Encarnacion provided some new information.
– COVID-19 now is affecting children in the territory. One is hospitalized on St. Thomas and two others were recently treated in hospitals. Also, more expectant mothers are testing positive.
– They reported 65 cases of fully vaccinated people contracting the coronavirus. None was hospitalized.
– Those who have already had COVID-19 are more likely to contract it again, according to Dr. Esther Ellis, the territory's epidemiologist. But they can get vaccinated to reduce the chances of illness.
– Asked about so-called "long haulers," the governor said there are "lots of people" suffering from a variety of symptoms for a year or more.
"People who had COVID last year are still going to the hospital with complications of the virus," he said.
The governor doesn't think COVID and the low numbers of vaccinations are affecting the economy.
"It's not affecting the economy. The economy is doing fine. It's affecting the healthcare system and certainly government services because we keep closing offices. It's affecting the community in a wide way," Bryan said.
Testing 3,000 government workers weekly will further stress the health system, he added.
Adding a new incentive to become immunized, the governor announced that non-vaccinated people who get their second vaccine shot by Sept. 30 will receive $250.
This week's winners of $100,000 drawings for vaccinated residents are Naita Salmon on St. Croix and Raphael Farrington on St. Thomas.
The $25,000 drawings for school workers will be announced next week. Bryan announced that medical workers will also be eligible for a similar drawing.
Due to the inclement weather forecast, Tuesday's COVID pop-up testings have been canceled.