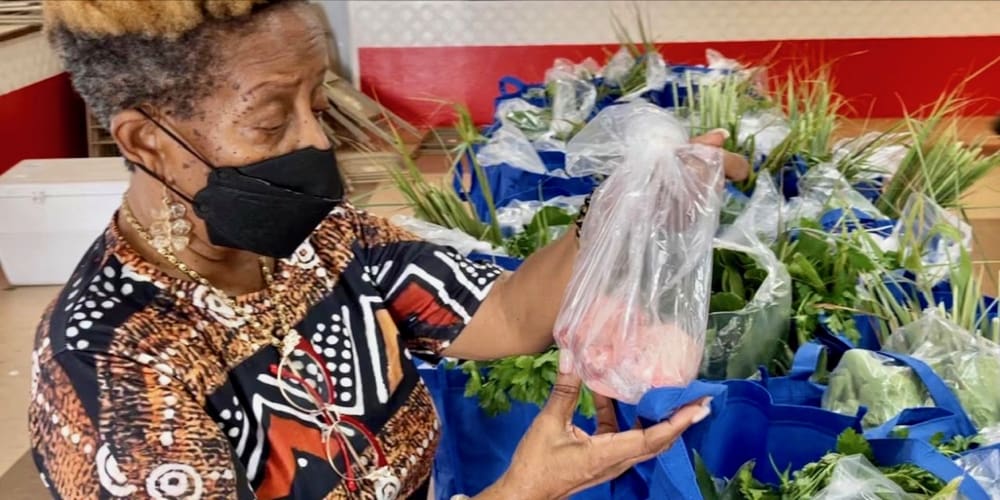 For the past eight years, retired former educator Carol Henneman has been working to make her late husband's dream of feeding his community come true.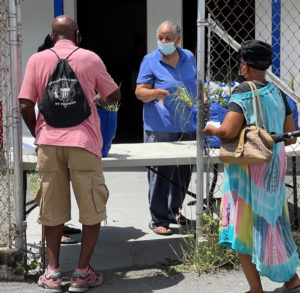 "Everyone knew him as 'Buddy,' but his real name was Myron, and for all the years that we were married, 48 years, he kept telling me that he wanted a farm where he could grow enough food to feed his people. He worked for more than three decades at the Department of Agriculture, so he had a love of the land and knew what he needed to do to make it work," Henneman said Wednesday.
The couple went to the V.I. Housing Finance Authority and got a 25-year lease for 18 acres of land in Estate Bordeaux. Fast forward to the past eight, and the thriving Greenridge Guavaberry Farm brokered a partnership with the GESC Health Insurance Board – which works with the V.I. Division of Personnel to administer the government's territorial wellness program – to distribute stocked bags of produce, plus a locally sourced protein, to retirees over the age of 65 who are covered by United Healthcare. The health insurance company also pays for the distribution.
The giveaways happen about every three months and Wednesday's, operating out of the Charles W. Magras, Sr. Community Center in Frenchtown, was right on schedule. As it was meant to be a drive-through, traffic was packed around the center from about 11 a.m. onward to the early afternoon, with retirees coming from all over the island to pick up their pack. Groups also walked up, keeping their masks on and maintaining a safe social distance as they waited for rides.
[adrotate group="6"]
Inside the center, Lori Anderson, a GESC board member and retirees' representative for St. Thomas, was helping to stock the roughly 400 bags. Another 75 bags will be sent to St. John, Anderson said, with the continued goal of promoting global agriculture, good health and local sustainability.
Henneman, meanwhile, was flanked by her relatives and close friends, who were working to chop up chunks of lamb sourced from St. Croix.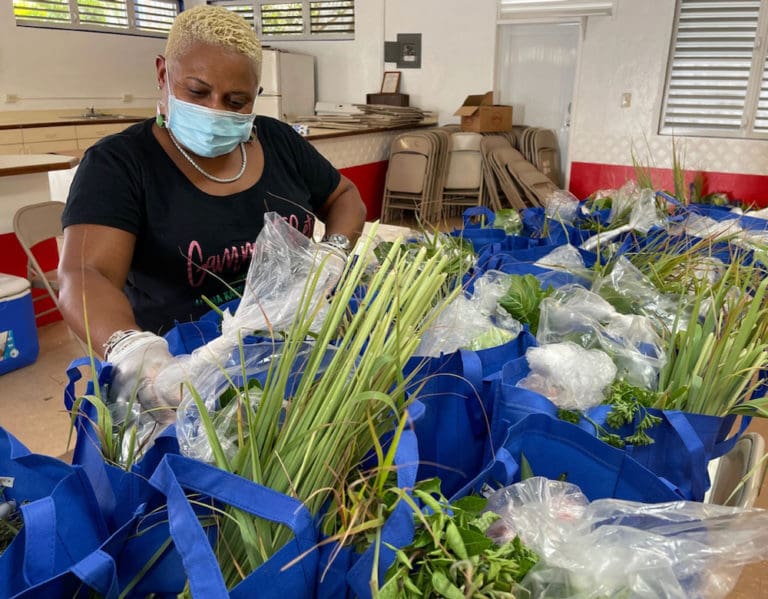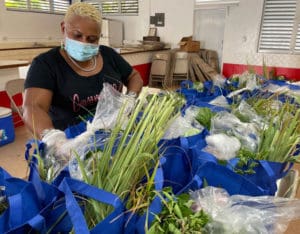 The late Mr. Henneman wasn't only a promoter of local farmers, but of farmers across the region, his wife said, and the farm continues to operate on that premise, pulling stock from Dominica, Puerto Rico and other island nations. A familiar face, Benita Martin, works to keep the farm's nursery thriving, while Henneman's nephew Royce Creque is its manager.
"It's just a wonderful initiative," Monique Doute-Ferrell said Wednesday. Also a retiree, Doute-Ferrell is the first African American woman to be appointed to the Senior Executive Service in the United States Army Audit Agency, and spends about half her time at home on St. Thomas giving back to her community.
"This is my fourth time volunteering," she added while packing a bag. "I actually came in on Monday, and Mrs. Henneman reached out to see if I was here and I needed help. I told her I wouldn't miss it. Spending this time giving back, and being part of this entire family effort to give back, is exactly what I want to do with my free time."