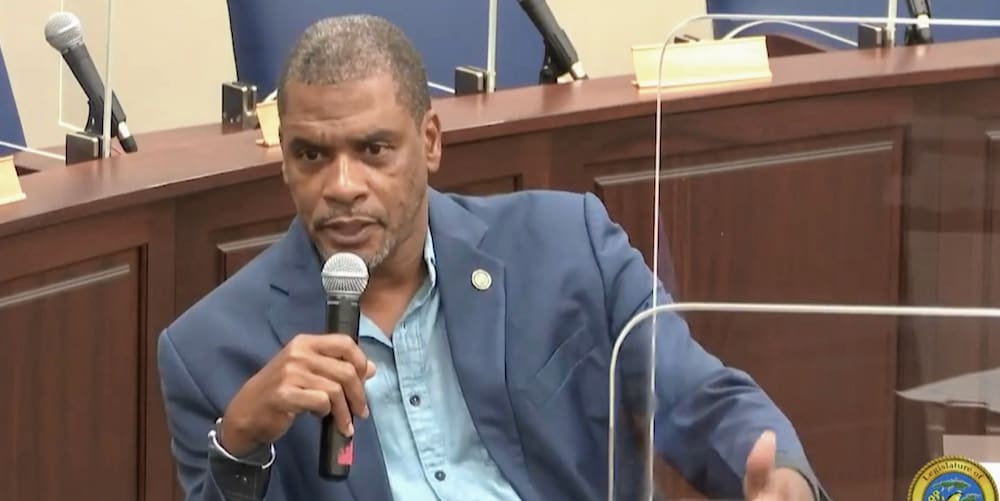 Building a budget for the U.S. Virgin Islands requires lawmakers to balance a large number of factors that aren't completely in their control, Sen. Kurt Vialet said Thursday in a review of the budget process that the Senate Finance Committee just wrapped up.
During a 45-minute show produced by the Legislature called "Senate Talk," host Winston Nugent and Vialet, who is chairman of the committee, discussed the months-long annual budget procedure.
When the Legislature passes the budget before the start of the fiscal year it balances revenues and income. But during the course of a year a lot can happen, and sometimes the budget doesn't stay balanced.
The last two budgets balanced, meaning the U.S. Virgin Islands collected the revenues needed to fund the planned expenditures, and Vialet said he is looking for the streak to continue. But the 2022 fiscal year's budget presented notable differences than prior budgets.
Unique to the 2022 fiscal year budget, legislators had to balance the closing of the Limetree Bay Refinery while contending with COVID-19 related economic impacts, and uncertainty around income tax revenue projections coupled with $100 million owed to the government in delinquent taxes.
"How much income tax are we going to collect? What do you think is going to be the impact of losing the refinery that pumping over $70 million in salaries in the island," Vialet said. "Then you look at the residual effect of not having that money. You lose that $70 million out of the income cycle. What is going to be the impact on gross receipts? What is going to be the impact on excise tax? Those are individuals going out spending money, going to dinner, going to the movies. That money was in the economy. So, when you lose a segment of the population that is being paid well it impacts all other levels."
Now the Legislature must look for "something to replace that" revenue stream Vialet said.
While accounting for these economic blows, Vialet said the Legislature also had to heavily consider the COVID-19 pandemic, which dropped projection's during last year's budget markup, where it was estimated the government would see a $36 million reduction in individual income tax collections for the 2021 fiscal year in comparison to 2020.
"Last year was a strange year because you know we had COVID, we had lost the tourism market. So, we were conservative with our numbers because we did not know when cruise ships would resume and when the main industry on St. Thomas, which is tourism, would return," Vialet said. "Now we have seen that it has been just about a whole fiscal year that we have not resumed normalcy. So, we were very conservative because we know we are going to have a number of individuals that were unemployed."
To keep the economy afloat, Vialet said, required a combination of a conservative budget, unemployment benefits, more than $150 million in federally funded stimulus checks received by residents, increased allocations for Supplemental Nutrition Assistance Program benefits, and other federal aid.
"Luckily the budget [2021 fiscal year] came in at the numbers we projected or a little bit more. We did pretty good this fiscal year. If we didn't have COVID, the economy of the Virgin Islands was definitely moving in the right direction."
Even when legislators aim to factor in all foreseeable variables, it is often the case that the revenue projections do not match what is collected that year and can result in sweeping funding cuts to government departments.
"If you project that you are going to collect $900 million, but you only collect $800 million, then all of those entities that you funded, you're going to have to decrease their funding, because you can't meet your projection that you made at the beginning of this budget hearing. It has to be spot-on. If it's not spot-on and you go through a phase of hiring individuals and then you can't sustain the salaries. Then individuals have to be laid off," like in 2012 with the eight percent salary cut, Vialet said.
Ultimately, the process of accounting for all these nuances within the budget creates "a hard, meticulous, complex, and time consuming" process, Nugent said.
Though it is too early to know if next year's projections will hold true, Vialet noted the governor's financial team has already dropped its original, earlier revenue projections given at the start of the budget markup process by nearly $20 million.