Street sign falling apart? Broken traffic light got you vexed? The Department of Public Works has a new online public complaint tool for collecting your feedback and, possibly, expediting repairs, department officials said Tuesday.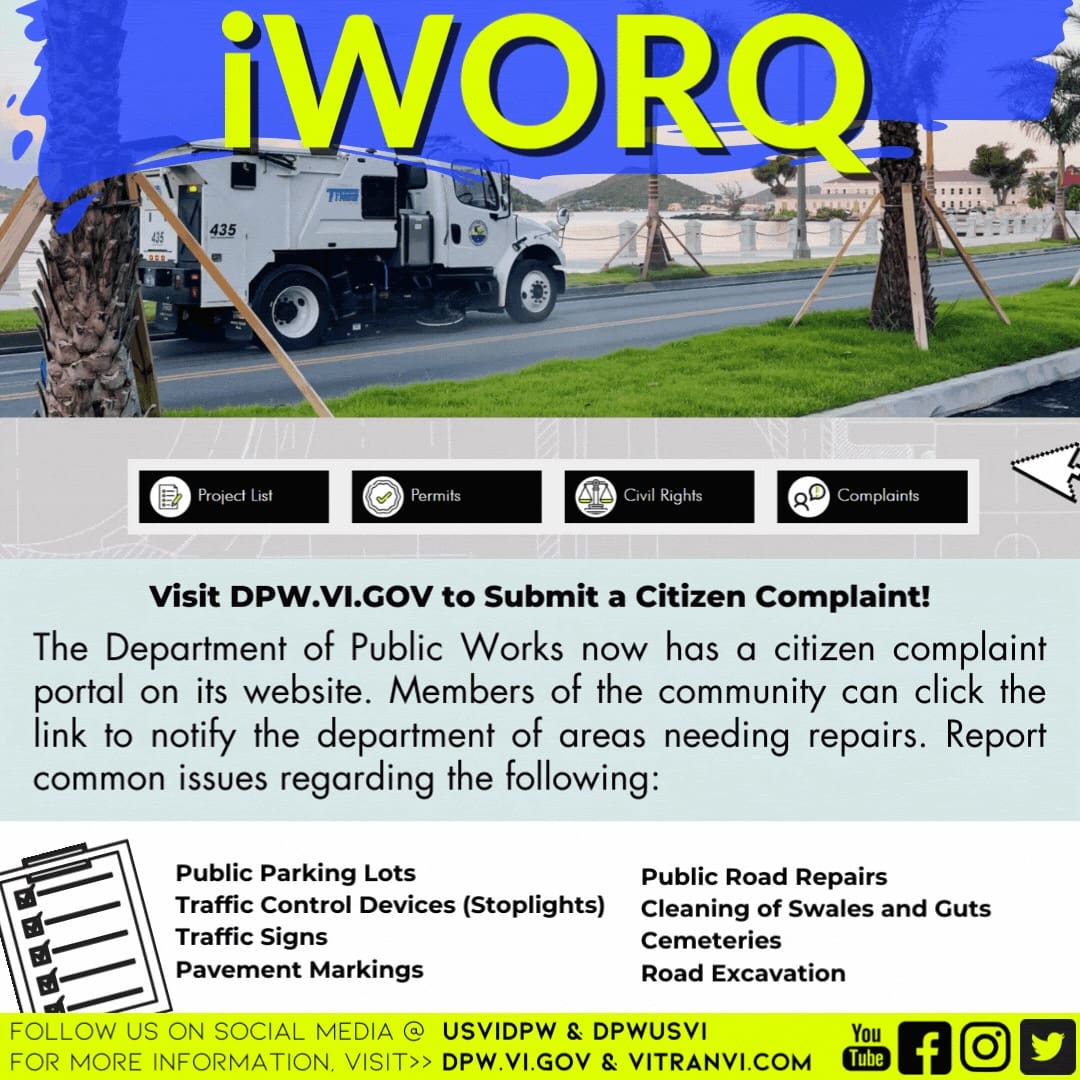 By navigating to dpw.vi.gov, Virgin Islanders can report abandoned vehicles, broken curbs, clogged drainage culverts, and a host of other nuisances. There's even a place to upload a photo of the problem.
Jomo McClean, the federal highways manager, said he expects to hear about potholes, other road repairs, roadside debris needing to be cleared, and other predictable complaints.
"Those are the common ones," McClean said. "This tool is going to be a more efficient and quicker way of being able to record and track complaints or requests that come in."
Kinila Callendar, DPW's chief of staff, expects to hear a lot about potholes, damaged street signs, missing or damaged guardrails, and street striping. She said the online feedback form came about because the department bought new software, iWorQ.
"The department has always received complaints from the public via phone calls or word of mouth, so when we learned iWorQ has a citizen portal built-in, it was a welcomed addition," Callendar said. "This portal will give community members a chance to engage with us a little more."
Through the portal, every Virgin Islander becomes Public Works' eyes and ears, she said, without having to wait on hold or harass a DPW employee in the grocery store. Furthermore, the written record aids with accountability.
"We are using it for record-keeping. Once the complaints come in, our operations team members then assign it to our crews, and it becomes part of our daily tasks," Callendar said.
The increased efficiency will help stretch limited budgets, McClean said. He hoped people embrace it.
"Using the portal, they can also track the status of their requests and complaints without having to call or physically come in. Once a complaint is filed, it gives them a request number, and they can go back in, put that number in and see the status of their request. The system would say whether it was submitted, completed, in action, or assigned. I think it would encourage greater participation from the general public," he said.
When making a complaint, the website directs you to choose the island then presents a dropdown list of common problems. There's a map to the side for pinpointing the exact location of the torn-up road or out-of-control brush.