In their nearly 25 years on St. John, Elizabeth ("Liz") and Bern Putnam have done a lot of things, including making the crooked straight, teaching Spanish, raising an aerospace engineer, and tobogganing on a sofa out of a collapsing house during a hurricane.
In spite of their many connections to the community, a series of events have led the Putnams to pull up stakes in the next few weeks and relocate to Nederland, Colorado.  Bern's last day at the office is May 19.  Liz will stay till the end of the term at the Gifft Hill School.
They've touched the lives of many, and they will be sorely missed.
Since setting up his chiropractic practice in Cruz Bay in 1993, Bern has used his skills to treat nearly 5,000 patients. With a Bachelor's Degree in Biology, a Master's in Exercise Physiology, a Doctorate in Chiropractic Medicine, and certification as a Chiropractic Sports Physician, Bern uses multiple modalities to treat his patients.
A typical appointment with Dr. Bern lasts 45 minutes and includes massage, ultrasound, infra-red, stretching, and electro-stim therapies in addition to chiropractic adjustments to the entire spine.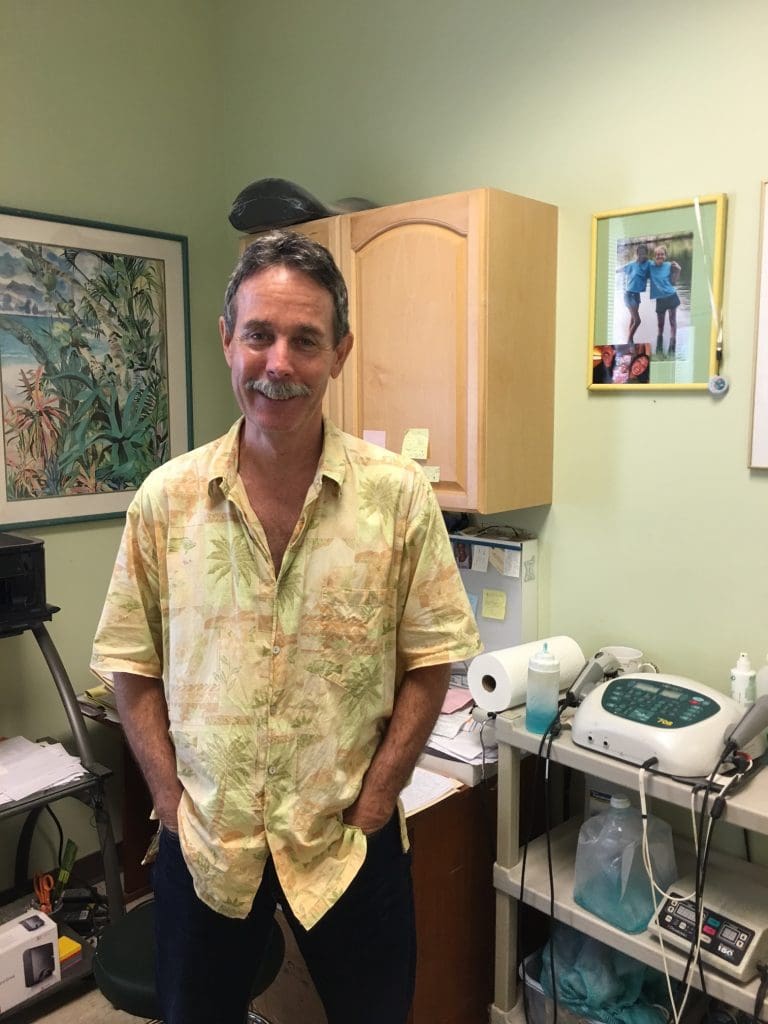 In the last 21 years, Miss Liz has taught Spanish and physical education to hundreds of elementary students attending the Gifft Hill School.  But she is perhaps most famous for her radiant smile and extraordinary dance moves in carnival parades.
It was dance that brought the couple together.  A successful touring and TV dancer in her native Venezuela, Liz moved to the States and got a job dancing in an MGM show in Las Vegas. Bern, who grew up in Massachusetts, took up dance as a natural extension of his athletic pursuits. They met in Las Vegas in 1978 when they were paired up as understudy partners in an MGM show and soon became an inseparable item.  They were married in a Las Vegas wedding chapel 32 years ago.
The Putnams moved to St. John at the perfect time. Aside from Dr. Alex Politis, a retired chiropractor who treated patients when he was on island during the winter months, there were no other chiropractors on St. John.
Setting up his practice was "almost too easy," according to Bern. "While I was painting the office getting it ready to open, I had people coming in bringing their own massage tables, asking me to work on them."
He admits that he was busier then than he is now since two other chiropractors have set up part-time practices, and a physical therapy office has opened.  Although he is not selling his practice, he is turning over his phone number to two chiropractors from St. Thomas whose methods of treatment are reported to be similar to his own.
Upon moving to the island in 1993, Liz quickly found a niche for herself, helping out in Bern's office, working in retail at Bamboula, choreographing fashion shows, and teaching her own high-energy style of dance, a blend of funk, salsa, and whatever inspires her at the moment.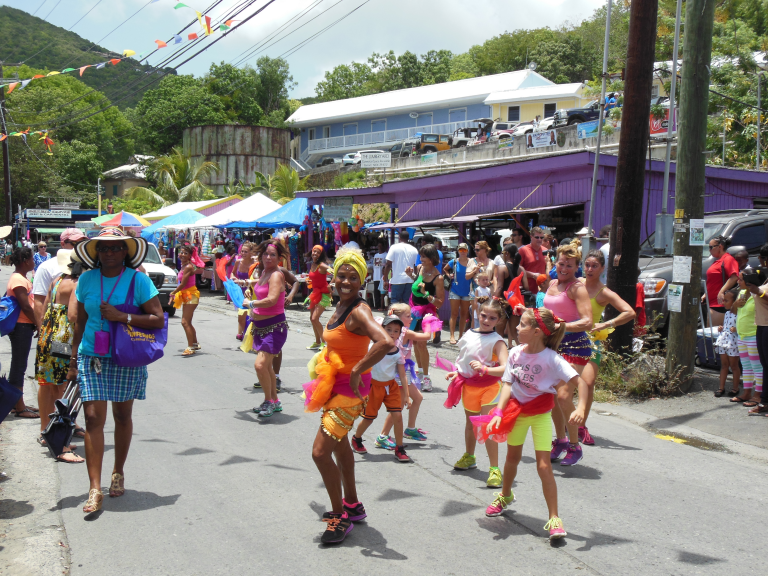 "During her first carnival on St. John, she jumped in with a group of drummers led by Eddie Bruce and started dancing, and she hasn't stopped since," said Bern.
Anyone who didn't know who the Putnams were during their first two years on the island soon knew after Hurricane Marilyn when their experience became the stuff of legends.
They were weathering the 1995 storm in their rented wooden house perched on a steep hill in Fish Bay when they heard a cracking noise.  "The house suddenly snapped; it cracked and tipped and I thought, 'The house is falling!'" said Bern.  Their daughter Alexa, who was six at the time, was sleeping on the couch.
"My wife jumped on top of Alexa, and I jumped on top of Liz as the house started to collapse," he said.  "Our couch rode across the floor, the wall, the deck, and dropped 40 feet as it slid down the mountain. We came to a stop as the rest of the house kept rolling down the hill.  Then it got quiet."  Oddly, the kerosene lamp, which had been burning next to the couch when they started to slide, landed next to them on the mountainside, still burning.
Miraculously, the family wasn't hurt, and the Putnams were able to hike back up the hill to a neighboring house.  "We felt so light. We were floating after being so close to death," said Bern.  When the storm abated, they went in search of the young couple who lived in the apartment above the Putnams'.  That couple wasn't so lucky; they suffered many broken bones and lacerations, but they were airlifted out, and eventually they recovered.
Perhaps it was the thrill of that ride in the storm that gave daughter Alexa a taste for nerve-wracking downhill sports.  A student at what is now the Gifft Hill School, Alexa was a surfer and horseback rider when she met up with a winter sports athlete who was working with teens on St. John.  He introduced her to skeleton racing.
In skeleton racing, a single person rides prone on a bobsled, facing forward, down icy tracks at speeds of up to 80 m.p.h.  Alexa ended up moving to Germany to train with the German Olympic team and traveled with them as they competed in World Cup events.  As Alexa made a bid to compete in the Winter Olympics, Bern became president of the V.I. Winter Sports Federation, a position he still holds after ten years.
Alexa eventually moved to Boston to get her undergraduate degree, then returned to Germany for graduate work before settling in Boulder, Colorado with her boyfriend Ali Shilleh.  She's now working for NASA as she completes her doctorate in aerospace engineering.
Alexa's move to Colorado is one of the factors that made Liz and Bern decide to relocate.  Another was more disturbing.
This past October Bern came down with his third bout of dengue fever at the same time that he contracted the Zika virus.
Bern stays in such great shape by walking and practicing Qi Gong– among other things–that he didn't feel the effects of the viruses at first.  But when he noticed how much he bled after nicking himself shaving, and how easily he bruised following a regular weightlifting routine, he took himself to the hospital.  He had developed the hemorrhagic form of dengue, and his platelet level was so low that by medical standards he should have been dead.
He spent a week in the hospital receiving transfusions of platelets and immunoglobulins and soon was back at work, but the danger of contracting dengue continues to loom large. "I can't afford to get dengue again," he said.
At about the same time he was recovering, Bern found out he would have to move out of the office in the Marketplace where he had been practicing for 16 years.  (The multi-use Marketplace plans to convert much of the space on the third floor to short-term vacation rentals.)
Just as the Putnams were considering whether to build out a new office and take on a new lease, they went to visit Alexa in Colorado.  Just for fun, Liz looked through some real estate ads online and spotted a cute, wooden house with lots of skylights nestled on a hill near the town of Nederland. Several days later, they passed the house as they were driving by and decided to take a look.  It was the only house they looked at, and they bought it.
Now instead of mongooses and iguanas, the Putnams will be dwelling with moose, elk, bobcats, and even mountain lions.
Liz figures they'll be trading in beautiful water vistas for mountain scenes, two types of scenery she grew to love as a child growing up in Caracas. "We plan to spend a lot of time outdoors hiking," said Liz.  "When you hike there, it's like being in a painting.  It's so peaceful, so beautiful."
Liz is looking forward to taking classes in Flamenco dance in a studio in Boulder and perhaps starting an after-school program in Spanish for children.  Bern is looking forward to continuing as a chiropractor part time and working with the deaf community.  (He's taught himself sign language over the past several years.)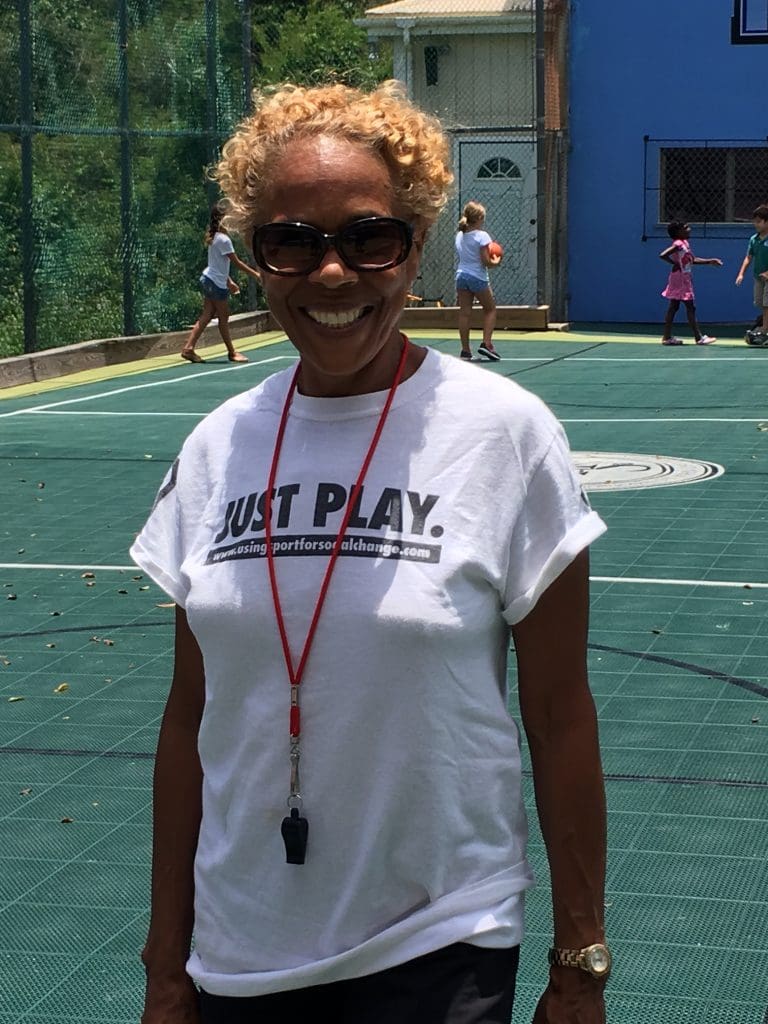 Both say they'll miss the people on St. John they have come to know.  "The community has kept us here," said Bern.  "There are a lot of different little communities, but when times get tough, they all come together. That's really important."
Liz admits that she loves her job at the Gifft Hill School, and it will be hard to say goodbye to the children.  But she's taught them in their PE classes to be a little tough, and she takes pride when they come to her and say, "Miss Liz, I fell down yesterday and I didn't cry."
"The time was right," said Bern.  "It's better to leave a place when you still love it."
Editor's note: There will be a potluck beach party for the Putnams at Maho Bay on Sunday, May 21 starting at 11:00 am. Please call Laura at 340-643-2534 to find out what food and drink items would be most appreciated.