Andrea Leland Creates "Jamesie: King of Scratch" Documentary
While the national music of the Virgin Islands, Quelbe or scratch band, might be familiar to many, not until now has such an intimate portrait of the art form and one of the best local musicians been presented.
In her recently-released feature-length documentary "Jamesie: King of Scratch," veteran artist Andrea Leland offers a rare glimpse of one of the masters of Quelbe, James Brewster of St. Croix.
Although there are many well-known Quelbe musicians across the USVI, Leland learned about Jamesie from other musicians, the film maker explained.
[adrotate group="6"]
Scratch Band Presence on St. John
"I went to a Christmas carol-singing in Coral Bay a few years ago and there were all these Christmas carols being sung and over in the corner was a group of native guys playing scratch music," said Leland. "I had heard similar music in Nevis and down-island and I was looking for this presence on St. John. Then I heard about Koko and the Sunshine Band and got to be really friendly with Theodora Moorehead."
Moorehead, who was an "incredible supporter" of the project, was the one who told Leland to see Jamesie.
"She said that Jamesie is the real thing and the one that I needed to get in touch with," said the filmmaker.
So Leland did just that — traveled to St. Croix and found the man himself.
"I had lunch with Jamesie and within an hour, he was ready to welcome me in," Leland said.
After spending time with the musician, Leland echoed Moorhead's sentiment.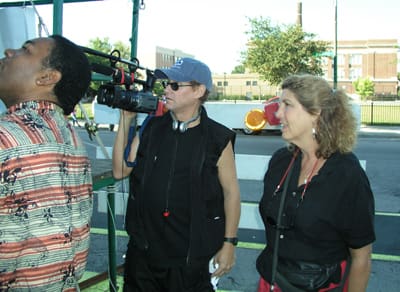 The "Real Thing"
"Jamesie is the real thing," said Leland. "He is uncompromising. He doesn't make his music acceptable for tourists — he plays his music his way."
"He is an artist, a real character and a tradition bearer," Leland added.
From the opening scene, which shows the 79-year-old performer making a rudimentary guitar using a tin can, a gourd and a comb, the film has the feeling of an intimate conversation with the musician and a peek into the life of a man who carries on the age-old oral tradition of scratch band.
The viewer is not only able to watch a number of Jamesie's live performances in the Virgin Islands, the United States and Europe, but also listen in on discussions with collaborators in Jamesie's band the All Stars such as Camille "King Derby" Macedon, Lawrence "Trashy" Mason and Paul Hosford.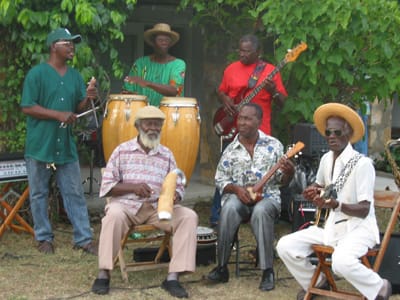 Stateside Festival Footage
"King of Scratch" follows Jamesie and the All Stars to the United States, where the group performs at the World Music Festival in Chicago and the Lotus Music Festival in Indiana, which the film maker helped make possible.
"I got a grant from the Illinois Humanities Council and used some of the money to pay for the plane tickets for the band and the crew to go to Chicago," said Le-and. "The band had the gig and the festival paid for their hotel, but I think paying their way showed that I was committed to this project."
One scene in the film shows Jamesie's incredibly warm welcome at Bloomington, Indiana's Lotus Music Festival, which apparently is not uncommon.
"Every place that Jamesie goes up north, he is overwhelmed with positive feelings," said Leland. "They love him."
Reuniting with Students
While most of the footage is filmed in 2004, Leland was allowed to use footage shot by Larry Braga, of Parrotfish Music in St. Thomas, of Jamesie's trip to Denmark in 2000. This part of the film follows the King of Scratch as he leads classes and workshops on Quelbe at various music schools around Copenhagen.
In a moment of pure serendipity, Jamesie is reunited with some of his former students at the Old Town School of Folk Music in Chicago — which was as much of a surprise to Leland as to Jamesie.
"That was not planned," said the film maker. "The students just happened to be performing before Jamesie was scheduled to go on. It was one of those moments that made me feel like this was the right thing to be doing — there were other times too."
While it would have been easy to lament the fading popularity of Quelbe today among Virgin Islands' youth, Leland resists the temptation and leaves it up to the viewer to decide their feelings for themselves.
Increase Tolerance, Decrease Fear
"The goal of the film and video work is to enrich, enlighten, increase tolerance and decrease fear and tension between cultures," Leland states in the mission statement on her Web site www.andrealeland.com. "I work collaboratively with members of these individual communities providing a forum to voice their untold stories, personal challenges and compelling triumphs. Social, artistic or political actions are placed within the context of their culture, imploring the viewer to confront old myths and discover a new perspective."
Leland, who has a masters of fine arts degree from the Art Institute in Chicago, is not new to documentary film making — this is her fourth cinematic project. She has previously produced "Voodoo and The Church in Haiti," "The Long Road Home," which details a Mayan villager's life in exile and "The Garifuna Journey" about the descendants of African and Carib-Indians who were exiled from St. Vincent in 1797.
Subtitles In Creole
Most of the film is sub-titled, a decision which Leland made after preliminary screenings of the film.
"When I was transcribing the film and trying to get the language together, people from here couldn't understand what he was saying," said Leland. "After showing the footage to a lot of different people, they just couldn't understand it. So I went with the subtitles."
"At first I wasn't sure whether to do Creole or standard English subtitles, but in the end it just didn't seem right to do it in standard English," the film maker added.
Leland, who hopes to receive additional grants in order to expand the documentary into an educational version with complete songs and interviews, also decided to include some of Jamesie's racier songs.
Provocative Artist
"Jamesie is very provocative and playful," said Leland. "He's a real artist and I respect that. I wasn't going to omit things that some people objected to."
The film maker has submitted the documentary in a number of film festivals in the U.S., Canada, South America and Europe and has already been accepted at both the Park City and Santa Cruz film festivals.
"The film will bring attention to the Virgin Islands from a vast number of people," said Leland. "There will be a lot of attention brought to the community and this rich musical tradition."
The documentary will be screened on St. John on the final night of the St. John Arts Festival, on Friday, March 2, at the St. John School of the Arts at 8 p.m.. Organizers are trying to get Jamesie himself to Love City to conduct workshops prior to the screening, Leland explained.
A screening is also scheduled for February 11 on St. Croix at the Fredericksted Museum.
"Jamesie: King of Scratch" can be purchased at Leland's Web site at www.andrealeland.com or www.jamesieproject.com, where the film's soundtrack is also available.