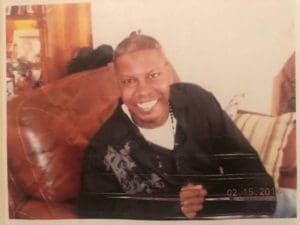 Ray Anthony Hansen died on Dec. 1, 2021.
He was preceded in death by his brother, Theodore W. Hansen Jr.
He is survived by his parents: Ruth and Theodore W. Hansen Sr.; daughter, Caresse D. Hansen; sister, Lynda P. Hansen; brother, Lynden A. Hansen I; aunts: Cleoda H. Moorhead, Julia Hansen-Hodge, Florine H.Torres, Shirley Jacobs, Lenita Ford and Florina Barnes; uncle, Arnold Barnes; niece, Jayde A. Adams; nephews: DeMario M. Caldwell and Lynden A. Hansen II; godmother, Janise Bølling James; and goddaughter, Kabreia J. Mitchell.
He is also survived by cousins: Debra L. Hansen, Andreita C. Hansen, Rodney D. Hansen, Halvor Hansen Jr., Gerard Hansen, Monique Hansen, Margarita Q. Torres, Jose Torres, Aubrey Delerme, Craig Delerme, Caryn Hodge, Kristen Hodge, Stephanie Hodge, Colin B. Moorhead Jr., Chivonne Moorhead, Chalma Moorhead, John Degout, Arnold Barnes Jr., Corinne Barnes, John Barnes, James Barnes, Cheryl Barnes Francis, Sherri Barnes,
Other survivors include cousins: Ricky Barnes, Kenneth Jackson, Gary James, Karen Schmiegelow, Kevin Jacobs, Wilbert Jacobs, Diana Jacobs, Monique Wenner, Audra Wenner, Sinead Miller and Stacey Johannes; special friends: Maureen Chase Morales, Jackie Maxwell, Cherita Brown Irving, Rita Bannister, Rena James, Tracy Parker, Dahlia Petersen, Shyluer Holder and Maurice Flowers; as well as other relatives and friends too numerous to mention.
The viewing will begin at 10 a.m. followed by a funeral service at 11 a.m., Friday, Jan 7, 2022, at Bethel AME Church Christiansted. Interment will follow at Christiansted Cemetery.
Due to the COVID-19 pandemic and public health regulations, all attendees must wear a mask, and adhere to social distancing guidelines and contact tracing.