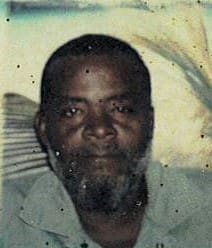 Raymond Farrelly, also known as "Beaver," of Estate Calquohoun died on Oct. 13. He was 78 years old.
He was preceded in death by his mother, Daphne Urgan; and father, Winthrop Farrelly.
He is survived by his brothers: Ralph George Jr., Oliver Parris, Meredith Parris, Halvor Parris and Stanley "Shalom" Farrelly; nieces: Nanyamka Farrelly, Lorie George, Dominique Parris, Tonya Parris and Nicole Parris; nephews: Victor K. Parris, Anthony George, Reginald George, Te'Amir Tafari and Tselot Tafari; great nieces: Aziza George and Amaris Thomas; and great nephews: Mark George, Michael George, Elijah Muhammed, Keith Balbosa, Casey Balbosa and Corey Balbosa.
He is also survived by special friends: Herman "Chap" Heywood, Jerimiah Simon, Henry Samuel, Paul Samuel, Herman Marcus, Arnold Barnes, Vere Smith, Henry "Jopo" Knight, Frankie Schuster, Ethlyn Osborne-Brown and family, Maude Dowdy, the Velez-Soto family, Darrell Bartley (godbrother), Victor Hendricks, Betty Rawlins-Tutein and family, Miguel Nico and Arthur Lee.
Other survivors include cousins and other relatives: Hendrickson family, Claudette Schrader (sister), Richard Schrader Sr., Richard Schrader Jr., Patricia Schrader-Cooke, Joseph Schrader, Claudia Schrader, Mikala Cooke, Ashley, Adrienn and Alexis Schrader, Basil Williams and Family, Urgent Family, Leslie Farrelly, Priscilla Farrelly, Alfred Nelson Jr., Errol Nelson, Edward Nelson, Gregory Abbott, Darlene Farrelly and Winifred Benjamin-Brown; special cousins: Sackey Family, Williams-McIntosh Family and Loma Varlack and family; as well as other relatives and friends too numerous to mention.
The funeral service will take place on Tuesday, Nov. 9, at Friedensfeld Moravian Church Tributes will begin at 9 a.m., with the service beginning at 10 a.m. Interment will follow at Kingshill Cemetery.
Due to the COVID-19 pandemic and public health regulations, all attendees must wear a mask and adhere to social distancing guidelines.