A Tuesday night town meeting in Cruz Bay hosted by members of the USVI Recovery and Resilience Task Force became heated over the issue of local representation.
The meeting was one of several being held throughout the territory to get community feedback about the task force's mission to examine what went wrong during the disastrous 2017 hurricane season and to prepare for the future.
Task force members and community leaders introduced themselves and discussed the goals of the task force. But when Luc Severe, a senior advisor on the task force, told the crowd gathered at the Julius E. Sprauve School cafeteria that members "want to hear your voice," he got more than he bargained for.
Monique Matthias, a school counselor and native St. Johnian asked, "Who from St. John is on the task force?"
The response to that question led to loud heckling from the audience when it became apparent that no one who was born or raised on St. John was a member.
"Who is speaking for St. John?" Lorelei Monsanto repeatedly asked, adding that she was concerned about lack of representation from local groups within the community, including the Hispanic population.
"There is no direct representative from each island currently on the task force," explained Meaghan Enright, a member of the St. John's Long-Term Hurricane Recovery and Resiliency Team, who said she had sat in on a task force meeting. "The goal of the task force is to reach across the community, and with meetings like this, to pull in from the community."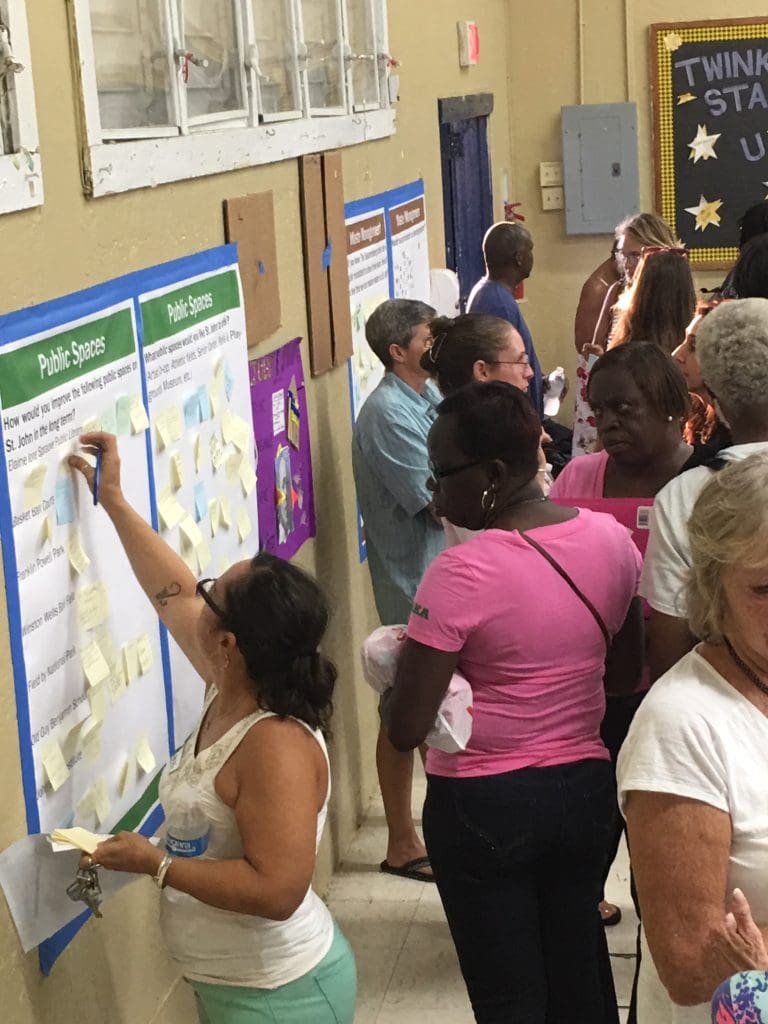 The task force, which was established by Gov. Kenneth Mapp in October, "is made up of local officials, community members, business and environmental experts, and thought leaders from around the United States," according to its website. It is chaired by Clifford Graham, the CEO of the West Indian Company Ltd.
Although the task force's formation was announced in October, it was not funded until January. The first public meeting was two weeks ago; Tuesday's meeting was the first held on St. John The task force's final report is due in May.
Lisa Penn, a retired Sprauve School principal, articulated the crowd's main complaint when she stated, "A lot of times, decisions get made for us without our input."
Two task force members do have deep connections to St. John. Tom Secunda, a co-founder of Bloomberg News, has a home in Peter Bay. John McGuiness represents a foundation established by part-time St. John resident Kenny Chesney.
Their philanthropic organizations, the Bloomberg Group and Love for Love City, played critical roles following Hurricane Irma by flying in supplies, assisting with medical evacuations, and funding a wide range of activities in the recovery effort.
Their membership on the task force, however, did not appease the crowd.
"Tom Secunda and Kenny Chesney cannot speak for the people with ancestral rights on St. John," said community activist Kurt Marsh. "They can't speak for us."
Similar comments prompted a change of direction at the meeting. "We will come and hear your concerns," said Dina Leroy, who serves as the task force's CEO. "We can appoint a community liaison."
Leroy's comment brought the nomination of community activist Kurt Marsh to serve in that role. He accepted the nomination and was approved by consensus.
Tuesday's meeting was designed to get community input on a wide range of topics, including housing, education and healthcare. As audience members arrived, they were given surveys and were asked to write comments on stickies and put them on posters around the room.
But when it became clear that representatives from each of these sectors were not on hand to directly answer questions, the crowd again became vocal.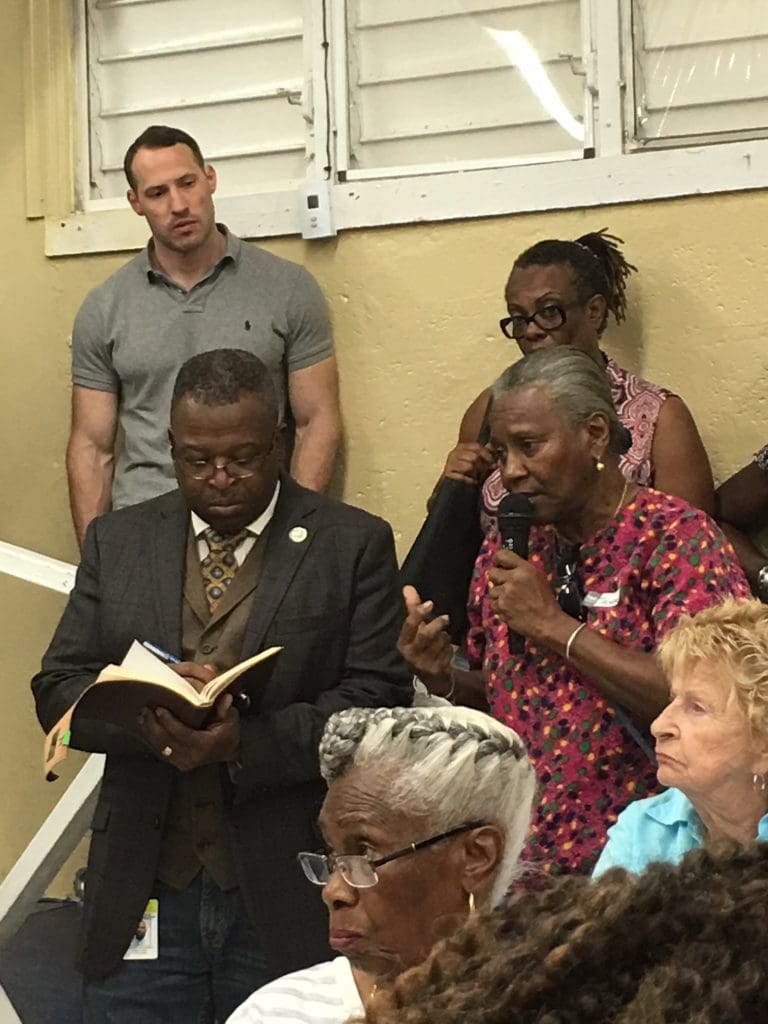 "Tonight, I expected to hear people recount some of the issues we've had here," said Theodora Moorehead. "The only hurricane shelter we had was this room that we're in now, and people were in here [during the storm] up to their knees in water. Our frustrations are high. Allow people to tell you what our issues are now."
Her remark led to questions about plans to build a new school on St. John. Nearly half the classrooms at the Sprauve School, the island's only public school, were seriously damaged or destroyed by Hurricane Irma.
Eugene Farrell, who serves as Gov. Mapp's chief of staff, took over the microphone to explain that the immediate plan was to place temporary modular classroom units on the ballfield adjacent to the school.
His reply brought boos from the audience. "There would be no place for the kids to play. And if there's a storm, where will the helicopters land? Where will the FEMA trailers be put?" asked one audience member.
The site for a new school on St. John has been a hot-button topic for almost 20 years. The governor announced recently that a possible site had been identified in Chocolate Hole, a residential area about a mile and a half from Cruz Bay on the south side of the island.
But when Farrell mentioned this option he was jeered. "This problem keeps bubbling up," said Khadijah Lee. "They make decisions first and ask questions later."
Several people brought up preliminary plans developed 10 years ago for a school for a site in Estate Catherineberg, about three miles up Centerline Road from Cruz Bay. That plan has languished since talks broke down among landowners and various government agencies.
As the scheduled two-hour meeting approached the three-hour mark, Farrell agreed to schedule additional town meetings in the next several weeks to address issues raised, including education, road conditions, mounting debris, the lack of emergency medical services, and problems with telecommunications. He promised that Mapp would attend one soon.
Audience members were urged to attend the monthly meeting of the St. John Hurricane Recovery and Resiliency Team, which will be held at 5:30 p.m. Thursday at the third floor of the Marketplace in front of Sam and Jack's.
Shared content for St. John Tradewinds and Virgin Islands Source.