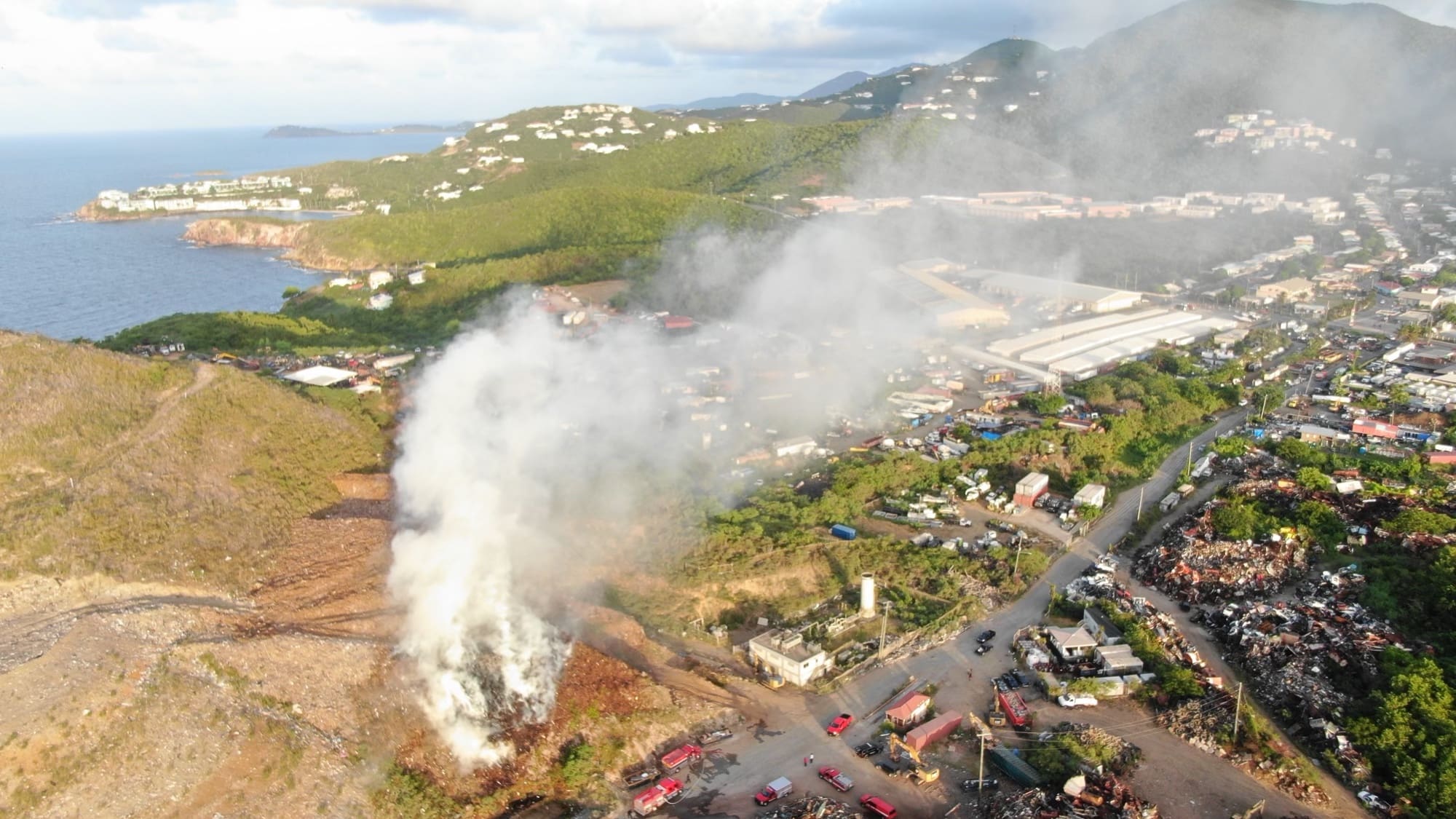 A reignition of the fire in the green waste section of St. Thomas' Bovoni landfill has led to further disruption of classes at the Bertha C. Boschulte Middle School. A spokesperson for the Department of Education said classes are canceled, as of 8:30 a.m. on Friday.
It's the second day school has been called off at BCB because of air quality concerns. The landfill is located less than a mile away. Education Department Public Information Officer Shayla Solomon called on parents who drop off their children to return to the school for pick up.
"Bertha C. Boschulte Middle School (is) to close immediately, due to the ongoing fire at the Bovoni Landfill Dumpsite. Conditions drastically changed at the site overnight, which resulted in action being taken by the (Fire Service)," Solomon said.
Education officials are also deploying school buses to pick up students who rely on that service, the spokesperson said.
"Our top priority remains the safety and well-being of our community and mobilized all available resources to address this situation promptly," V.I. Fire and Emergency Medical Services  said in a statement Friday morning. "We understand the concerns and inconvenience this may cause, and we assure you that our teams are working tirelessly to mitigate the rekindling of the fire. We will provide updates as the situation continues. Your understanding and cooperation are invaluable as we work together to address this renewed challenge."
The fire in the green waste section at the entrance to the landfill erupted early Thursday morning, and prompted an emergency response from on-and-off duty members of the fire service, according to a statement from the Waste Management Authority.
A smoke advisory was issued for business owners and residents in the surrounding areas, said WMA spokesperson Lorna Minkoff.
Although officials declared the fire emergency over as of late Thursday afternoon, the blaze reignited overnight, Solomon said.
As of Friday morning, Waste Management is advising the public that the landfill will close at 10 a.m.
The Fire Service also thanked the community for its support as it battles the blaze.
"The outpouring of support from our community has been truly uplifting to the firefighters responding to this incident. We have been privileged to witness acts of generosity, as residents and local businesses extend their helping hand and valuable resources to aid our committed teams in their firefighting endeavors. This spirit of solidarity and assistance reflects the unwavering resilience and compassion that characterizes our community," it said.