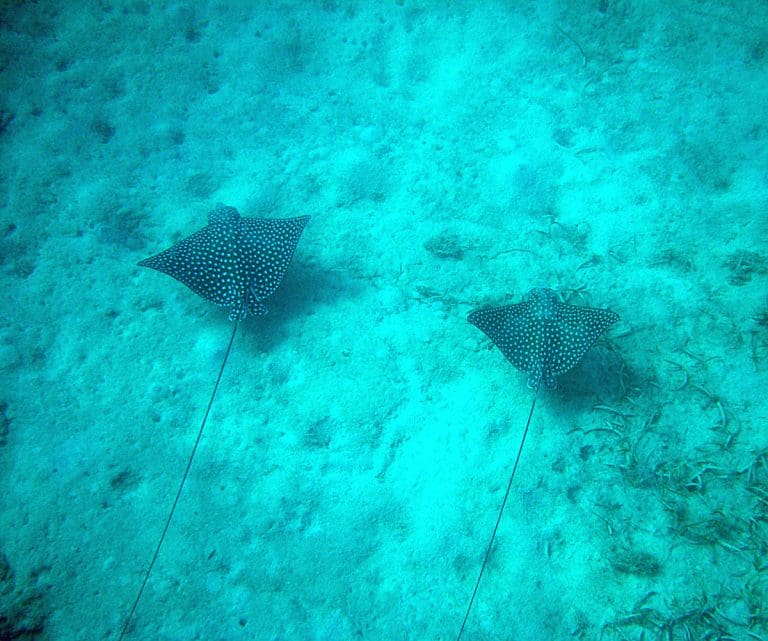 On Christmas Day, I got the best gift I could imagine: the sight of two spotted eagle rays swimming along a ledge in Leinster Bay in the Virgin Islands National Park.  It was the first time I'd seen these majestic creatures since shortly before Hurricane Irma struck on September 6.
I moved to the Virgin Islands nearly 35 years ago because I fell in love with the waters.  After a tough day in a hot classroom teaching English to high school students, I could come home, put on my mask and snorkel, and dip into another world—a world of unimaginably colorful fish, shifting prisms of light, and something surprising always beyond the next coral head.
It was with a clutched heart that I watched Hurricane Irma lash St. John on September 6.  But I was hopeful that Rendezvous Bay, the bay within view of my house where I most often swim, was spared the worst of the storm because of its southeast exposure.  Irma, witch that she was, came from the northwest.  I figured I would wait two weeks, as I had with hurricanes Hugo and Marilyn, and be back in the water again.
Then two weeks after Irma, Maria struck from the southeast, and I was in despair as I watched huge waves roll into Rendezvous Bay for days, mangling the shoreline.
"Don't go in the water," said most of the marine experts I spoke to.  "You don't know what's run into the sea."  I had an inkling of what ran into the sea.  I'd seen smashed transformers from fallen utility poles and the ruins of septic systems lying in the road in the hills above the bay.   Rainwater from these hills flowed directly into the bay; the stain of a mud plumes from the runoff made the danger visible.
I spoke to swimmers who went as far as Salt Pond Bay to find murky but apparently uncontaminated water.  Others chided them. Just because they were swimming in waters beyond most human habitation didn't mean they were safe.  Bacteria from animal droppings could pollute the most remote bays, especially after the heavy rains which didn't stop for weeks.  But the swimmers' skin didn't peel off, and they weren't felled by mysterious ailments, so six weeks after Irma, I could no longer resist.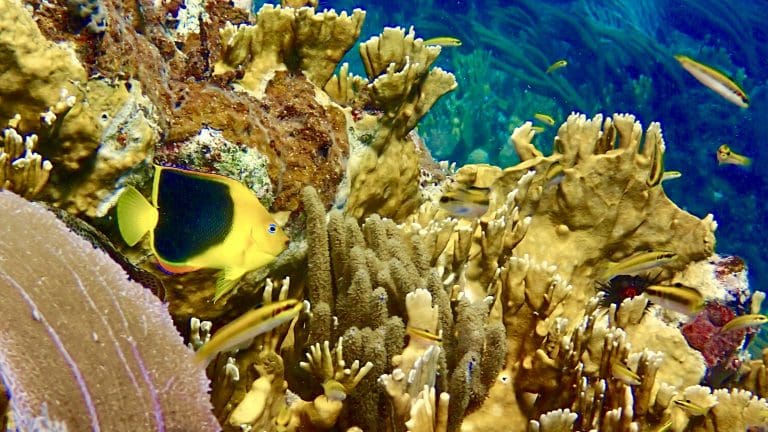 I hardened my heart as I stepped into the Rendezvous Bay and put on my mask. It would not be as it was on September 5 when I had taken my last swim, bidding farewell to my favorite fish, a rock beauty that was nearing adulthood—I'd seen a bigger one come courting, and I had been looking forward to my first glimpse of a jewel-like juvenile. I had said goodbye to a clever octopus who put a rock in front of his hole when he didn't want to be disturbed.  I had wished luck to the pair of pufferfish that gazed at me with unstartled eyes.
None of them was there when I first swished past the reef I knew so well, but who could tell what was there?  The visibility was miserable.  Particles of God-knows-what made it seem like I was swimming in a blizzard.  I got close enough to the reef to tell that practically everything that stood up had been smashed aside.  Most of the rocks had been scoured of colorful sponges, soft corals, sea fans.  There was hardly a fish in sight.
But the cool water was refreshing, and the sensation of propelling myself through the sea, and then floating, awoke something primal.  I swam on and made the discovery that not everything was dead.
A few brain corals and star corals survived.  Small grunts and cardinal fish darted under bits of reef.  If some fish were alive, if the coral was alive, the reef may grow back again.  I may not be alive to see it the way it was before Irmaria hit, but others might.  At the Smithsonian's Museum of Natural History, there's a model of a what a coral reef might have looked like at the time of the dinosaurs.  The forms are strange but familiar.  I'm taking the long view, betting on recovery, and if not that, on evolution.
Since mid-October, I've snorkeled at Rendezvous Bay and other beaches, and when the winter swell abates, the water settles down and clears.  Each swim brings a new delight.  At Rendezvous, the pufferfish pair is still there.  One day I saw two octopuses; one was huge—he or she was mauling the creature inside a sizable conch.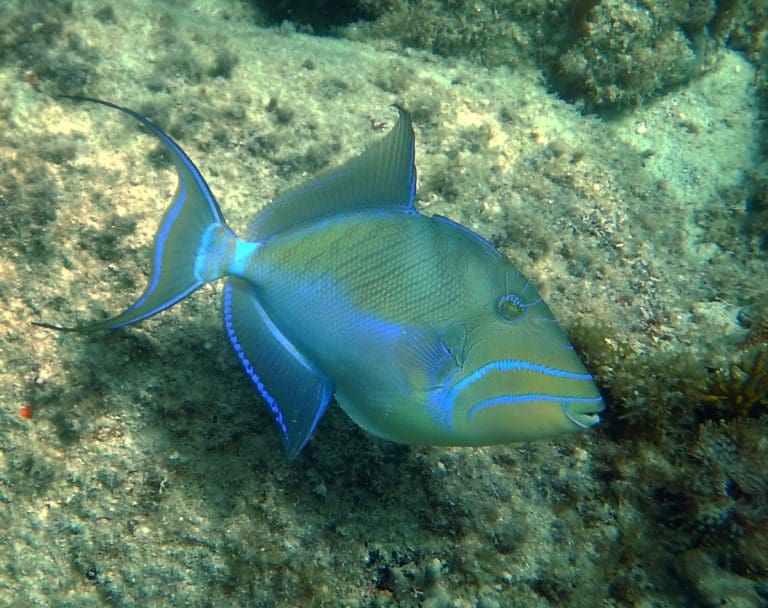 A couple of days later I saw a queen triggerfish, one of the most psychedelic fish to inhabit these waters, and soon after a six-foot nurse shark cruised by unconcerned by my presence.  My swim buddies missed seeing the shark, but they spotted Mr. Fuzzy Butt, a hawksbill turtle we'd known from before the storm who has algae growing along the lower tip of its shell.
I have several friends who have not yet gone back to swim since the hurricanes turned our world inside out.  They used to love to go to the beach, but now they don't feel comfortable lying in the sand without the shade of a palm tree or sea grape.  Even avid snorkelers refuse to put their faces in the water. They seem to be afraid of experiencing the trauma of the storm once again by witnessing the damage to coral reefs.  I repeat my mantra to them: Not everything is dead.
The reef is coming back.  Some days are better than others.  At Rendezvous Bay, a south swell can make the water murky and the colors dull. But when conditions are right, especially in the early morning when the visibility is almost what it used to be, the world of wonders awaits.
Shared content for St. John Tradewinds and Virgin Islands Source.