Pictured above: The entire class looks on as instructor Julie Anderson (center) directs the "packaging of our patient." National Park personnel along with St. John Rescue EMTs participated in the 40 hour training.
By Bob Malacarne, EMT, ASHI, NAEMT, NREMT
Greetings to all our friends and neighbors on St. John. Three St. John Rescue members attended an intense 40 hour EMT training in February.  The training was sponsored by the Virgin Island National Park and orchestrated by Chief Ranger Rick Gupman.   Rick is an outstanding administrator. Due to his persistence the National Park now has 4 EMT certified rangers.  Rick believes, as we do, that training is essential in maintaining critical lifesaving skills.  We, on St. John, are fortunate to have Rick on island.
The lead instructor for this EMT course was Julie Anderson.  Julie is currently working as a flight nurse and volunteering as a Mobile Intensive Care Paramedic in Alaska.  She has been a career paramedic since 1997, including three years as a Flight Medic in Northwest Alaska and Southeast Alaska.  In her 911 career, she also worked as a firefighter and hazardous materials technician. She teaches backcountry and rescue medicine internationally.  She is familiar with the challenges of flight medical transport and remote care.  Julie is currently employed by Airlift Northwest and she is a volunteer Paramedic and EMS Director for Haines Volunteer Fire Department in Haines, Alaska.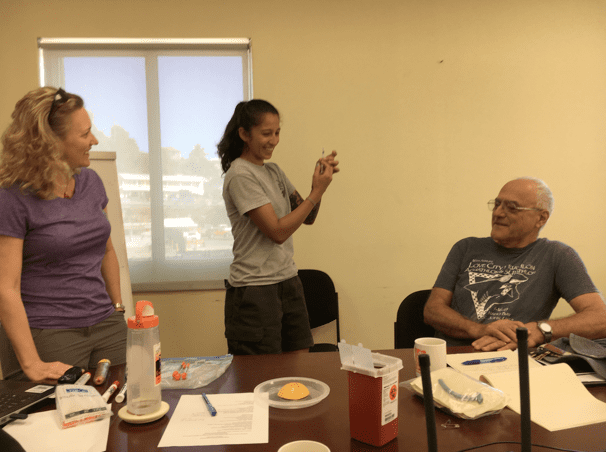 Julie's husband, Dr. Noble Anderson, assisted in the course.  Dr. Anderson is currently working as a Hospitalist in Juneau, Alaska and volunteering as  a Physician Sponsor for two volunteer ambulance organizations in Southeast Alaska.  He is board certified in Family Medicine, but has practiced in full-spectrum care including routine and urgent childbirth during his 13 years in rural remote Bush Alaska.
[adrotate group="6"]
The course that Julie and Noble taught was the best course that I have ever experienced in my 22 years as an EMT.   We hope to have them both return to St. John in the not too distant future.  Sarah Vose, Peter Hassen, and I attended this training which spanned four days and evenings in February.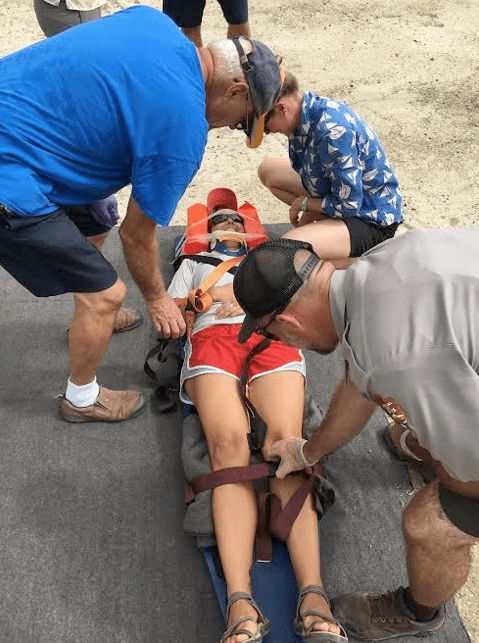 Sarah Vose was a member of St. John Rescue who left island to travel the world.  Sarah is a boat captain and an excellent EMT with extensive emergency medical experience.  She has returned to St. John for a while and has re-joined St. John Rescue.  We are so very lucky to have someone with Sarah's expertise to be a part of our organization.
During the past month St. John Rescue assisted in the rescue of a female who fell and struck her head while hiking on the trail to Honeymoon Beach.  We transported a DOA to Myrah Keating Morgue, assisted in a search for a missing snorkeler off Mary's Point and responded to a reported drowning at Honeymoon Beach. Fortunately, that call was unfounded. We also stood by for a concert at the School of the Arts and we provided emergency medical coverage for 8 Tuff Miles.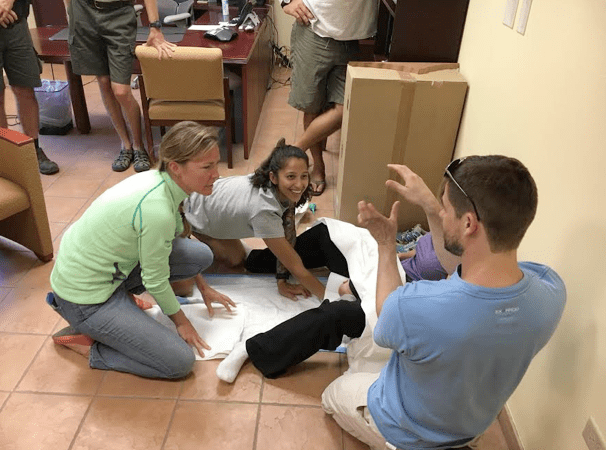 Our CPR classes have been filled for the entire month.  Because of the demand,  we have added a few weekday classes.
Everyone should be familiar with CPR practices.  It has been proven to save lives.  However, time is of the essence when someone is suffering a heart attack.  Please make an effort to learn CPR with St. John Rescue or with any other agency.  A few hours out of your busy schedule may be all that you need to be able to save the life of a loved one.
To sign up for a CPR or First Aid Course please call or text me at (340)626-5118 or send an email to me at stjrescue9@gmail.com.
HEALTH TIP OF THE MONTH
Heat stroke is a killer.  We all need to stay hydrated and try not to get overheated.  However, there are times when we either exercise, work, or simply experience the outdoors on a hot day and forget to drink water.  When your body temperature increases you begin to sweat.  The perspiration, in turn, is evaporated and your body temperature remains at a safe level.
However, if the air temperature and humidity is high then the perspiration doesn't perform its cooling function properly and you become overheated.
If you get to a point that you become dehydrated then your body will begin shutting down.  If you don't get to a cooler place and drink fluids (non-alcoholic) you may develop heat stroke.
Signs and symptoms of heat stroke are usually hot dry skin, diminished mental capacity, rapid pulse, and lowered blood pressure.
A person in this condition must be taken to a hospital immediately in order to reverse this situation.
Please stay hydrated and use common sense when out in the hot sun.
Until next month, remember: WE ARE ST. JOHN RESCUE-ON CALL FOR LIFE