Photos courtesy of Government House photographer Clara Freeman
by Bob Malacarne, EMT
Greetings to all our friends and visitors on St. John.  So much has been happening since our last report.  The most exciting news is certainly our new ambulance.  Last spring VITEMA conducted a 24 hour CERT (Community Emergency Response Team) training with St. John Rescue members along with members of the community.
The organizer and lead trainer for this course was Joel Brown Connors from VITEMA.  The members of St. John Rescue worked well with Mr. Connors and his team.  When the course was completed we were asked to submit a list of urgent needs to VITEMA.  We informed VITEMA that we really needed a new rescue vehicle for Coral Bay.  Our existing vehicle had issues that made it less than reliable.  The people at VITEMA, under the guidance of Director Mona Barnes. were able to acquire Homeland Security funding to purchase a new ambulance for us.
[adrotate group="6"]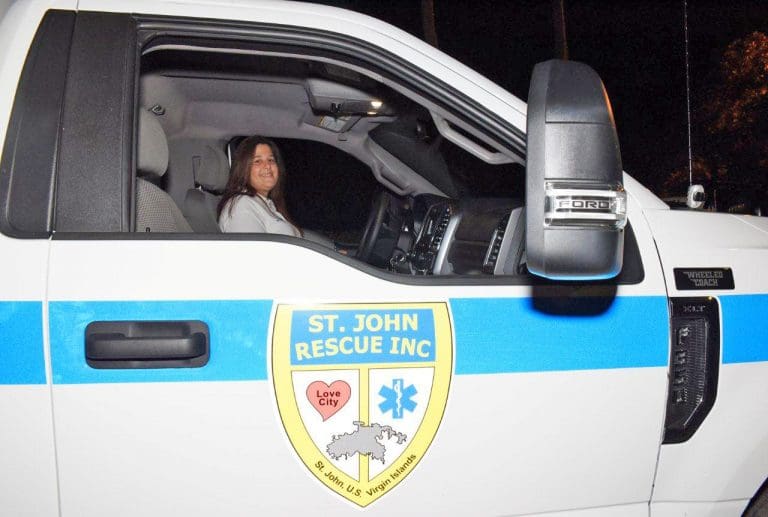 On Thursday December 15, Governor Mapp along with Director Barnes and members of her VITEMA crew presented St. John Rescue President Amy Raymond the keys for our new ambulance.  This ambulance is state of the art.  Probably one of the best pieces of equipment in the Caribbean.  It will take some time to get our ambulance up to specs with equipment and member training.  We also must work out an agreement with Coral Bay firefighters because a government employee must travel with us when we transport a patient.
St. John Rescue is so very pleased to be working with VITEMA and Coral Bay Fire Service to be able to bring this much needed vehicle to Coral Bay.  In the past, anyone who needed medical assistance had to wait 45 minutes or longer for an ambulance from Cruz Bay to reach them.  Now, there will be one stationed at the Coral Bay fire station.  This should reduce the wait time dramatically.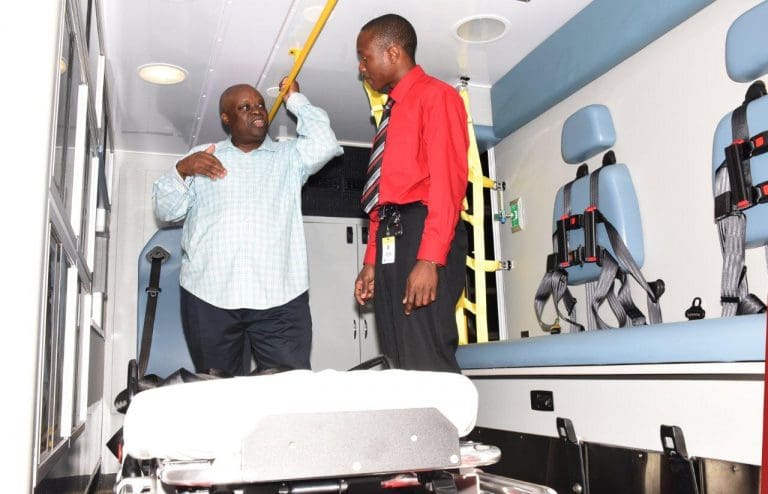 St. John Rescue continues to offer CPR and First Aid classes to the community on the second Saturday of each month. Organizations that are interested in signing up their employees for CPR or First Aid can call (340) 626-5118 or email me at stjrescue9@gmail.com to set up an appointment for a class. Our classes are offered through ASHI (American Safety and Health Institute)  ASHI is an internationally recognized training center.
We are proud to be an ASHI Training Center. EMT Peter Hassen has become a certified ASHI instructor.  Pete has been assisting me with CPR, First Aid, and EMR courses for a few years.  Pete is a great instructor with plenty of first hand experience.  I welcome Pete as an ASHI trainer. A nominal fee of $30 per person covers the cost of equipment and official ASHI CPR or First Aid cards.
St. John Rescue is happy to report that we have several new  members.  They are: Denis Scannel (DMT) and Dr. Gianna Scannel, Jon Shames, Jorjianna Costantino, and Ty Hendricks are currently enrolled in our EMR (Emergency Medical Responder) course.
Training is offered each Thursday evening (except for the first Thursday) starting at 6:30PM. Location is at our office at Myrah Keating Smith Community Health Center.
Our regular business meetings are held at our office on the first Thursday of each month starting at 7:00PM.  Our meetings and training sessions are open to the public.
For more information on St. John Rescue please visit our website at www.stjohnrescue.com.
Health Tip of the Month: There are 3 types of diabetes: Type 1 (insulin dependent) where your pancreas does not produce enough insulin,  type 2 where your body produces insulin but it does not process properly, gestational diabetes which occurs during pregnancy (usually temporary). If you have some of the following symptoms please consult a physician: frequent urination, increased hunger or thirst, blurry vision extreme fatigue, weight loss.  Always follow your doctors suggestions regarding any health issues you may have.  It is always better to eat a healthy diet, watch your weight, and limit the amount of sugar you consume.
St. John Rescue is a volunteer organization comprised of St John residents who give up their time to provide the highest quality of emergency medical services possible.  We respond to the call 24/7.  For any type of emergency on St. John please call 911 (from a cell phone the number is (340)776-9110).  Make sure to tell the operator that you are on St. John, give detailed directions to your location and station someone outside by the road to direct the emergency vehicle to you.
Until next month remember: We are St. John Rescue-On Call for Life.
*Photos courtesy of Government House photographer Clara Freeman