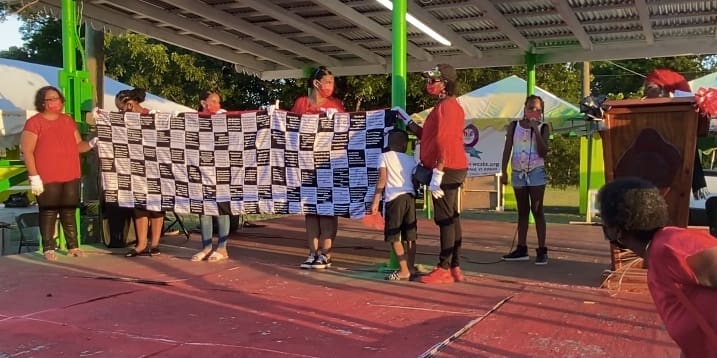 "Rise up! All you need is hope!" was the theme this year for the Women's Coalition of St. Croix's 16th annual "National Day of Remembrance for Murder Victims."
"This year, the Women's Coalition decided to do something a bit different," said Executive Director Clema Lewis. Instead of their traditional in-person event, they opted for a Zoom livestream so that people can view and participate and be a part of the event from their home, work or wherever they choose. They also decided to focus on the impact violence has on the youth.
"We feel that as long as you have hope and support, you can make it through anything," Lewis said.
"National Day of Remembrance for Murder Victims" was established nationally in 2007, and it has been observed every single year on Sept. 25, regardless of what day of the year the Women's Coalition of St. Croix has recognized the day.
So far, there have been at least 644 people who were killed by some kind of violence on the island of St. Croix from 1999. Most have been gun violence.
"We do this event every year so that we can show families that even though they lost their loved ones, people still care. We help them hold their memories of the loved ones. It is an opportunity for them to talk and recognize and remember those that they lost," said Lewis.
"As long as there's violence, we will be doing the 'National Day of Remembrance for Murder Victims' because it is important to those families and the community as a whole."
The first discussion began with Lewis on the topic of "Grief and Loss" and understanding the process of losing a loved one. She provided five steps of grief, which are denial, anger, bargaining, feeling stuck and the stage of acceptance and ways you can begin to heal.
Later in the program, the very important Wall of Remembrance of the names of those who passed from violence was shared. The wall was broken into three parts because of the 644 names.
Bernice Kight, a staff member of the Women's Coalition of St. Croix, gave words of inspiration through a poem and a panel of three young speakers shared their personal experiences with violence. Makayla Smith said that she's lost family members and friends to violence. "Through my high school years, I've lost classmates. It kind of took a toll on me knowing the fact that within a split second, someone that you know can just be gone," said Smith.
Those on the Zoom call were also able to ask the panelists questions. One question asked was from Darlene Springer, who asked, "What do you think we can do as adults to actually help with the violence that is happening?"
Smith replied, "That's a good question. I do not even know how to approach it because sometimes I feel like no matter how much we implement for the youth, no matter what words that's being said, I feel like sometimes it's not, in fact enough. Some of them still choose to do what they want to do or choose their own path. Some of them are raised in good households and sometimes it's just the influence and what they are just seeing outside of their home overall in their environment."
Executive Director of Gun Violence Prevention Tony Emanuel shared his work in visiting schools teaching children about de-escalation, conflict management, and peer pressure. He also shared the work he does with two after-school programs, where they target young men and mentor them. With the help of the Education Department and the Health Department, he has been able to target and help at-risk youths.
"I took this job out of anger," said Emanuel. "I lost two young men that I was mentoring to street violence," he said.
The Office of Gun Violence Prevention is not a law enforcement agency but addresses gun violence as a health epidemic rather than a criminal epidemic. "It's a different way of looking at crime," said Emanuel.
To view the Zoom video from the 16th Annual "Day of Remembrance for Murder Victims," you can view it on the Women's Coalition of St. Croix Facebook page.