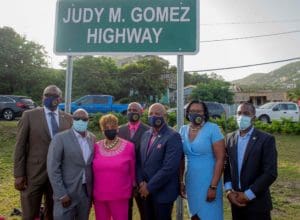 The Department of Public Works (DPW), in collaboration with the Office of the Governor, held a road renaming ceremony in honor of Judy M. Gomez Esq. on Tuesday, July 20.
The Judy M. Gomez Highway, formerly named the Charles Harwood Highway, is located in the Contant area on St. Thomas. It intersects with Veterans Drive on the western end and meets Kronprindsens Gade on the eastern end. DPW erected three signs along the roadway and presented attorney Gomez with her own ceremonial sign.
"This honor belongs not only to me, but to all of us," said Gomez. The former educator, legislator and attorney gave a compelling and heartfelt speech, sharing her memories as a child growing up with her siblings in the same vicinity of the newly renamed road.
Senate President Donna Frett-Gregory and bill sponsor Senator Dwayne Degraff presented Gomez with a commemorative plaque that displayed Act 8428: "an Act honoring and commending Judy M. Gomez Esquire for her contributions to the Virgin Islands Community, especially the children of the Virgin Islands…"
"The department was happy to celebrate this momentous occasion with attorney Gomez on her birthday," said DPW Commissioner Derek Gabriel. "Her contributions to this community are invaluable."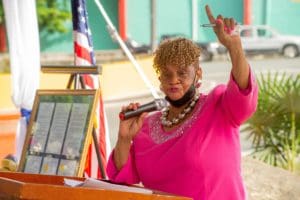 Gov. Albert Bryan Jr. extended his congratulations and appreciation to Gomez, stating, "This honor was well-deserved and long overdue." Lt. Gov. Tregenza A. Roach, Esq. also shared his remarks and memories of working with Gomez, pointing out their commonality in professions as educators, legislators and attorneys.
The Department of Public Works officially congratulates and thanks Gomez for her contributions to the Virgin Islands community.
Follow DPW on Facebook, Instagram, YouTube and Twitter. People can also log on to www.dpw.vi.gov  and www.vitranvi.com to stay abreast of all things V.I. Public Works.