Robert L. Nose, born June 21, 1929, in Euclid, Ohio, son of Frank Nose and Eva Pengov, was gathered into the loving arms of his Creator and Redeemer on September 5, 2007. Predeceased by his brother, Frank, he is survived by his wife, Anna; children, Valerie Chornyak (Joe), Kevin (Barbara), Kurt and Hans Dohm; and his grandchildren, James R. Thompson (Cheryl), Joseph A. Chornyak Jr., Jessica Thompson, Kerry Thompson (Mollie), Jake Nose, Tyler Nose and Kelli Nose; and his great grandchildren, Liam Thompson and Corinne Thompson.
Bob was a veteran of the U.S. Navy and, after working as a commercial fisherman out of Put-In-Bay, Ohio, he moved to Columbus and owned a plastering and stucco business. He was instrumental in bringing scuba and skiing to central Ohio by starting the first ski and scuba shops in central Ohio and organized the first youth ski program called Skiba Juniors.
He taught scuba diving at Ohio State, Ohio Weslyan and the YMCA and was an early member of the Sea Nags scuba diving club. In 1973, he relocated and purchased a dive shop on St. John, U.S. Virgin Islands. Over the next 34 years on St. John, his careers included owning the Lobster Hut restaurant and running a day charter business on his sailboat, Alcyone. As a bicycle enthusiast, he crossed the U.S. to attend the 1984 Olympics; the following year, he logged just short of 5,000 miles in Europe and for his 65th birthday, became a thru-hiker on the Appalachian Trail.
Bob was very involved with his church on St. John. In lieu of flowers, the family requests donations to Our Lady of Mount Carmel Church c/o Valerie Chornyak, 424 Retreat Lane North, Powell, Ohio 43065.
There was a funeral mass and reception for Bob in Columbus, Ohio on Sunday, September 8. There will be a memorial service and celebration of Bob's life on St. John at a later date.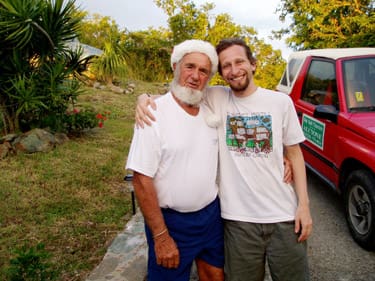 Tradewinds,
As a little boy, new to St. John, the space right around the Cruz Bay dock became the majority of my world. St. John Car Rental Inc., my family's business, was right there in an office that was a little thatched roof hut. Just beyond it was the dive shop owned by Bob Nose and Jack Bosh. All my short life, I had dreamed of the sea and now I was living the dream. When I met Bob Nose, I had met my first true sailor. Little would I have imagined that this sea salt was in fact from Ohio.
Now 30-some years later, I can look back and see so many roles which this one man would play in my life. When I think of Bob, I think of him above all as a friend, but three other roles stand out to me as well: Bob as a teacher, a captain, and a guide.
Bob was my swimming teacher. This might sound like a small thing to you, but you would have to know how difficult a swimming student I was. Having frustrated my family to tears, and vice versa, in their attempts to teach me to swim, they turned me over to Bob. Bob had a remarkable gift to perceive where people were and encouraged them as they took the very next step. I am sure I must have frustrated him too, but he never showed it.
To me, Bob embodied what it means to be a great captain. A true captain is marked by a knowledge of the sea, a knowledge of one's craft, but also one other vital attribute — a deep abiding love for all those on board. He had an underlying sense of the weight of the responsibility for those entrusted to one's care. The way these things were profoundly present in Bob's life is something I will always remember and admire.
To me, Bob embodied what it means to be a great guide. A great guide must have a love for life's adventures, and a keen eye for the magical.
With Bob, sometimes the magical was not far off. I remember a trip where Bob dropped anchor at a particular spot off Steven's Cay, a spot I'd passed over many times. But jumping off the boat, I found we were just at the edge of a coral shelf vibrant with activity. Sometimes the magical was a bit further away.
One time, he took us to a spot on the far side of Lovango where jumping in, we were over a hole filled with the largest fish I had ever seen. And sometimes the magical was very close to home and simply a matter of resourcefulness and imagination. I recall with delight several Halloweens where Bob loaded up the dive shop's "Flat-top" boat with myself and a bunch of eccentric costumed Cruz Bay-ers onboard and went from boat to boat trick or treating.
When I think of Bob and Anna Nose, the first word that comes to mind for me is "hospitality." Lunch on a day sail with them had all the closeness and comfort of the coziest home, only the walls were the wind and the waves and the open sky. Their love, their warmth, and their kindness had a way of turning the cockpit into a dining room and making strangers into family. I know that there are people across the globe who recall a daysail with Bob and Anna as being one of life's finest days.
What I did not understand as a boy, I have grown to understand. Beneath the welcome that everyone experienced in getting to know Bob, was joy. The wellspring of that joy was a deep abiding faith.
Bob didn't just teach me to swim, or to sail, or to drive an outboard, or to tie a bowline. In doing these things, he was teaching me how to live. Bob's life taught me that the road to joy is facing the adventure before us with courage and faith. What made him a great teacher and a great friend is he always had more confidence in me than I had in myself.
In my mind's eye, I can see him. It is evening, and we are halfway across Pillsbury Sound. He smiles confidently, proudly our way, and gestures to me, or maybe to you. We can hardly hear his words for the wind, but we know what he is saying. "Come on over, you take the wheel for a while."
– Robert Willis