By Zarah I. Rose
[adrotate group="6"]
More than just a concert, MTV's Tempo has again managed to provide a dazzling display of talent while unifying a pan-Caribbean audience through conscious entertainment on Saturday night, June 9, at the Lionel Roberts Stadium.
The festivities were violence free and accomplished spreading Tempo's "One Love: Badness Outta Style" campaign with its goal to empower and educate communities across the Caribbean and provide awareness about HIV/AIDS by promoting social responsibility and peace through creative arts programs.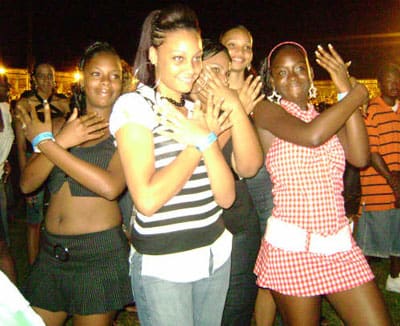 "Rock de Tempo" featured a diverse and superb list of both local and international stars including St. Thomas's Rising Stars Youth Steel Orchestra and Love City's very own Cool Session Brass who opened the show from 5 to 7 p.m.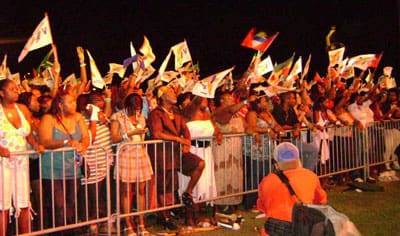 Local Talent, Rising Stars
Other local talent included P'Your Passion, Red Eye Band with Abja, DJ Avalanche, DJ Poppy Pops and MC Emmett P. The rising international reggae star and native son, Pressure, thrilled and energized the crowd with old and new hits including "Love and Affection" which is featured on the widely popular Reggae Gold 2007, making him the first VI performer included in the compilation' s history.
Tempo's VJs were also on hand to keep the intermissions running smoothly including the beautiful Empress Jeanille, "island girl" Anushca, Jah Bami and Hector.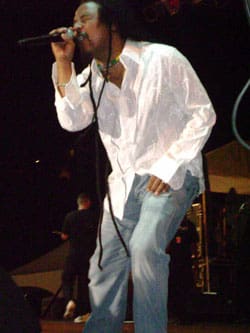 The crowd went wild when Trinidad's sexy soca monarch, Shurwayne Winchester slid onto stage with Traffik. The audience bounced and waved in unison with Shurwayne leading the fete, carrying many into a frenzy that was only cooled down when he threw water bottles and himself (shirtless) into the crowd.
Traffik Returns To Love City
Backstage, he gladly posed for a picture and I asked him if he and Traffik would be coming back to St. John for Festival again (they were here last year). He sang a little acappella reply to me that he would love to come back to see all of the beautiful ladies and jump up with us!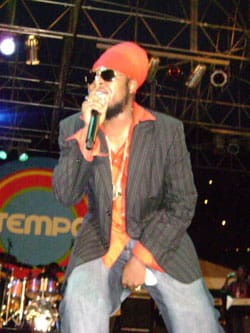 I also got to talk to the surprise guest, clean-hearted Barbadian soca/dub/dancehall artist Peter Ram. He sings the hit soca song "Need a Woman by My Side." Maxi Priest proved his passionate reggae vocals were as strong as ever, as he belted out hits from his 20-year career such as "Wild World" and "Close to You." He is set to release a new album this year.
Governor John deJongh popped his head in and posed with Tempo founder/SVP Frederick Morton and Pressure before a sudden downpour caught everyone off guard and sent the 9,000-plus crowd into the press tents. The showers served to level the vibes so that all — regardless of star status — mingled together waiting out the rain.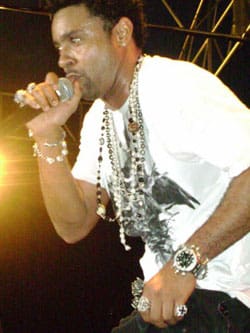 Leading Ladies
Although everyone was muddy, the show went on, with the ladies leading the stage. A new queen on the conscious reggae scene, Etana performed her single "Youth" soulfully and powerfully delivered a message close to home for many. Her range of lyrics and vocal ability perked our ears for her soon-to-be-released album in the Fall.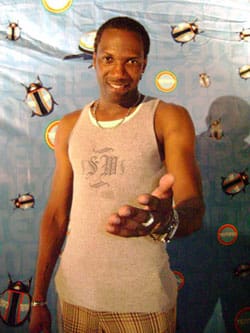 Another sister who will undoubtedly take over the male-dominated dancehall/reggae industry is Tessanne Chin who performed on the wet stage in five-inch stilettos! Singing her hit "Hideaway" the fusion of soul, rock and reggae she created was electric.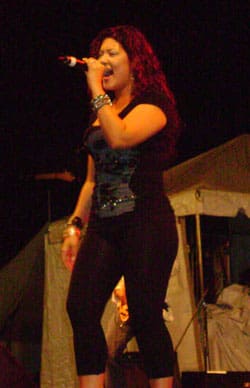 Shaggy Still Thrills
Dancehall reggae tenor Rayvon, whose career has risen along with his stage-mate Shaggy, took hold of the wet crowd around 1 a.m. and tantalized the ladies with his heated vocals and hip-hop beats. He and Shaggy led a hyped audience competition for which side was best. The winner was unclear, but headliner Shaggy proved why he has sold 20 million records.
"Mr. Bombastic, Lover Lover's" insightful idolatry of the feminine gender along with his wild stage antics revitalized our energy and closed the show with a blast around 4 a.m.