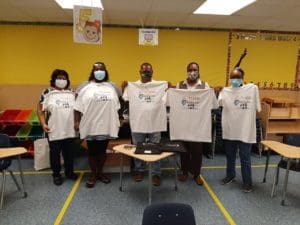 Rotary St. Thomas II, in partnership with Toastmasters and Rotaract, created an amazing virtual reading program for 3rd graders at Lockhart Elementary School. The "I Love to Read Virtual Reading Program" began on Nov. 7, 2020, and 38 students participated together each Saturday morning for 20 weeks. Guests of the Board of Education, Rotary, parents and others also attended weekly. The program had a truly positive impact on the lives of the students.
A closing ceremony was held on Saturday, March 20, 2021, at which participating students spoke about their experiences in the program, and they were presented with gift bags containing personalized certificates honoring each students' participation, a book, a T-shirt commemorating the program and other gifts. Arrangements were made for these gift bags to be delivered to every participating student.
The goal was to connect students to books, authors and each other and to encourage reading during COVID-19 when they were not attending school in person. The program was devised and organized by Rotarian Sinclair Wilkinson, the New Generations Youth Services director of Rotary St. Thomas II, with the support of Rotary II's President Vernice Gumbs. Merle Vanterpool, Lynda Edmead-Glasford and Edgar Austero, along with the encouragement of Lockhart Principal Audrey Bowry, were weekly participants as well.
Each week, different members of Rotary II and Toastmasters selected a specific topic and a book to read online with the students. This was interspersed with discussions and questions posed to the children as well as various word games, book games and special readings by local authors of children's books.
Rotarian Al Laborde worked diligently to develop PowerPoints of books and handled all the technical aspects of the creation and presentation of the weekly programs online.
Various weekly topics included Virgin Islands History with sessions on the Tainos, the origin of the flag of the Virgin Islands, historical sites in the territory, COVID-19 and why students had to remain at home, nutrition, healthy eating and exercise, Thanksgiving, the history of Valentine's Day, teamwork among students, life underwater, inventors, and more.
The program was fully funded by Rotary St. Thomas II. The club hopes to continue the program soon and to expand to other schools and districts in the V.I.